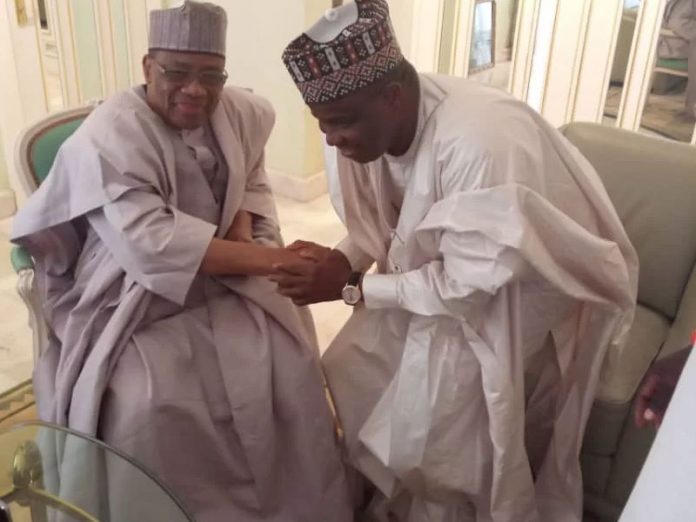 Iyobosa Uwugiaren in Abuja
Former President Ibrahim Badamosi Babangida has described the Sokoto State governor and leading presidential aspirant of the People's Democratic Party (PDP) Aminu Waziri Tambuhwal, as a "grounded leader", who has the requisite experience and capacity to take Nigeria to the next level.
A statement by the Tambuwal Media Office quoted Babangida as saying this when the governor paid him a visit in his Minna Niger state, hill top mansion, as part of the consultations over his current presidential ambition in the forthcoming 2019 general election.
IBB said he wished the former Speaker of House of Representatives well on his ambition, assuring him of his blessings, adding that he has started well by "setting up a strong and formidable team, which is the hallmark of good leadership".
IBB: "You are a bright leader and from my observation, your team is also bright. Every leader needs a strong, bright team in order to succeed. And I assure you of my blessings.
"I will keep on monitoring you to know how you are doing on this project. I will call you where I see a need to guide or redirect you, should you take steps are contrary to the overall interest of the people and unity of Nigeria."
The former president disclosed that during his time as a president, he surrounded himself with bright individuals, who he said helped him to succeed, despite the fact that he was "a mere bloody soldier.",
He added that he was proud that his generation of leaders would be handing over the mantle of leadership to a successor generation that is bright and digital as His Excellency.
Tambuwal had in his speech told the Minna General that he had come to formally inform him of his presidential ambition and to also "seek his blessings".
He said that his ambition rose out of "a patriotic commitment unites Nigeria and work hard to ensure the security, development and progress of the nation."
The former speaker said that Nigeria has never been this polarized along ethnic and religious differences. We must take back our country, reunite our people and reposition the nation for it to be properly restructured for the benefit of all Nigerians.
"We need to secure Nigeria. This country has never been this divided and has never been this enmeshed in confusion and security challenges", he stated.
"We need a government that will deploy competent manpower, that has the capacity to address our developmental – with the use of technology. We have to deploy technology where it is needed in order to get the results we really need."
He promised that should he be elected president, by the Grace of God, he shall assemble team of competent Nigerians from all parts of the Federation to serve the country and also go out there and restore the dignity in the comity of nations, and ensure that there is devolution of powers that will fund the states betters than the center.