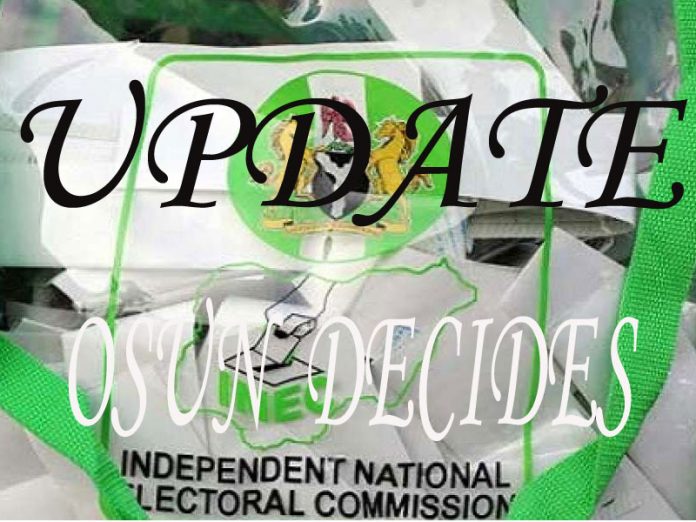 By Nseobong Okon-Ekong 
Most residents of Oshogbo, capital of Osun State,  where a governorship contest holds today stayed indoor on the eve of the election. 
Many of the neighbourhoods that are usually known for nocturnal activities were uncharacteristically quiet, when our reporter visited, giving the impression that there was a self-imposed restriction of movement.
Very few vehicles were on the streets and the small number of commercial motor cycles were busy ferrying passengers to their destinations.  Some of the stranded residents had to trek long distances to their homes.
In the Olaiya area,  the heart of Oshogbo which is normally bustling residents went to bed early. Chieftains of the All Progressives Congress (APC), however,  kept vigil at the Nelson Mandela Freedom Park to finalise last minute strategy for the gubernatorial contest featuring the party's candidate, Alhaji Gboyega Oyetola against 47 others representing various political parties who are also on the ballot.
The Old Garage area of Oshogbo , which is first port of call for travellers into the city appeared to be the only place that was busy with food and drinks vendors awake all night attending to a small group of patrons.
At Okefia near the Government House Annexe, a popular open-air discoteque,  Riverside was open,  but experienced low patronage.  A similar scenario could be observed at Oke-Onitea,  which is home to a strip club known as Quebana-only a few patrons sat outside, drinking as loud music filled the air.
Midweek,  the state government had paid five months backlog of salaries,  giving hope of a busy and rewarding  weekend to owners of hospitality businesses in Oshogbo. While some of them blamed the low patronage on the governorship  election, they could not immediately say if people stayed indoor to avoid getting into trouble due to the heavy presence of over 28000 policemen drafted to Osun for various duties during the election.
However,  the streets of Oshogbo were well  lit through the night, though with interrupted power supply and there were no security agents on the roads,  except local vigilante personnel who were on the prowl on the inner streets in places like Testing Ground,  Asubiaro,  Omo West,  Isale Osun and Kola Balogun.