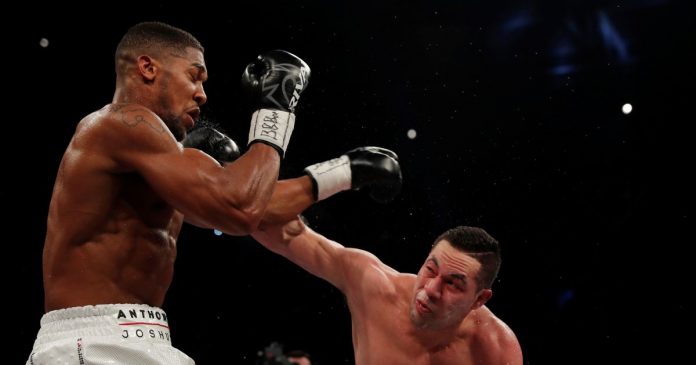 Tonight Anthony Joshua takes on Alexander Povetkin at the Wembley Stadium and on the line are Joshua's four belts – all the major heavyweight titles aside from Deontay Wilder's WBC crown.
Earlier this year, it looked like the fight we would be seeing here in Wembley was the much-discussed Joshua versus Wilder superfight, but negotiations fell through for now at least and instead we get this. And while this may not quite have the same casual fan appeal as Joshua versus Wilder, it's an intriguing fight and strong challenger for Joshua.
Joshua is what the world has wanted in a heavyweight champion for a very long time. He's exciting, he's heavy-handed, he's technically superb, he creates spectacles in his fights – he's a great champion. Ever since his 2012 Olympic gold medal he's been on a path to stardom, but he really made his mark with his 2017 win over Klitschko. That was the best heavyweight boxing fight in many, many years and proof that Joshua belonged at the top, silencing complaints that he was too hyped too fast. Last time out, he faced fellow new generation heavyweight Joseph Parker, and for the first time ever, Joshua was taken to a decision, though still a completely dominant decision.
Alexander Povetkin is a 13-year pro, who, like Joshua, started his career as an Olympic gold medalist – though a full decade before Joshua at the 2004 games. He went undefeated for eight years and 26 fights before getting a shot at Klitschko, ultimately losing a very Klitschko style decision. Povetkin is 8-0 since, but the big story of his recent career is all about drug tests. Povetkin has failed two, and both times it has led to a very high profile fight cancellation – first against Wilder, then against Bermane Stiverne. Along the way, he received a lifetime ban from the WBC which was later rescinded. At 39, and with his spotty history, this is likely his last shot at the major titles.
Big, strong, charismatic, a knockout puncher —Joshua ticks every box to become a superstar heavyweight, and he's become one already, with some steps left to climb in terms of international stardom.
Joshua is probably underrated as a boxer because he started his career with 20 straight stoppage wins, but he had to go a full 12 with a cautious Parker in March, and he did so quite capable. Parker's no pushover opponent or anything, but Joshua shut him down and while he wasn't able to do exactly as he pleased, he won clearly and cleanly.
Joshua clearly loves the knockout, though, and knows that's the surest way to fight fans' hearts. So he'll probably be hunting for one against the shorter, older Povetkin today.
If Joshua can win impressively, a fight against the theoretical winner of Wilder-Fury looms for April 2019, at least in our hopes. Perhaps more likely it'll "just" be a rematch with Dillian Whyte, which isn't a bad fight, but like this matchup, would feel like a letdown since it's not the other fight.
Meanwhile, Joshua says he will simply "roll with the punches" when the first bell rings for his world title fight with Povetkin at Wembley. The unified heavyweight champion acknowledged the huge expectation on his shoulders ahead of today's fight with Povetkin, in front of a crowd of up to 90,000 at the national stadium.
Povetkin is a former world champion with a daunting record of knockout wins, but Joshua tried to make light of his imposing Russian opponent, insisting he will emerge with a 22nd victory.
"There's loads of pressure, tons of pressure, it's the reality," said Joshua. "We both know what we are in for, it's the same with every fight. "Roll with the punches, what more can I do than give my best. I'll go out there and find a way to win. I know I have a lot of fire in my belly, that's just as important as skills."
Joshua is returning to the scene of last year's epic win over Wladimir Klitschko, who inflicted the sole defeat on Povetkin's record in 2013, and believes they will both have to demonstrate their battling spirit once again.
He said: "Skills and technique apart, we both have a big heart and can dig deep. We both showed that against Klitschko. The one who's toughest will come out victorious. He's one of the lightest heavyweights but that means he has speed. I spar cruiserweights like Lawrence Okolie who is fast and sharp. His strengths? I work alongside people who have the same strengths."
Povetkin played down the significance of his points loss to Klitschko, and feels he can match the raw power of the British star, who has blasted his way to 20 knockout wins.
"The fight will show everything," said Povetkin. "Anthony is a very strong fighter but I am just as strong. When I fought Klitschko, I was much weaker and in worse shape than I am now. I never try to say anything ahead of time, you'll see everything on fight night."