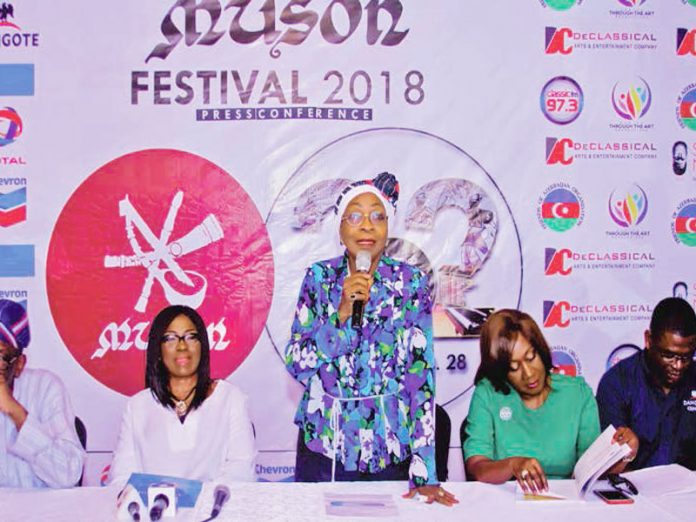 Yinka Olatunbosun writes that the forthcoming Music Society of Nigeria festival would proffer a potpourri of artistic expressions
Lagos will be a simmering pot of performances when the 2018 Music Society of Nigeria (MUSON) Festival of the Arts begins on October 18 and runs till Sunday October 29. The festival has been a rostrum for appreciating music artistry and other art forms.
For instance, MusiQuest, which flags off the festival, is a concert for the new breed of artistes. Running simultaneously with the other shows is the Festival Art Exhibition tagged "Music Meets Art", a week-long collaborative project with the Society of Nigerian Artists led by Oliver Enwonwu which opens on October 17.
A three-day musical titled, "Legends, Kings and Kingdoms'' will commence on October 19 in partnership with Gbenga Yusuf's Seeing Through the Arts. That same day, the audiencewill embark on a musical journey which parades exceptional Nigerians as they tell personal stories of how music has shaped their lives.
Titled, "My Kind of Music", this segment features a strong member of the film community and the Marketing and Fundraising Committee of the MUSON, Ugoma Adegoke; Founder, Lagos Jazz Series, Oti Bazunu; Chairman, Guardian Newspapers, Maiden Alex Ibru, and Honorary Secretary, Board of Trustees, MUSON, Adeyemi Akinsanya.
One of the most exciting days of the festival is MUSON Day which showcases the MUSON orchestra conducted by Tunde Sosan. Also, this edition's select play for the Chevron Festival Drama is Femi Osofisan's intellectually stimulating comedy, "Such is Life'', directed by Kenneth Uphopho. Scheduled for October 27, the drama typifies Osofisan's plays- rich inspectacle and music extravagance.
For the first time since the inception of the festival, the Dangote Group is sponsoring the Festival Jazz Party, set for October 26. The party has as headliners Afro-jazz guitarist and vocalist, Adedeji Adetayo, his afro-soul counterpart, Aramide and a fast-rising pianist, singer-songwriter, Kaline.
Prior this party, fans of classical music would be thrilled by the two-act 18th century opera by W.A. Mozart featuring the MUSON Opera Department led by Joseph Oparamunuike on October 19 and 21. The next evening, a concert titled, "Quand L'est Rencontre L'ouest''(meaning When East Meets West) will feature the pianist SaidaZulfugarova and Tar player Sahib Pashazade in partnership with friends of Azerbaijan Organisation.
The MUSON festival curtain falls on October 28 with a special performance by the MUSON Choir, directed by Sir Emeka Nwokedi as well as the TOTAL Festival Gala. The organisers of the festival expressed gratitude for the T.Y. Danjuma MUSON Opera endowment which was instituted to support the opera programme and renovate the Agip Recital Hall. In the words of Mrs. Francesca Emmanuel, one of the objectivesof the MUSON festival is "the promotion and development of classical music."