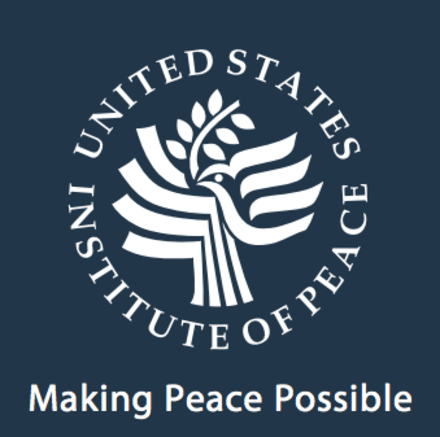 By Chiemelie Ezeobi
The United States Institute of Peace (USIP) – an American institution saddled with the responsibility of preventing, reducing, and resolving violent conflicts around the world – Friday held a twitter event on Nigeria to discuss ways of achieving peace in the country.
The twitter chat with the hashtag #NGPeaceChat was from 2.30pm to 4.00pm (Nigeria) and had as its theme: Achieving Peace in Nigeria.
Earlier in a statement announcing the twitter event marking this year's International Day of Peace, USIP noted that "Nigeria's varied conflicts weaken internal security and affect stability in the Lake Chad Basin and the Sahel region."
It also noted that "The continued displacement of people due to the ongoing Boko Haram insurgency in the northeast, a surge in deadly pastoralist-farmer conflicts across central Nigeria, long-running militancy in the Niger Delta, and the re-emergence of separatist agitation in the southeast are all at the backdrop for national elections scheduled for February 2019."
Positing that building peace is a challenge that should be accepted by all, the US agency therefore invited participants to share their ideas on how to achieve peace in their communities and in Nigeria.
Below are some of the views expressed by participants on how to achieve peace in Nigeria:
Idayat Hassan (@HassanIdayat) Director, Centre for Democracy and Development
According to Hassan, peace in Nigeria could be described as one in which there is availability of basic amenities, where citizens have equal opportunities to grow and develop and where there is reduction in the level of corruption.
She cited some of themajor structures for a peaceful society as including civil society organisations (CSOs), media agencies, International organisations, traditional institutions and religious bodies.
Hassan said: "There are several insecurities pervading the country such as the Boko Haram insecurity, the political divide, the economic instability and corruption. To achieve peace, one has to tackle the underlying factors."
She also proposed that unemployment and education issues should be addressed and that inclusion of youths, women, people with disabilities and other marginalised groups be addressed too.
On addressing the issues of unemployment and education she said this could go a long way in curbing citizens' dissatisfaction through providing job opportunities and making sure children stay in school.
Others include maintaining communication within the society and between the leaders and citizens.
She said: "This can be via town hall meetings, regulated meet and greets and making information more easily accessible to citizens.
"Upgrading the security architecture in the country: This can be achieved by providing more funding and better equipment with which to fight crime.
"Teaching history: I believe teaching history in our primary and secondary schools would go a long way in achieving peace.
"An understanding of where we've been can help in charting our future and in turn bridge the religious and ethnic divide."
Samson Itodo (@DSamsonItodo) Executive Director, YIAGA – Africa
On how peace can be achieved in the community and in Nigeria, he said: "A peaceful Nigeria is one that celebrates humanity, respects human rights and promotes consistent dialogue between state and citizens.
"A peaceful Nigeria is one with no prejudice. Nigeria is a multi-cultural and multi-religious society however peace and unity can be attained despite the cultural and religious diversity.
"Peace can be achieved through consistent dialogue. Often times we talk at each other. May be what we need is to talk with each other. Dialogue, Dialogue. Dialogue.
"As a community, we must take intentional steps to accelerate our development by managing our resources and ensuring equitable distribution of wealth. This will reduce economic tensions and lead to a more peaceful society.
"We need to address the deeply entrenched system of inequality and marginalization if we want to achieve peace.
"Our public institutions need to be alive to their responsibility. No doubt, we've got weak institutions but these institutions must perform their responsibility in line with legal stipulations and the principles of justice and equity.
"Traditional institutions and religious leaders have a critical role to play in promoting community dialogues. The potency of their engagement in peace promotion is immeasurable. This approache has worked in communities in Jos, Kaduna, Kogi etc."
On the role of young people in this movement he said: "The increasing use of social media by young people is an opportunity for political socialisation and peace promotion. Content producers and developers must be proactive and sensitive to the issues."
Chris Kwaja (@c_kwaja), Senior Advisor, U.S. Institute of Peace
Kwaja noted that the first structure or institution for peace in the community is the family, adding that the second is ethnic, religious and community based associations.
He said: "A peaceful Nigeria is one that is building on the foundation of inclusivity, justice and equity for all citizens.
"For every opportunity given to the communities via the platforms, their voices get louder and more coherent. The weakness of their voices is linked to the absence of opportunities for them to engage.
"Providing communities with the right platforms to amplify their voices on issues of peace is one of the important pathways to explore.
"The fact that the state as presently constituted, does not recognise the place of traditional institutions beyond the palace, makes it difficult for the traditional leaders to make impact in conflict management. Secondly, the traditional institution is currently politicised.
"The first focus is to ensure family values are strengthened. In the context of Africa, it's the communal ties that serves a pillar for societal ethos and values to thrives."
Oge Onubogu (@OgeOnubogu) Senior Program Officer, U.S. Institute of Peace
Onubogu stressed that a functioning and inclusive government provides viable alternatives for Nigerians to support change instead of violence.
She said: "Yes, community leadership is very important, and the government voice also plays an important role. Peace certainly benefits everybody."
Nkasi Wodu (@WoduNkasi) Peacebuilding Program Manager, Foundation for Partnership Initiatives in the Niger Delta (PIND, @PINDFoundation]
Wodu said: "Every time I see normal people engaging in conflict management or prevention in the communities of the Niger Delta, I'm constantly reminded of the importance of providing a platform for people to contribute to building peace in their communities."
Y.Z. Ya'u (@YZYau) Director, Centre for Information Technology and Development (CITAD, @CITAD3)
Ya'u said: "Peace can be achieved by making communities more inclusive, consultative and deliberative in tackling community issues. Focus on key community problems can lead to providing a focus for this.
"There is also the need to always seek for a successful closure of conflicts. Often in our search for quick fix, we tend to assume that when conflicts return to latent stage, they have been solved. That is a fatal fallacy. When they resurface, they tend to be more devastating.
"We must also pay attention to the sort of education our children receive in schools. Some of the teachers are transmitting channels for generational hate speech and hatred.
"This has informed the work that @ICTAdvocates , a civil society organisation using ICTs to empower the society, has been doing with school communities to socialise children at this early stage to imperatives of peace building.
" This is also why in 2017, @ICTAdvocates convened a conference of young people in peace asking then to document and share with the wider community what they have been doing to create or maintain peaceful communities."