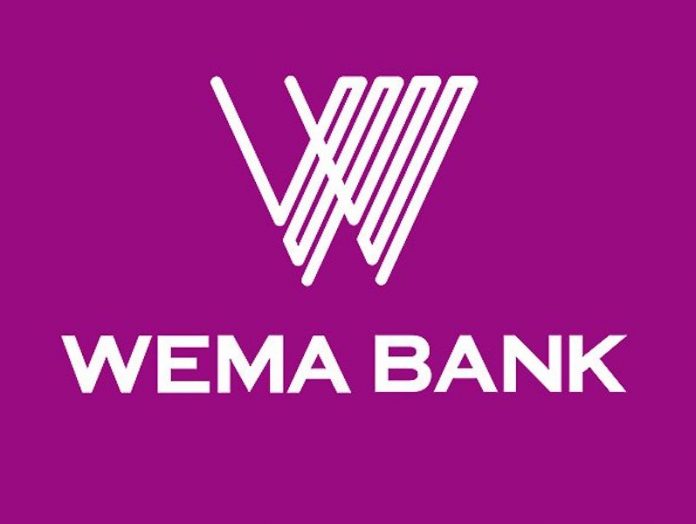 Wema Bank Plc has disclosed that it recently concluded arrangements with AIICO Insurance Plc, one of the leading insurance companies in Nigeria, to increase access to retail insurance products leveraging the bank's network.
The formalisation of this partnership followed its endorsement by the National Insurance Commission (NAICOM) and the Central Bank of Nigeria (CBN).
Following the increase in uptake of retail insurance products and services across the country, the Head, Retail & SME of Wema Bank, Dotun Ifebogun, said the bank was delighted with the partnership, noting that through it, Wema Bank would be able to refer customers in need of any form of insurance to AIICO through it wide branch network and digital platforms.
"This is a strategic move to position the bank as a one-stop shop with a bouquet of products and services that meet a variety of needs.
"Both organisations have a legacy of trust and resilience that has won the loyalty of customers over decades," the bank explained in a statement.
Reacting to the development, AIICO Insurance Technical Executive Director, Adewale Kadri, said it was another move by AIICO to demonstrate its commitment to increase awareness and deepen access to retail insurance products in Nigeria.
Wema Bank, the pioneer of Nigeria's first fully digital bank ALAT, offers a range of retail, SME banking, corporate banking, treasury, trade services and financial advisory to its customers. Wema Bank operates with a National Banking Licence, with a network of over 136 branches and service centres across Nigeria, backed by a robust ICT platform.
FBNQuest Supports 'Corporate Challenge'
In line with its commitment to deliver impactful community focused initiatives, FBNQuest Merchant Bank, the investment banking and asset management subsidiary of FBN Holdings Plc said it has continued to drive partnerships with reputable institutions to implement financial literacy programs, women empowerment initiatives, as well environmental and social projects as part of its corporate responsibility and sustainability focus.
In furtherance of this, FBNQuest Merchant Bank joined the 2018 NSE Corporate Challenge to support the fight against cancer.
The event was a one-day competitive 5-kilometer race aimed at creating awareness on early detection and fundraising for the cause.
Proceeds from this year's Corporate Challenge are planned towards the provision of free cancer treatment and screening facilities across Nigeria with the purchase of Mobile Cancer Centres (MCCs).
The bank explained that the sponsorship reaffirmed its position as a socially conscious organisation.
In the financial literacy space, the organisation had trained over 1,800 students at secondary school level on the importance of saving and investing by leveraging platforms such as the Global Money Week and World Savings Day in support of the Central Bank of Nigeria (CBN) financial literacy goals.
Its activities also extend to female economic empowerment and capacity building seen in support for the Women in Management and Business (WIMBIZ) annual lectures and conferences.
In support of education & skills development, the Bank recently partnered with the Teach First Nigeria (TFN) Training Institute, which recruits outstanding university graduates and young professionals of all academic disciplines to teach as full-time teachers (Fellows) in underserved and low-income schools.
Speaking on the organisation's footprint in this area, Lolade Sasore, Head Communications and Knowledge Engagement at FBNQuest Merchant Bank, was quoted in a statement to have said: "We have consistently supported the NSE Corporate Challenge, which is commendably in its fifth year, as it remains a strong platform committed to addressing cancer as a critical health issue."
Lagos to Host Fintech Summit
Africa's premier fintech event, the Africa Fintech Summit will be held for the first time in Lagos, between November 8th and 9th, 2018.
The event comes on the heels of the earlier edition in Washington D.C. which featured leading policy makers, c-suite business executives, start-ups, and investors.
The summit, organised by Dedalus Global, gathers innovators, investors, policy makers and other key stakeholders in the fintech sector to discuss technologies transforming finance on the continent, debate regulatory policies, compare best practices, and forge new ventures.
Speaking on the decision to bring the Summit to Lagos, the Chairman of the Summit, Leland Rice, said, "Lagos is an ideal host city; it's an epicenter of Africa's fintech revolution and the driving force behind the continent's entrepreneurial spirit. The successes of companies such as Paga, Flutterwave, Mines.io, and Paystack have strategically positioned Lagos as the destination of choice for investors.
"The first edition of the Summit in D.C. was a launch pad for several milestone fintech deals struck among its delegates in the months after the event.
"We plan to build on these successes in Lagos, with a focus on bringing innovators and policy makers together to move the needle on fintech regulation and bringing founders and investors together to facilitate further capital raises," added Leland.