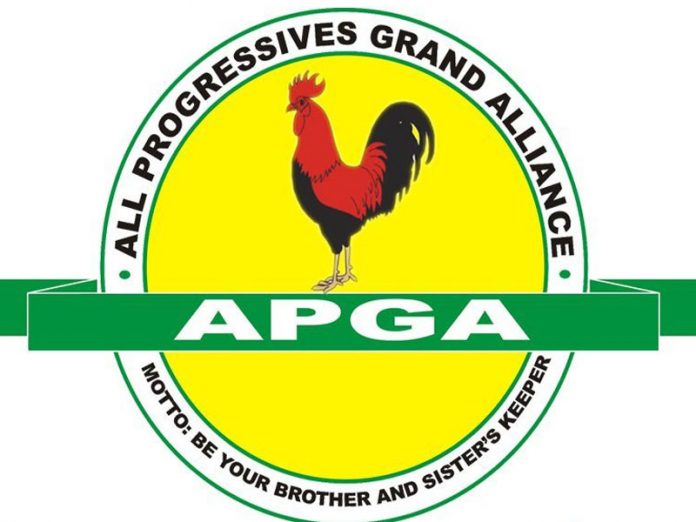 Onyebuchi Ezigbo in Abuja
After years of absence in the presidential elections in the country, the All Progressives Grand Alliance (APGA) has said that it will present to Nigerians a presidential candidate during its non-elective convention scheduled for October 7.
Addressing journalists yesterday at the end of the meeting of the National Working Committee (NWC) of the party, the National Chairman, Victor Oye said a presidential aspirant, Maj. Gen. John Gbor (rtd) who hails from Benue State as well as a vice presidential aspirant, Jerry Chukwueke from Imo State have purchased APGA's nomination forms.
He said that he and the members of NWC are working hard to reposition the affairs in order to improve the fortunes of the party.
Oye hinted that the leadership of the party is making arrangement to organise a transparent primary election that will be a model in the country.
Speaking about preparations for the 2019 general elections,, Oye said that APGA has witnessed remarkable rise in the number of aspirants that purchased its expression of interest and nomination forms, adding that the party has sold its nomination forms in the whole of the South West, Zamfara, Niger, Gombe, Plateau and Taraba states.
" People have been coming to buy our forms and for the first time in the history of this country, APGA can match the top political parties in the sale of forms.
"APGA manifesto is ranked the best in the country. So what does that tell, it tells you that if APGA is given the opportunity to manage the affairs of Nigeria, we will do very well," he said.
When asked to disclose the amount of money the party has generated from sale of forms, Oye said that the figures are not yet ready but that the party has harvested more aspirants than in the past.
On the chances of APGA in the forthcoming general elections, Oye said the party has very bright chances of upstaging other contenders.
According to Oye, the performance of APGA in Anambra State is a case study, noting that governance in the state has become like what obtains in other climes, abroad.
Also the APGA boss said that the party has been receiving notable defectors from the ruling All Progressives Congress (APC).
"The party is structured in such a way that it will always deliver good governance wherever it governs. With the support of all patriotic Nigerians, APGA will take this nation to desirable level.
"Nigeria can no longer continue to work in a slow pace as we are currently doing. We need to work at a faster rate if we need to get to the eldorado of our dream," he said.