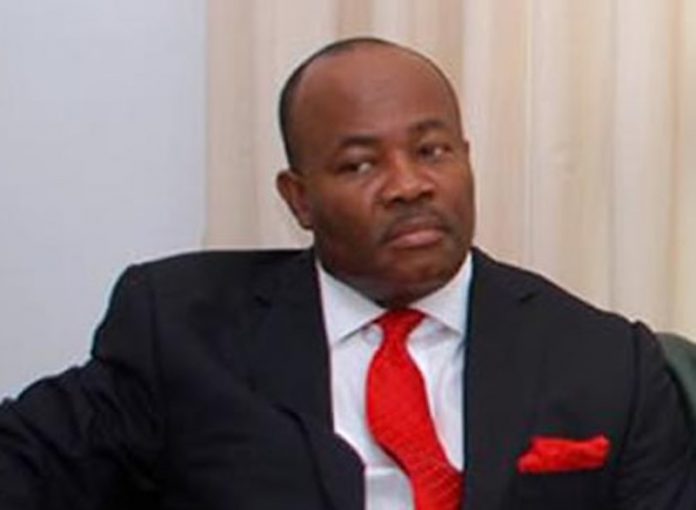 By Omololu Ogunmade in Abuja
Former Senate Minority Leader, Godswil Akpabio, Monday in Abuja portrayed himself as a chameleon when he disclosed that his heart was actually with President Muhammadu Buhari at the 2015 presidential election and not with his party's candidate, former President Goodluck Jonathan.
Akpabio who last month defected from the Peoples Democratic Party (PDP) to the All Progressives Congress (APC) made the disclosure after a meeting of the elders and leaders of Akwa Ibom State with President Muhammadu Buhari in the State House.
Akpabio said even though his mind and soul were not with Jonathan at the time, he was compelled to vote for him because Jonathan is from Niger Delta and he did not want to engage in anti-party activities as a PDP governor and also the Chairman of PDP Governors' Forum at the time.
However, Akpabio said now that he has finally belonged to where his soul and spirit were in 2015, he could freely express his interest at the 2019 polls without fear or favour.
He also took a swipe at his former party, accusing it of failing to construct a single kilometre road in Akwa Ibom State in its 16 years of ruling Nigeria.
He boasted that Akwa Ibom State would be the first state to be won by the APC in the South-south at the forthcoming 2019 general election adding that Buhari will win the state by landslide.
He described the current PDP in the state as a mere empty party whose body and soul had moved to the APC, disclosing that no fewer than 266,000 persons had also dumped the PDP for APC since his defection.
According to him, no single indigene of South-south will vote against Buhari in 2019 neither will there be any defection from APC that can affect the chances of the party in the forthcoming elections.
He said: "In 2015, we had a son of the Niger Delta, former President Goodluck Jonathan, contesting the election and I was also a chieftain of the PDP.
"I was also the Chairman of PDP Governors' Forum. So, in spite of the fact that I believed strongly that the current president needed to be supported, there was no way I could play anti-party activity in 2015. So, I voted for PDP.
"But today, I am at liberty to exercise my franchise and that means I am with my body and soul – that is, with my supporters and my family – and as a leader, we are going out there enmasse in our thousands to cast our votes for the president in 2019 and I am saying this with emphasis."
Details later…