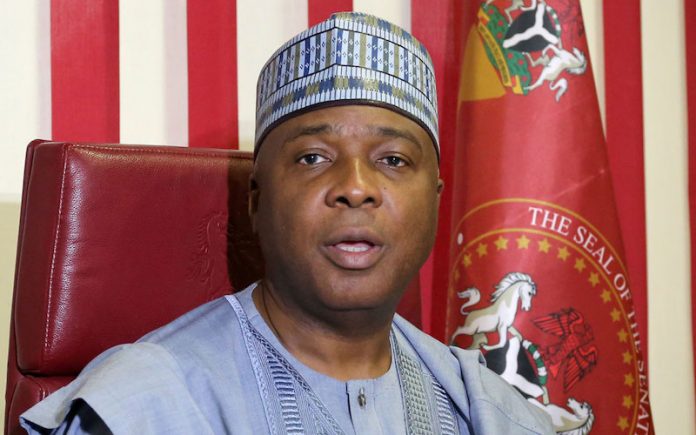 Emmanuel Ukumba in Lafia
The Senate President, Dr. Bukola Saraki, has hinted the Nigerian populace that it is now time for the North Central geo-political zone to lead Nigeria because the zone has been loyal and dedicated to other regions.
Saraki stated this when his presidential campaign train stormed the Nasarawa State chapter of Peoples Democratic Partys secretariat in Lafia yesterday.
According to him, "We have served Nigeria, and it is time for us to lead. That is why I stand before you to give me your support and vote for me to become the presidential candidate of PDP.
"We have suffered a lot from this region, and have worked so hard. We have served everybody, so it is now time to serve us."
He continued that Nigerians want a president that knows the job; strong and courageous to lead.
"I am here. I have been a governor for eight years, a Senate president and chairman of Nigeria Governor's Forum. I will listen to all of you and govern very well. We are looking forward to the next president of the Federal Republic of Nigeria, and the first president from the
North Central democratically elected would be me," he maintained.
Meanwhile, Saraki  yesterday commiserated with the government and people of Nasarawa State over a gas explosion that left scores dead with many others severely injured.
Consequently, the Senate president had to cut short his political campaign and visited the Dalhatu Araf Specialist hospital where victims of the fire incident were taken for medication.
He described the incident as rather unfortunate that the country is losing people who can add to its development with their abilities, "but sadly they were no more as destiny cannot be queried."
The PDP presidential aspirant however stated that as a government and a concerned citizen, "we will ensure the security of lives and property through the provisions of basic infrastructures and amenities that can forestall incidences as ugly as the one we have just witnessed.
"I want to stressed hear that there is no amount of politics that should undermine the lives of fellow Nigerians."