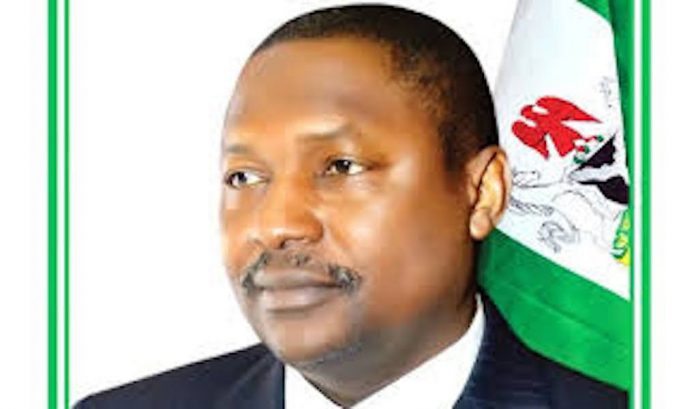 Alex Enumah in Abuja
The Attorney-General of the Federation (AGF) and Minister of Justice, Abubakar Malami (SAN), has decried a situation where inmates awaiting trial constitute 70 percent of prison population in the country.
Malami, who called for an urgent action against the development, also lamented that most of the inmates belong to the younger population of the country and are being held because they cannot afford the meagre amount for their bail.
He was speaking during the Presidential Committee on Prisons Reform and Decongestion's visit to Birnin-Kebbi Prisons in Kebbi State.
While disclosing that the committee will pay for the fines of some inmates and also conduct a review of cases of inmates awaiting trials for more than five years in the select priority prisons, the AGF stressed that Nigeria cannot continue to overlook the need for non-custodial measures in the judicial system.
According to him, "It was distressing to note that many of the released inmates were aged between 18 and 25 and were convicted of crimes from stealing onions to stealing mobile/television sets.
"Despite some fines being as low as between N4,000 and 20,000, these young men could not afford to pay same and therefore languished in prison where they mixed with violent offenders.
"Indeed, it has already become very clear from deliberations during the previous prison visit that we as a country cannot continue to overlook the need for non-custodial measures."
He added that such measures, including community service orders and probation, are clearly provided for in the administration of Criminal Justice Act, 2015, noting that Kebbi State Justice Reform team is working towards adoption of the Act in the state.
Also speaking, Chairman of the Committee and Chief Judge of the Federal Capital Territory (FCT) High Court, Justice Ishaq Bello, disclosed that some inmates with minor offences who have spent more than five years will be released from custody.
He also advised magistrates to be careful with the kind of remand order they issue, adding that "as heads of courts, they must know what those under them are doing because a lot of inmates in prisons have no reason being there.
"We must make Nigeria's judiciary one of the best in the world."