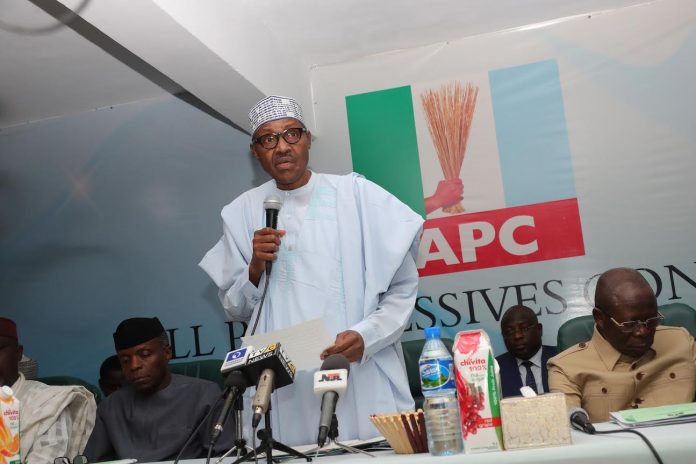 Ruling party faction joins APGA in Imo
By Onyebuchi Ezigbo in Abuja

The All Progressives Congress (APC) has asked the Governor of Rivers State , Mr. Nyesom Wike, to name any presidential candidate that the ruling party has sponsored in the Peoples Democratic Party (PDP).
This is coming as a faction of the ruling party in Imo State led by Senator Ifeanyi Godwin Araraume, which has been at loggerhead with the party executive loyal to the state Governor, Rochas Okorocha, has defected to the All Progressives Grand Alliance (APGA).
APC said in a statement issued by its acting National Secretary, Yekini Nabene, yesterday that  it is understandable that the PDP in its despair over its failed 2019 election bid for the presidency has resorted to comical conspiracies.
"Instead of putting its house in order, it is laughable that Governor Wike and his PDP cohorts are clutching on straws in its desperate bid to remain in public reckoning in the face of imminent 2019 defeat," it said.
APC said it is challenging Governor Wike to be brave enough and name the APC-sponsored aspirants among the crowd that have signified interest to run for the presidency under the PDP.
"We urge the PDP to quickly wake up to the reality that the 2019 presidential elections have been won and lost.
"The PDP is a dead party and we urge its members who share our progressive ideals to leave the sinking and rudderless ship and come over to the APC which is rebuilding and repositioning the country in all facets," it said. 
Meanwhile, a faction of APC in Imo State led by Senator Araraume, defected to the All Progressive Grand Alliance (APGA). The final meeting that produced the alliance was held yesterday at APGA National Headquarters in Abuja. 
The APC splinter group had earlier met with the leadership of APGA last week to cement the alliance deal.
Speaking on the outcome of the meeting the National Chairman of APGA, Ozonkpu Victor Ike Oye, who presided over the meeting in company with the APGA National Secretary, Labaran Maku said alliance talks were successful.
He thanked all those that contributed to its success, and assured the new entrants a level-playing field.