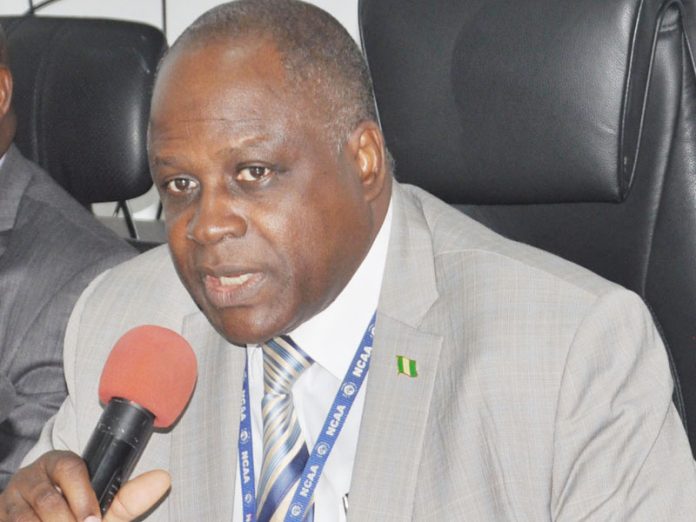 • Says Nigerians are investing in airline
Chinedu Eze
The federal government has said it is making every effort to ensure the take-off of the national carrier, Nigeria Air, in December this year.
This was disclosed by the Director General of the Nigerian Civil Aviation Authority (NCAA), Captain Muhtar Usman, who said Nigerians have started investing in the airline because they have developed confidence in the government's ability to successfully establish the national carrier.
Usman, who spoke to journalists at the Murtala Muhammed International Airport (MMIA), Lagos, yesterday, the said controversy over the planned national airline died down when Nigerians understood the level of government's commitment to the project.
He added that the government is working for the successful take-off of the airline which would commence operation with five aircrafts and has at its behest 81 Bilateral Air Service Agreement (BASA) routes.
He said: "The establishment of Nigeria Air is a process, and the process is ongoing transparently for the people to see. The plan is to get the best for Nigeria. Nigerians have been yearning for the gaps created by the lack of having strong and viable carrier that would meet the demands and potential of both the domestic market, the regional market and the International market."
Usman assured Nigerians that the December take-off date of the airline is very feasible because efforts are being made to ensure that the airline takes off operations this year.
He dismissed fears that the government might not realise its target at the projected time, saying it would take about 90 days for NCAA to deliver on the two major certificates-the Air Transport Licence (ATL) and the Aircraft Operators Certificate (AOC), adding that the government is striving to achieve that.
"We still have more than 90 days to the end of the year, so it is still feasible; all things being equal, am just talking from the regulatory point of view," Usman said.
In July this year, the federal government, through the Minister of State for Aviation, Senator Hadi Sirika, unveiled the livery for the new national flag carrier, Nigeria Air, at the Farnborough Air Show in the UK.
Usman told THISDAY in a recent interview that the national carrier would serve as a pivot for the development of air transport in Nigeria because it would provide the platform for the establishment of Nigeria as West and Central African hub; the development of major maintenance facility; aircraft leasing, and that when airport are given in concession, the national carrier would open the intra and inter-regional connectivity from Lagos and Abuja airports.