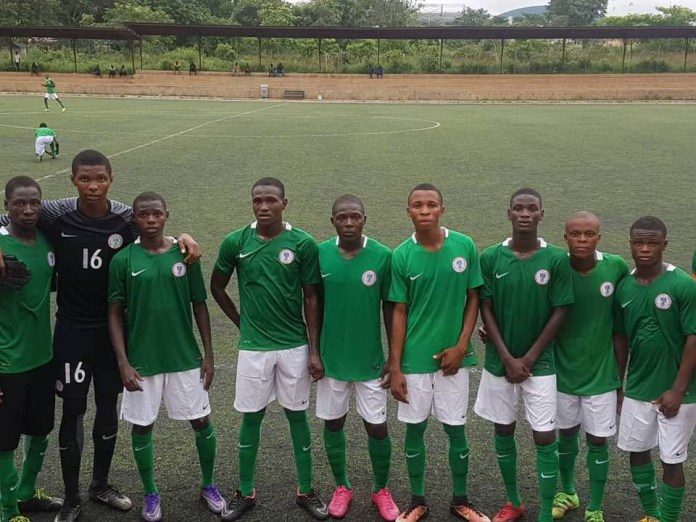 ZONAL U-17 AFCON CHAMPIONSHIP
*Benin Rep out as 10 players kicked out 
By Duro Ikhazuagbe
Golden Eaglets ambition of reclaiming the top spot of cadet football in the continent after missing out in the last three years has hit a snag following the disqualification of the Captain of the team, Sani Abacha and another player Saviour Johnson Isaac.
Both Abacha and Saviour failed the MRI age test carried out at the Zonal Under-17 AFCON Championship which begins today in Niamey, Niger Republic.
It is not only Nigeria that has suffered the absence of two key players, Benin Republic had 10 of her players disqualified by the same MRI tests. As it is now, Benin is out of the competition and would need to return home.
Eaglets' opponents in the opening game at 4pm this afternoon, Burkina Faso, also had two of their players disqualified on account of been over-aged.
Abacha's disqualification is not only a blow to the Nigerian camp, the young lad is believed to be on the radar of Atletico Madrid and Porto. He is such a versatile player who can play from either the defence or midfield. He's a product of the Galadimawa Academy in the Federal Capital city.
Nigeria, Burkina Faso, Cote d'Ivoire and Benin Republic play in Group B, with host Niger Republic, Ghana and Togo in Group A.
Already, the organizers have picked Nigerien official Mohamed Ali as referee, with Beninoise Éric Ayimavo as assistant referee 1 and another Nigerien, Abdoul Aziz Yacouba as assistant referee 2.
The reserve referee is Ognankotan Ntale from Togo while former FIFA referee, Bonaventure Coffi Codja from Benin Republic is the referee assessor.
Eaglets who will tackle Cote d'Ivoire on Thursday will have to wait for the decision of the organisers on their last group foes-Benin Republic who have now exited the competition due the disqualification of 10 of her players. It was originally scheduled to end Nigeria's group stage matches next Sunday
A new format approved for the competition at the CAF Extra-Ordinary General Assembly which took place in Rabat 13 months ago means countries in each regional bloc gather in one country within the bloc to play a qualifying tournament, as against the old format of home-and-away qualifying series.
Only the winning team from each of the blocs (apart from the bloc of the defending champions that will produce two teams) will qualify for the final tournament, slated for Tanzania next year.