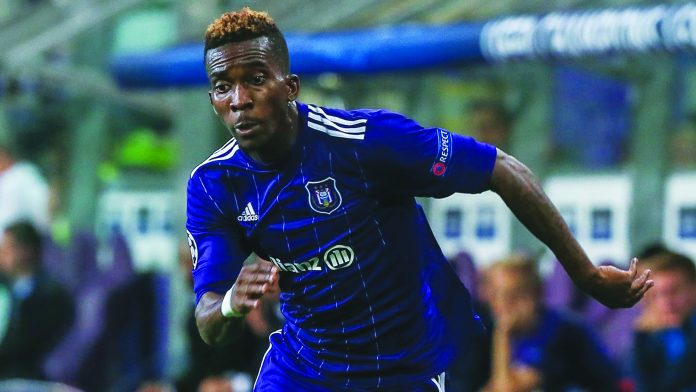 After failing to make the cut in the Nigeria team to the World Cup in Russia, another opportunity has fallen on Henry Onyekuru's laps after Super Eagles Manager, Gernot Rohr named the Galatasaray of Turkey striker in his 24-man list for the 2019 Africa Cup of Nations qualifier against Seychelles and its one chance he won't let slip
He was devastated after his name was dropped from the Super Eagles World Cup team to Russia and blamed his coach at Anderlecht- Hein Vanhaezebrouck for his omission.
He joined Anderlecht on a season-long loan from Everton owing to his failure to secure a work permit in England after he was snapped up from Eupen following his impressive 2016-17 campaign. Onyekuru made an instant impact, scoring 10 goals across all competitions. But in December, he suffered a setback after picking a knee injury thought to rule him out of the World Cup.
However, he returned earlier than expected but failed to get playing time to prove his fitness and bolster his chances of making Rohr's squad for the tournament.
"I would not know how Hein Vanhaezebrouck's voice should sound, I have not spoken to him for weeks. I had to read in the press and hear that I was not ready, but I have worked very hard to get back, but apparently, that was not enough for some," Onyekuru had said.
"Upon my return, I was asked to do two weeks of exercises to strengthen my knee, I made three weeks of it. I was told too much, but I was told by Bruges that I was allowed to come in, but no, even Leander Dendoncker came to ask why I was not in the selection.
"Anderlecht have cost me my World Cup, but they knew that I needed to get a work permit for England by not letting me play, I could not go to Russia and they tried to keep me for another season at Anderlecht."
Following the disappointment, the forward has vowed to leave the side this summer, despite Anderlecht having the option to extend the deal for another season.
 "I can confirm that Anderlecht had a deal with Everton about a second season on a loan basis, but the final decision was with me, but now it's certain – I will not stay," an obviously depressed Onyekuru had vowed.
True to type, he moved to Turkish giants, Galatasaray and as if justifying his latest national team call-up, he put up another convincing performance for Galatasaray on Monday and scored Gala's final goal in the 6-0 rout of Alanyaspor. 
Everton could not resist his signature after his exploits in the Belgian League for KAS Eupen, during which he hit the back of the net 24 times. Surprisingly, immediately after putting pen on paper for the Toffees, he was loaned to Anderletch of Belgium where he is also excelling. His form last season culminated in European giants -FC Barcelona and Manchester United contemplating signing him on. 
Henry Onyekuru was impressive for Anderlecht at the beginning of last  season, culminating in Catalan giants-Barcelona sending scouts to watch his matches. Aside from Barcelona, Manchester United, Fiorentina, Ajax, PSV, Southampton and Stoke City were also believed to have sent their scouts to see the player in action in the Belgian league.
Onyekuru said he was flattered by stories linking him with top European clubs like Barcelona and Manchester United, but wants to remain focused.
The striker, who spoke exclusively to AOIFootball.com after netting the winner for Anderlecht in their Jupiler league game, said he would continue to work hard and improve on his game.
"There is no real secret, I have a strong faith in God and he has blessed me to be able to do what I love and I'm just focused on improving myself, working hard and staying dedicated. It's a blessing to be recognised by these clubs and of course, it's flattering but I take everything one step at a time. I will focus on what is in front of me and for the next few months," Onyekuru said.
Onyekuru is however unsure of a return to Everton in January, despite putting up impressive shifts at Anderlecht after joining the Toffees following his impressive display for Eupen last season where he netted 25 goals in 41 appearances.
After a quiet start, the forward has continued with the form that earned him a deal with the English side and has scored eight goals so far. However, the striker is still uncertain of a recall to Goodison Park.
"I follow the path that is being drawn up for me. Wherever I go after New Year, I do not know either. Whether Everton has a contractual option to get me in the winter? Everything is possible. I'm their property, they decide. I have never said that I'm sure I'll leave Anderlecht. The most important thing is here and now. I'm happy and everything is going well. What's happening in winter, we'll see," Onyekuru told Het Nieuwsblad.
In a chat with THISDAY, former Nigerian international, and footballer's agent, Waidi Akani is of the opinion that for Barcelona to send their scouts to watch Onyekuru, it means he has something to offer.
"Barcelona has a very formidable scouting team. So, for them to have scouted him, it means he has a very great potential and future. However, that does not mean the club gets it right all the time. A move to a club like Barcelona would definitely be to the advantage of the national team coaches as he would be well-polished under the best coaches.
"However, we cannot count on him for now because he is yet to really prove himself for the country at any level. His game for the Super Eagles against Togo is not enough to judge him. Football is not a one-season game, so we should not get so excited thinking that we now have a good striker simply because he scored 24 goals last season for his Belgian club.
"He is still young, just 20 years old. Maybe he should first be tried the Under 20 or 23 level and see what he can offer. Football could be funny at times. With all the noise about him, he might just not fit into our style of football," Akani opined.
Onyekuru can play all across the front line; he favours the left as it gives him the space he needs to go through the gears, as well as come inside on his stronger right foot. His low centre of gravity, as he stands at about 5ft 9in, enables quick changes of direction, but his dribbling style really isn't defined by it, unlike most players his size. He does have good close control, but relies more on his speed and trickery, often looking like he has shown too much to the opponent before snatching it away.
In front of goal, Onyekuru is an improviser. He possesses good movement, especially when he has to spin in behind a full-back; he is often up and away before they even know it. When through, he can finish in a number of ways; though, like most speedsters, he seems to enjoy going past the goalkeeper.
There is a lot to admire about him, but he is still a teenager, so there are a lot of areas where he can improve. That is only natural. His aptitudes for the defensive side of the game, as well as his decision-making, are still undeveloped. 
He is unashamedly direct – he will pick the ball up, accelerate quickly, and go towards goal. He also has shades of Arjen Robben – he plays mostly on the left, so he can cut in and shoot on his stronger right foot.
Surprisingly for one blessed with such pace, Onyekuru likes to come deep for the ball, rather than playing on the shoulder of defenders.
He is small of stature – 5ft 9in – but uses this quick change of direction effectively, bamboozling defenders, using his change of pace to get past his man rather than a barrage of stepovers.
Perhaps, the biggest weakness in Onyekuru's game is a streak of single-mindedness. It can manifest as overconfidence or as selfishness, but too often, he wants to go alone. He will often get the better of his marker, and opt for a shot from an angle rather than lay in a teammate in a better position centrally.
Onyekuru began his football career with the Aspire Academy in 2010, and graduated in 2015 joining their partner club, KAS Eupen and made his debut for Eupen in September of the same year in a 2-2 tie against Dessel Sport in the Belgian Second Division. He helped the team get a promotion to the Belgium First Division A in his debut season.
After a successful season in the Belgium first division, Onyekuru finished as one of the top scorers in the league, attracting the attention of various big teams in Europe. He finished the 2016/2017 season as joint top-scorer with 22 goals, but the trophy was handed to his rival as he scored more away goals than Onyekuru.
He made his senior debut for Nigeria in a 3-0 friendly win over Togo last year's July.
It, however, remains to be seen if Onyekuru could take his chance and grab an AFCON place in Cameroon next year.