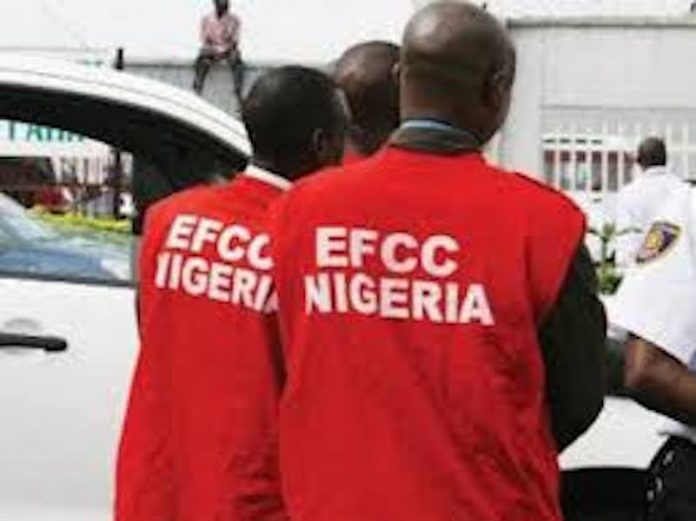 Segun Awofadeji in Bauch
The Special Control Unit Against Money Laundering (SCUAML) of the Economic and Financial Crimes Commission (EFCC), Gombe Zonal Office, has raided Hamabb Motors Nigeria Limited along Atiku Abubakar road, Jimeta, Yola, Adamawa State and Halal Synergy Limited along Galadima Aminu Way, Jimeta for alleged non-compliance with the Provisions of the Money Laundering (Prohibition) Act, 2011 (as amended).
According to a statement by the spokesman of the EFCC, Gombe Zonal Office, Mr. Bello Bajoga, "the companies failed to adhere to the regulations of Designated Non Financial Institution (DNFIS) Regulatory Manual 2013 that regulates the activities of DNFIS.
The statement added that during the raid, the owners of the companies – Alhaji Abba Galadima and Alhaji Mansur Abdurahman, were arrested.
"Several efforts made by the SCUAML officers from zonal office by serving the companies with letters of notification for registration in June, 2016, as well as inspection and sensitation in July and November 2017, respectively to register proved abortive," the statement added.
According to the EFCC, another observation letter was equally served to the companies in 2017 to comply with the law but there were no positive
results.
"The companies' actions violated the provisions of Section 3; Section 5 (a) & (b), Sections 9 and 10 of Money Laundering ( prohibition) Act, 2011 (as amended), as clearly stated in the observation letters issued to them.
"Their non-compliance resulted to non-registration with SCUML, non-reporting transactions and accepting cash payment exceeding the threshold provided by law," the EFCC zonal spokesman said.