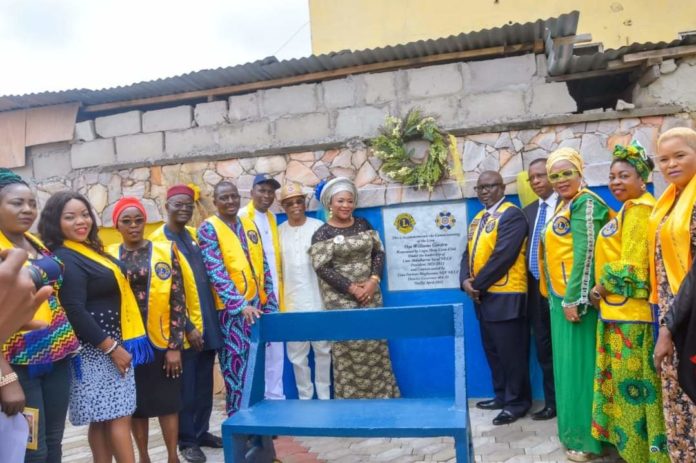 Mary Nnah
In a bid to continue with its service to humanity and to ensure that human beings live healthy and well-balanced lives in the environments they find themselves, Lagos Ikoyi Lions Club in conjunction with Lagos State Parks and Gardens Agency (LASPARK), last week, set in motion a recreational garden to afford Lagosian, especially those residing and working in Ikoyi, Lagos, a place for relaxation.
The Oye Williams Garden named after the Lagos Ikoyi Lions Club Chartered President and founding member, late Lion Oye Williams, is located on Awolowo Way, Ikoyi.
Governor, Lions Club International, District 404A1, Lion Fortune Wagbatsoma, explained that one of the ways to relieve bottled up emotions, physical and psychological stresses acquired from societal and workplace pressures is being able to get balanced mentally, emotionally, and physically in a world surrounded by so many ups and downs.
Wagbatsoma, said therefore that the garden is of great importance to the lions as well as to the community where it is situated.
"People might see it as nothing and may not understand how important this is. We have created a special place where people can actually walk in and relax. We have also been able to help people to relax."
Speaking further, Wagbatsoma lamented that a lot is happening in today's world – the hustling and bustling, a lot of hardships, inflation, depression, killings, and so on, so if one can take out time, even if it is once in a week to have somewhere like the Oye Williams Garden to sit and just relax your nerves and forget every burden you may have, it will do a lot of good to our general wellbeing especially the wellbeing of our mental health."
The District Governor said the issue of relaxation is very important not just in Nigeria but all over the world because everyone all over the world is going through a whole lot of tensions right now.
"There is s a lot of restiveness all over the world, so it is a very important project as it will help people to rest their nerves and as we know, relaxation is very good for the human body", she added.
Speaking further on the essence of the garden, she said, 'I understand that in this part of Lagos, sometimes after work, people tend to stay back so that traffic can ease off. So, they can actually walk into the garden and relax because it is open-air and then have some drinks and over drinks, they will ask questions and understand what Lions Club is all about. It is a project that projects the environment, so we have been able to also help to beautify the environment. The project is second to none. It is very important to the health of everyone to find time to relax from all tension of the day's work."
"Secondly, we have built a legacy, a lasting one, by immortalising one of our leaders who though is late, was instrumental to the formation of the Ikoyi Lions Cub."
The President of Lagos Ikoyi Lions Club, Abdulkarim Yusuf reiterated the importance of the garden, noting that one of the five focus areas of the Lions was the safety of the environment. Apart from the environment other areas of focus, he said were pediatric cancer, feeding the hungry, vision, and diabetes.
He noted however that before any activity is carried out; the club would conduct a community service assessment to ascertain what actually the need of each community is and for Awolowo road, he said the recreational garden was apt.
"On the stretch of Awolowo Way in Ikoyi, there is no place for workers here to relax and continue their journey. So what this garden has done is to give them that opportunity that in between the Falomo under the bridge and the other end of Awolowo road, you have a place you can relax", he added.
"You can see that we have planted trees in the garden that will provide shades for people who will be relaxing here. There are also going to be kiosks where people can buy little refreshments while they are relaxing and of course, the garden is an open library and those who visit will have the opportunity to learn one or two things about lions club, adding that access to the garden is free to the public", Yusuf added.
Zone Chairperson, District 404A1 and Chairperson, Marketing and Communication, Lagos Ikoyi Lions Club, Lion TPL Soledotun Abdulkarim –Yusuf explained that the garden was adopted from Lagos State Parks and Gardens Agency (LASPARK) because we realised that environment is one of the focused areas of the Lion Club International and everybody knows the usefulness of the environment to us. For example, we have climate change and if we do not take good care of our environment, there is no way we can experience good living. And ever since we have done this project, the neighbourhoods have been enjoying this garden, even those that are not living in this vicinity but have something to do in this area, all they need to do is to come in here and enjoy the fresh air. So, it has been of imminence benefit to the neighbourhood and general public.