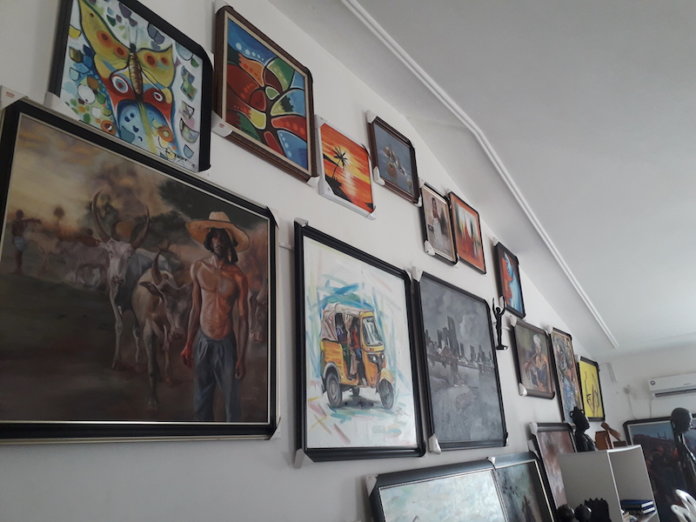 A Lekki-based cultural hub, LVI Art Gallery & Cultural Nexus is pushing the boundaries of promoting arts, culture and tourism in Nigeria, says Yinka Olatunbosun
Visitors at the Lekki-based LVI Art Gallery have multiple options: view new artworks, play traditional game board and art-themed ludo and pose for photographs inside the in-house photo studio. Before the onset of the pandemic in 2020, the gallery's schedule included anniversary exhibition and expansion.
At a recent gathering to host arts and tourism journalists in Lagos, the MD/CEO, LVI Art Gallery, Julius Iyoghiojie revealed the plans for the year.
"The gallery is now two years old. By April 2022, we would be celebrating our third anniversary. The first anniversary could not hold because of the COVID-19 lockdown in 2020. The second one in 2021 was still hampered by the restriction on large gathering. We hope to celebrate our third birthday with an exhibition,'' he disclosed.
Leaning on the nation's wealth in human and natural resources, the gallery is promoting culture by incorporating cultural facts in the ludo game which is open to the public. An engineer by training, Iyoghiojie approaches the art with a deep sensitivity to its potential energy.
"Nigerians must know about the tourist sites. We would use our ludo here to show the tourist sites and destinations in Nigeria. Our stories are the most interesting in the whole world. Our Nollywood is big. We have multiple lakes, warm springs, rocks and mountains, deserts, rainforest. We just lack co-ordination,'' he said.
No fewer than 30 artists have works at LVI gallery in Lagos. There are plans to taken some of these works to international exhibitions. For him, it is important to guard our cultural heritage and create more diverse cultural experience.
"We need to have more artificial tourist sites here in Nigeria. Galleries are tourist destinations. We organize art and craft lessons. In terms of service delivery and clients' satisfaction, sometimes our clients like the works but not the frames. And for you to replace it, you may lose a day or too. So, we decided to have an in-house carpentry workshop so that the frame will not be a limitation to the purchase. Also, we are digital. All our works are available online. We have a photography studio which we started it in March 2021.''
Apart from the thrill of on-site visitors, the LVI gallery online is very accessible, paraded all works at the gallery.