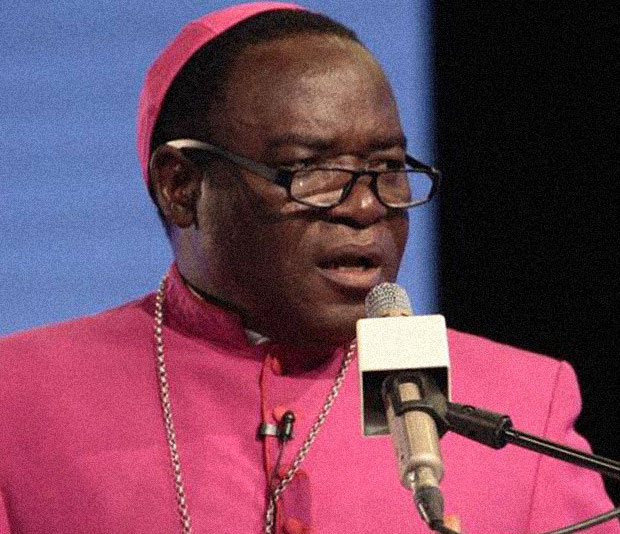 By Onyebuchi Ezigbo
Catholic Bishop of the Sokoto Diocese, Most Reverend Matthew Hassan Kukah has bemoaned the policy of rewarding repentant criminals who have killed, maimed Nigerians and destroyed property worth millions to the detriment of their victims.
He added that the resort to use of propaganda, selling of half-truths, and outright lies by those in authority to blackmail genuine critics can only worsen the already bad situation in the country..
In his message to mark this year's Easter celebration, Kukah said the so-called repentant terrorists, bandits and Kidnappers have waged war against their country, murdered thousands of citizens, destroyed infrastructure and rendered entire families permanently displaced and dislocated.
He said that government should not as a matter priority be investing billions of Naira in rehabilitating rather than bringing succour to the victims.
He lamented that the relations of most of these victims have been left to mourn alone and bury their loved ones alone in agony and penury..
He said: "When kidnapped or killed, victims and their families are left to their wits. They cry alone, bury their loved ones alone. And our government expects us to be patriotic? ".
According to Kukah, victims of these terrorists and bandits need empathy and succour which has not been forthcoming from government.
"Sadly, human life is hemorrhaging so badly in Nigeria, but the greatest tragedy is the death of empathy from those in power. Mysteriously, the government is investing billions of naira in rehabilitating so-called Boko Haram repentant members and their other partners in crime in the belief that they want to turn a new leaf.
"These criminals have waged war against their country, murdered thousands of citizens, destroyed infrastructure and rendered entire families permanently displaced and dislocated. Why should rehabilitating the perpetrator be more important than bringing succour to the victims? ".
The fiery priest also lamented the level of frustrations in the country today resulting from endemic corruption and poverty.
He said that Nigeria was drifting almost irreversibly into a dark tunnel.
"Things are falling apart with unnerving rapidity because those who govern have only a pact to protect their interests. Politics is merely its conveyor belt of ambition. Nigeria has a date with destiny. If we do not turn around, The axe is already laid to the roots of the tree," he said
According to Kukah, while the country is sinking deeper into crisis, those in government are busy "manufacturing consent by creating imaginary enemies, setting citizens against one another by deploying religion, ethnicity, region, and other platforms".
"Recently, according to the World Happiness Report, we are one of the unhappiest nations in the world. This is unacceptable but understandable. Our clay-footed fight against corruption has not moved the needle of transparency forward.
"Of course, being the poverty capital of the world comes with its rewards such as banditry, violence, death, sorrow, blood, poverty, misery, and tears. Our cup of sorrow is permanently full; hence the exponential rise in the frustration curve across the country," he said.
The Bishop further spoke on the controversy and crisis generated by the issue of Muslims wearing hijab in Christian schools in Kwara state, describing it as one of those selfish political actions that tend to undermine national cohesion.
He said: "The rumblings over the wearing of a hijab in Kwara State suggest that we have not seen the end of individuals sacrificing national cohesion to feed their personal ambitions by starting small fires.
"Most politicians hardly think through the long-term effects of these pyrrhic victories of using religion. What started as a small fire with adoption of Sharia in Zamfara in 1999, spread across the northern states. Ordinary people broke into ecstatic joy. Today, what has become of the north? What are the lessons?
Kukah enjoined Nigerians not to lose hope but to be steadfast in prayers and supplications
While wishing Nigerians a happy and peaceful Easter celebration, Kukah said Prophet Isaiah's words should give us hope and consolation.
He said: "When you pass through the waters, I will be with you; and when you pass through the rivers, they will not sweep over you. When you walk through the fire, you will not be burned; the flames will not set you ablaze".