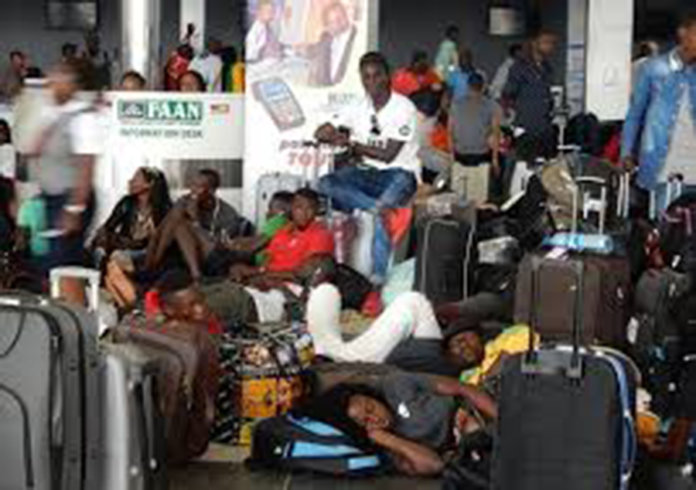 Aviation
Since the resumption of flight operations in Nigeria after COVID-19 lockdown last July, air travellers have been going through unpleasant experiences, as uncertainty hovers over every flight, which could be delayed or cancelled, leaving the passengers stranded. Chinedu Eze chronicles some passengers' ordeals and x-rays the challenges of domestic flight operations in the country
Aviation industry insiders have posited that flight delays and cancellations have become part of air travel in Nigeria, at least since the last 15 years. They adduced that it was the period where nation's economy improved and empowered more people to travel by air. That was also the period that national carrier, Nigeria Airways Limited (NAL) was buried and air transport became wholly private sector driven.
Passengers have spoken how such delays and sometimes flight cancellations disrupt their economic activities; make them lose appointments, transactions and crucial events. Above all, it sometimes leaves them stranded. They also said air travel in Nigeria demands that you must have "deep pocket" while travelling because you may be made to pay for accommodation, buy another flight ticket or charter a taxi, depending on which situation presents itself at any point in time when flights are cancelled.
Complaints
THISDAY investigations have revealed that last week Aero Contractors flight from Kano was delayed because the aircraft scheduled to operate the service had a bird strike, forcing the pilot of the flight to ferry the aircraft back to Lagos without passengers for proper check by the airline's engineers. But the time the aircraft was ready to resume service to go back to Kano to airlift the passengers, the passengers had waited for hours. There was cloud of uncertainty. Would the aircraft come and airlift them? Were they going to sleep in Kano? What of the insecurity that has pervaded the country, will they be safe? These questions were flooding their minds, as one of the passengers relayed to THISDAY. But luckily, Air Peace deployed its Boeing 777 aircraft and airlifted both its own passengers and that of Aero Contractors.
Also last week, Air Peace flight to Owerri was delayed because of malfunctioned transponder. The aircraft engineers had to work on the aircraft while the passengers waited until the equipment was repaired and the aircraft was ready to go back to service. Passengers were also stranded a fortnight ago when Azman Air landed and busted its tyre at the Murtala Muhammed International Airport, Lagos, forcing an emergency evacuation of the passengers. Passengers scheduled for the return flight to Kano had to return home, as the aircraft was stuck on the runway 18L (domestic runway) until it was removed by the Federal Airports Authority of Nigeria (FAAN).
Passengers told THISDAY that Nigerian airlines are unreliable because you cannot be sure that you would travel in a flight as scheduled until you board the flight.
"Sometimes you cannot be sure even after boarding until the aircraft is airborne and does not return to where the flight started," a passenger told THISDAY.
Under Capacity
THISDAY learnt that what is characteristic of these delays and cancellations in recent times are the inability of the airlines to deploy another aircraft whenever there is hiccup in their operations. This, many industry observers said, is confirmation that airlines are suffering from under capacity. But they do not relate with their passengers and keep them abreast of things. They do not update their passengers, until when it is close to departure time and with fewer aircraft in service, it is expected that airlines should schedule fewer flights.
Industry stakeholder and Secretary of Aviation Round Table (ART) a think-tank body in the industry, Group Captain John Ojikutu, has excoriated airlines for frequent delays and said they do not even provide refreshments to passengers and also do not provide accommodation to the travelers, if flights are cancelled in the later hours of the day. He noted that airlines are operating small, each one having few aircraft and canvassed for merger of the airline in order to have economy of scale, but in situations where they cannot merge they could interline and help themselves through such cooperation.
Ojikutu also said airlines should charge higher airfares so that they would generate enough revenue to ensure that they adequately maintain their aircraft.
"If the airlines cannot merge as has been suggested and advised for corporate governance, they should be considerate to find a 'meeting point' for passengers protection and comfort in flight connectivity. It makes no economic sense for two airlines flights to check in passengers with low load factors on same route to same destination. It is a better economic sense for one to agree to drop its passengers to the other at and agreed price and save itself further operational costs on fuel consumption, air navigational, landing and parking at destination, ground handling at destination, etc. Such cooperation among airlines will reduce unnecessary delays and cancellations except those that are caused by or for safety and technical reasons," Ojikutu said.
The Chairman and CEO of Air Peace, Allen Onyema, told THISDAY that the major challenge airlines have is paucity of equipment. He gave example with Air Peace, which has many of its aircraft in many maintenance facilities overseas due to the fact that during the lockdown those Maintenance, Repair and Overhaul (MRO) facilities were not working so the aircraft were not checked as scheduled. He said the aircraft would start coming back to resume operations and in the next few months, the airline's 30 aircraft would be in full operation. In addition, the airline has delivered two brand new Embraer aircraft, which would increase to five by July.
"Before the lockdown we sent many of our aircraft for mandatory maintenance overseas. But they were not worked on during the global lockdown. By the time the lockdown was lifted in Nigeria, the ones we kept on storage were also due for maintenance and were ferried overseas. MRO facilities have not started full service because of the Coronavirus lockdown. But gradually the aircraft will return and resume full operations," Onyema said.
Cause of Flight Delays
The former Managing Director of Aero Contractors, Captain Ado Sanusi, told THISDAY that there was no airline that would like to delay flights because what airlines sell are speed and safety. He said some delays were 100 per cent beyond the airlines' control, but how the airlines handle such matters is another thing and this includes how the airline communicates the delay to the passenger.
"Most of the delays are technical matter, operational issues that are beyond the airline, like the infrastructure at the airport, which may hamper the processing of passenger, but how the airline communicates this to the passenger is important. In Nigeria passengers are very, very angry, but when they travel overseas and there are similar delays or even cancelation of flights they do not get so angry and overreact. But we have to also look at the operational environment. If the passengers are in air-conditioned environment, that is serene and conducive, the passenger may not be so angry.
"Also, if when an airline cancels a flight and you take that airline's ticket to another airline and get it endorsed and travel with the same ticket, passengers will not be angry. But the reality in Nigeria is that passengers buy their tickets late so they buy them at high cost and then you cancel the flight and it is not that he will get his money back immediately. It will take time before he gets it back so he becomes frustrated and angry," Sanusi said.
Faults and Daylight Airports
The Managing Director, Flight and Logistics Solutions, Amos Akpan, told THISDAY that many times aircraft can develop faults that were not considered in the planning. If that fault is in the list of items the manufacturers has stated as "no go item", that aircraft will stay on ground until that fault is rectified.
"This should not affect the scheduled flights that aircraft was planned to operate beyond 60 minutes, if the maintenance and operations managers of the airline anticipated this scenario during schedule planning. There must always be a worse scenario simulation in allocation of aircraft to flight schedule. It is the fault of the airline that puts tight schedule on an aircraft without consideration to ground time and sudden snags," Akpan explained.
He also noted that daylight airports force airlines to delay and sometimes cancel their flights. Daylight airports apply to airports that aircraft takeoff and landing is restricted to daytime: 6am to 6pm.
"This is the consequence of lack of night operations facilities in the airport. No runway lights and other support/safety services are uncertified or unavailable for night flight operations. For safety reasons, airline operators must schedule their flights within the time given. When an aircraft is withdrawn from service without notice, the airline tries to operate flights to daylight airports first so as to meet the 6:00 pm closure. This brings us back to planning your aircraft utilisation taking the environment into consideration," Akpan also explained.
THISDAY findings showed that the delay occasioned by lack of capacity will linger for a long time beyond the middle of this year and that the only solace airlines would have is to cooperate with one another in order to ease the tension of flight delays and cancellation on air travellers.