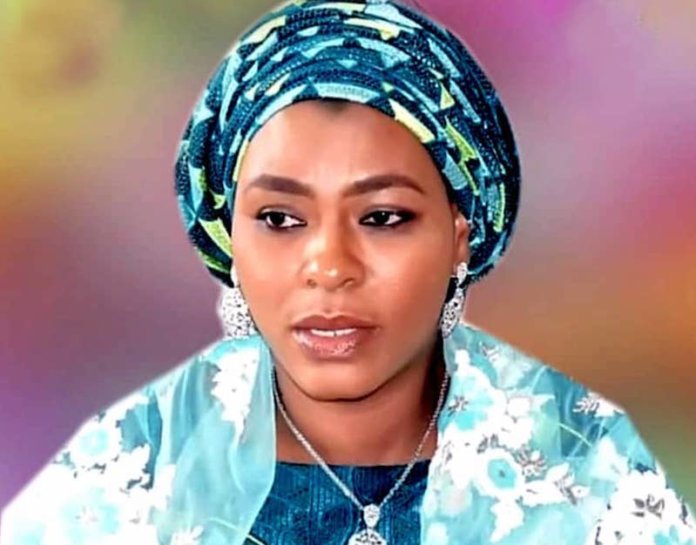 Francis Sardauna chronicles the strides of the Katsina State Governor's Wife, Dr. Zakiyya Aminu Masari in ameliorating the suffering of sickle cell patients, vulnerable women and children in the state
Although there are no definitive statistics on the burden of sickle cell disease, reports from the World Health Organisation (WHO) and other credible sources revealed that Nigeria has the highest burden of Sickle Cell Disease (SCD) not only in Africa, but in the world.
At least 150,000 children are born with sickle cell disease in Nigeria every year, while about 40 million Nigerians (which could amount to five African countries) are healthy carriers of the sickle cell gene.
It is worrisome to note therefore that the 40 million healthy carriers of the sickle cell gene in a population of 200 million people are like a time bomb waiting to explode.
The disease, according to health practitioners, is a genetic blood disorder, which occurs when a child inherits a trait from each parent that causes most of their red blood cells to form into crescents, rather than discs. The condition makes the blood less able to carry oxygen and flow smoothly, which causes a myriad of health challenges and a shorter lifespan for the affected person.
It occurs when the red blood cells contain an abnormal form of the oxygen-carrying protein haemoglobin S, and some less prevalent, but related conditions such as sickle haemoglobin C disorder (Hb SC) and sickle beta thalassaemia (Hb SBthal).
Children, who inherit sickle-cell genes from both parents (SS), often develop sickle-cell disease, while those who inherit the gene from only one parent will have the sickle-cell trait (AS). Those with the trait have no symptoms, but can pass the gene on to their offspring.
The recurrent pain and complications caused by the disease can interfere with many aspects of the person's life, including education, work, matrimonial homes, psychosocial developments and interactions.
Miffed by the spate of patients suffering from the disease in the country, the Wife of the Katsina State Governor, Dr. Zakiyya Aminu Masari has been providing free treatment and drugs to the patients across the state in order to reduce and tackle the hardship afflicting them.
She has made conquering SCD in the state a top priority and she is leading efforts to translate research into cutting-edge therapies and cures, increase access to care, educate healthcare providers, and encourage policymakers to make strides in universal screening and care efforts.
The governor's wife has amplified the voice of the SCD community, promoted awareness, and improved outcomes for individuals with the disease. She is equally focused on promoting clinical care, training, and advocacy while providing a platform to encourage stakeholders to work together to develop and implement important projects and activities that will ultimately help and improve outcomes for sickle cell patients in the state.
Dr. Zakiyya Masari, who is the Founder and Chief Executive Officer (CEO) of Women, Youth and Children Improvement Support Initiative (WYCISI), has demonstrated that it helps to help. She has so far elevated the lives of over 7,000 sickle cell anemia patients through the provision of free drugs to them in Daura, Dutsi and Ingawa Local Governments' SCD centres.
She has over the years been committed to alleviating and putting smiles on the faces of thousands of sickle cell anemia patients, less privileged, widows, orphans and vulnerable women in the state, particularly those living in rural communities.
It is a well-known fact that the state of widowhood is worsened by situations of poverty and lack of access to services and resources. Widows, vulnerable women, orphans, less privileged and unemployed youths across the country, irrespective of ethnic groups, religious or political affiliations are among the most vulnerable and destitute people in the society today.
In a bid to eradicate the age-long scenario, Masari embarked on programmes aimed at cushioning the predicament bedeviling them. Such programmes includes provision of skills acquisition, training for the less privileged women, youth and children, offering of grant, provision of bursary and scholarship to boys and girls, mostly orphans within Daura senatorial zone of the state.
Notably among them is the distribution of 600 sewing and grinding machines to women and unemployed youths in Bindawa, Mani, Daura, Mai'Adua and Dutsi Local Government Areas of the state. She equally disbursed N10,000 and N50,000 each as start-up capital to vulnerable women and orphans in 12 local governments under Daura senatorial zone after a one-week training on entrepreneurial skills and business development.
Similarly, the governor's wife donated 50 tricycles to some selected youths across Dutsi, Daura and Ingawa local governments and renovated general hospitals Ingawa, Dutsi and Mani. While in collaboration with Bruder Hilfe Foundation, Dr. Zakiyya Masari also donated 80 hand-driven tricycles to physically challenged persons selected across the 12 local government areas in Daura senatorial zone of the state.
While presenting the tricycles to the beneficiaries in Daura, she lamented the spate of hardship afflicting persons with disabilities in the country, particularly those living in rural communities and admonished philantropists to contribute their quota in assuaging challenges bedeviling them.
She said the gesture done through her pet project, Women Youths and Children Improvement Support Initiative, is aimed at transforming and alleviating the plight confronting vulnerable people, especially the physically challenged and virsually impaired persons in the society.
She, therefore reiterated her readiness to work with development partners and corporate organisations within and outside the country in the areas of women, children and youths empowerment for the betterment of vulnerable households in the state. The tricycles, according to her, would go a long way in assisting the beneficiaries in finding their means of livelihood and urged them to make judicious use of the items.
She said: "It is my hope to transform and enhance the society through empowerment and touching the lives of the most vulnerable class to be role models which I sincerely hope that this class will one day serve as role models, by making positive impact and meaningful contributions to societal development.
"It is my belief that the mobility carts (tricycles) would no doubt give a helping hand to the beneficiaries who are physically handicapped to enable them to move around, discover their environment as well as find means of livelihood like any other person."
The "Uwar Marayu" as she is fondly called by those who are familiar with her humanitarian services, embarked on different levels of empowerment where she dished out gift items to include wrappers and cash to widows and the less privileged of Daura extraction during a colourful and well-attended event in the ancient town.
In an effort to further ameliorate the plight of the vulnerable in the state, Dr. Zakiyya, has of recent, donated assorted food and households items and clothes to over 600 women, Internally Displaced Persons (IDPs), widows and orphans in Dutsi and Kankia Local Government Areas of the state.
On education, she has distributed thousands of school uniforms, notebooks and other instructional materials to primary and secondary schools to enhance education across the 12 local governments in Daura zone. She also supported 200 students with scholarship grants to study in different higher institutions of learnig within and outside the state.
To support the good work her husband is doing in the health sector, Zakiyya in collaboration with Cry For Help (CFH), a non-governmental organisation recently offered free medical outreach to 7,000 patients in Daura, the hometown of President Muhammadu Buhari, as part of effort to ameliorate their impediments and boost healthcare in communities.
The free medical outreach services, which included the provision of healthcare items, eye care treatment and provision of medical glasses, provision of drugs to patients, blood testing and counseling as well as provision of tooth paste and tooth brush for children, was targeted at bringing succor to the less privileged and the vulnerable children in the state.
At the event, Mrs. Masari called on the beneficiaries to regularly check their health status in order to reduce cases of diabetes, cancer, hepatitis, high blood pressure and other diseases, saying she would continue to give empowerment grant and packages to women and youth to boost their businesses and essential drugs to health facilities and cash assistance to the less privileged patients.
"Skill acquisition training for women and youth to become self-reliant, scholarship allowances to girls across Daura zone and agricultural for women to enhance food security, among other numerable humanitarian interventions aimed at assuaging the suffering of the masses remained my major priority", she said during the event.
While pledging that her pet project would not relent in its quest of improving the socia-economic and well-being of women, youth and children in the state, Mrs. Masari said: "We are ever ready to partner local and international development partners on any programme that would impact positively on the lives of women, youth and children".
In her spirit of sportmanship and oneness irrespective of religious, tribal or political differences, the governor's wife few weeks ago, distributed grinding and sewing mechines, including thousands of naira to women and youths of ECWA Church Fago in Sandamu Local Government Area of the state.
At least, Masari through her pet project, has been able to traine and empower over 17,000 widows, orphans, disabled persons and the less privileged as part of effort to complement the unflinching and tremendous efforts of her husband in actualising the restoration agenda of his administration.
Meanwhile, these, among other notable humanitatian projects and services rendered to vulnerable women, orphans, physically challenged persons, widows, unemployed youths and other developmental projects she executed in communities across the state have earned her different preticious awards from reputable institutions and organisations, including the National Lottery Regulatory Commission