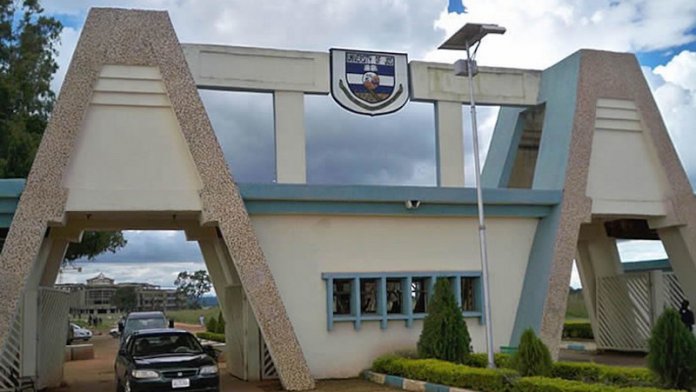 Professor Abdulrasheed Na'Allah is the Vice Chancellor, University of Abuja. In this interview with Funmi Ogundare, he explained how the institution plans to establish a Centre for Infectious Disease, through collaborations with government agencies and industries, so as to enhance the knowledge of Nigerians, assist in eliminating COVID-19 pandemic and address problems of infectious diseases, among other issues. Excerpt
Your university recently partnered Diabetes Africa, what does this portend for the health and education sector, as well as the Nigerian economy in general?
Well, I am very proud of the University of Abuja College of Health Sciences which is the brain behind this exceptional collaboration. What it means is that the University will be putting its scholarship and cutting edge research in Diabetics Education to the accessibility of the entire African continent. We signed a MoU which allows us to also offer training both virtually and face-to-face in this area. As you know, diabetics is one of the perpetual illness of high population of Africans and our unique cultures, environment and ways of life are central to the way to treat and manage diabetics and UniAbuja and Diabetes Africa are determined to ensure that more experts are not only produced, but more of them are spread to the grassroots of our continent. As for the economy of Nigeria, healthy body is best suited to contribute to its economic development, and in addition to the IGR that such programmes will bring, better managed diabetes would lead to a healthier working force across Nigeria and Africa.
How can this effort be replicated in our institutions of higher learning?
In this area, the University of Abuja is ready to collaborate with other institutions, whether they are academic or research-based. Diabetes Africa would definitely be excited to get the connections, through the university to other interested institutions of higher learning.
Aside efforts on Diabetes Education, in what other way is the university making cutting edge research and probably breaking new grounds on Covid-19?
Well, UniAbuja is a research intensive university and our centre for sponsored projects is working with all academic staff and departments to find sponsorship for their research. We are developing a strong central laboratory to encourage interdisciplinary cutting edge research, and also the Centre for Undergraduate Research, is supporting undergraduates to begin early to develop sophisticated research skills. We are looking to collaborate with more industries and government agencies, and to address all areas of societal problems with aggressive search for scientific and technological solutions. As for COVID-19, the university is in the process of establishing a Centre for Infectious Disease with Dr. Tahir as Head. This is very important to the goals of the university to provide needed knowledge to Nigerians and also assist humanity in eliminating COVID-19 and addressing problems of infectious diseases generally.
How would you describe the future of Nigeria university system with Covid-19 pandemic staring us in the face?
I think the public university system in Nigeria is back in action. More universities, public and private, understand that we now have a new normal which is going nowhere. Majority are developing virtual system to go hand-in- hand with face-to-face teaching and learning. This is central now in our institutions, and would be the new norm for us all. The Nigerian university system is responding and the fears of all those who thought it was impossible, are giving way and many disbelievers are becoming believers and active participants. The truth is that the University of Abuja is leading in this area. We have developed a robust electronic infrastructure, our Centre for Distance Learning and Continuing Education (CDL and CE), is now a state-of-the art, our campus is going enormously digital with the blend of smart classrooms and video conferencing and the list is very long.
So much money has been invested by the government in the area of research on Covid-19 vaccine, but nothing seems to have been achieved, what can universities in Nigeria do differently to prevent the scourge of the pandemic?
The Nigerian state can do better when it comes to COVID-19 research. More grants are needed to universities and research institutions. We cannot depend entirely on research done abroad when it comes to pandemic such as Covid-19. We have our local realities and behavioural patterns and environment, and it is really too important to focus on our own solutions to the pandemic in addition to universal Covid-19 protocols.
Since you came on board in 2019, what effort has your administration made to reposition the institution considering that it had a history of infrastructural and academic deficiencies?
Well, the stories and evidence are there for all to hear and write about especially in the area of UniAbuja infrastructure, contents of our curricula, strengthening of our staff and more. At the university, world-class standard is our focus and nothing will make us deviate from this. Nigeria deserves a first rate world-class university at its capital city. We are out to make the institution a model University in Nigeria and Africa.
Your institution is currently being confronted with the challenges of banditry, what steps has the management taken to stem this tide?
Number one, the FCT Police, the DSS and the Federal Government and the FCT authority are all united in supporting the university against whatever encroachment we might be having on our campus, including harassment from nefarious groups. This university, as a model institution in Nigeria, must not fall victim of this type of crisis. It is because of such enormous assistance from the state security, that the university has remained peaceful and focused. Recently the federal government released about one billion naira, and the Federal Executive Council(FEC) has approved contract for the building of fence around the university. I can tell you that this project has actually started. The university and the native community are one in ensuring that peace and security is maintained, and are strategising in ensuring that the fencing contribute positively to our lives. Secondly, the development control of FCT, as directed by the kind-hearted, most dedicated and effective FCT Minister, Malam Adamu Mohammed Bello, who is a bosom friend of the university, has embarked on the task of identifying illegal structure for demolition. The university itself has set up a patrol unit charged with active vigilance and unequaled mandate to legally challenge and eliminate encroachment on our campus, and I can go on and on. But you see, the summary of it all is that the days of perpetual encroachment on the university land and of incessant attack on our campus by external forces, are gone. Even where staff of the university are involved – and actually, a few are, we have taken bold steps to bring them to book and ensure that they pay dearly for their illegal and illegitimate actions if those involved do not immediately show regret, demolish such structures and stop further encroachment on our land .
You have had the opportunity to teach in the US and attracted grants and funds for the institutions you taught in, and you repeated the same feat as Vice- Chancellor of Kwara State University (KWASU). What efforts have you been making to repeat these achievements in UniAbuja?
The university has taken bold steps in the direction of attracting grants to campus. After just one year of such efforts, we celebrated staff that brought in close to N700 million external grants as of December 2020. The Centre for Sponsored Projects is working round the clock and assisting academic staff to look for and apply for external grants. Some of these grants are already bringing in additional laboratory equipment to campus. We are encouraging staff to include their undergraduate students in their grants, and we are introducing graduate research assistant positions that can also be included in such grants. The university is strengthening its infrastructure to support staff research endeavors. We encourage industries and private companies and government parastatals to collaborate with UniAbuja academic staff. We are defining the institution as a research intensive university, thereby ensuring that staff and students and government and industries and international collaborators know where to go for research partners. There is no alternative, I tell you; we at the UniAbuja must lead as the home of world-class research in Nigeria and West Africa and Africa. Our undergraduates now receive competitive research grants and the Centre for Undergraduate Research is in the process of establishing a Journal for undergraduate research opened to all students nationally and internationally.
Technology and innovation are key in the development of a nation, what is your administration doing to have this in your university?
The university now has a team led by the director of Information Technology Management Services (ITMS) on innovation and technology which has provided staff and students the opportunity to go into different groups to explore and innovate, from the development of new software to web designs, to hardware designs to cyber security and much more. The truth is that innovation is the heart of the electronic age and the University of Abuja clearly understands that, and so it is creating the atmosphere where students and staff would generate new thinking and project exceptional ideas in all areas of human endeavors. Our goal is to create new companies around most of these projects and empower staff and students as shareholders in any area they put their original ideas into productivity, so that they can also benefit directly from the profit of such efforts. UniAbuja is the home of innovation and we want to mobilise by attracting excellent and diverse students as well as staff substantially. We want to mobilise collaborators globally by attracting in 2020/2021 at least 35 international staff and 100 international students, and continue to grow substantially in internationalisation.