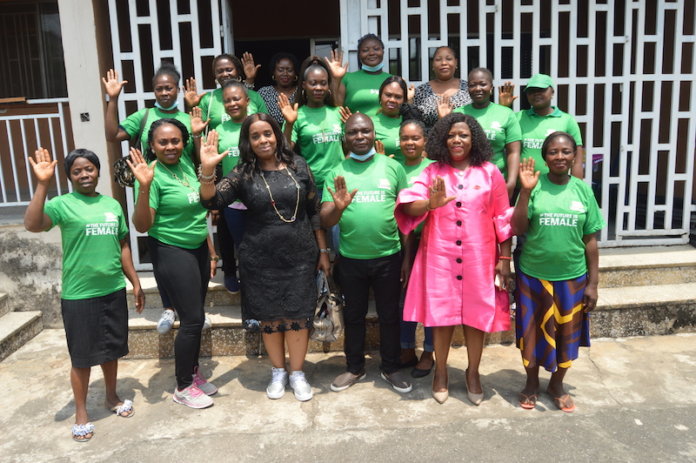 Mary Nnah
MMS Woman of Fortune Hall of Fame (WoFHoF) Initiative has commended Nigeria's rating on Economic Participation and Opportunities gap with the nation ranked 38th in the world, closing the gap by 73.8 per cent since 2018.
The non-profit organisation made this commendation during a press briefing and road-walk to mark the 2021 International Women's Day (IWD).
Reeling out these statistics in her speech, the Executive Secretary of MMS WoFHoF Initiative, Mrs. Ifeoma Iloh used data from the World Economic Forum's (WEF) 2020 Global Gender Gap Report (GGGR).
While the data indicates that "no country to date has yet achieved full gender parity " and will not be attained for the next 99.5 years in some countries, Iloh said that it isn't a coincidence that nations that have sustained their economies during the COVID-19 pandemic have done so by closing their gender inequality gaps.
According to her, this suggests that there is a correlation between sustainable economy, institutional building and gender parity.
"On the global gender gap index rankings, Nigeria performs relatively better in offering comparable economic opportunities to both men and women compared to other dimensions of the index which are: Educational attainment, Health and Survival, Political empowerment."
"Nigeria ranks 27th in Africa and 128th in the world with a score of 63.5 percent. Meanwhile, the country has closed 73.8 per cent of its Economic Participation and Opportunities gap to date (38th globally) and is one of the most improved countries globally on this aspect since 2018 (almost eight per cent points better than last edition)."
"Average annual incomes are estimated to be close to $6300 for men and $4600 for women. In terms of occupations, women represent a higher share of skilled professionals than men (64.6 per cent), but a significantly lower share of senior positions (30.3 per cent)."
Commenting on the effect of insecurity on women, she stated that the trend of abduction and kidnapping of girls will discourage school enrolment for the girl-child,
"At the last count, 279 secondary school students were abducted from a school in Jangebe town in Zamfara, with psychological trauma inflicted on them."
She, therefore, challenged Nigerian women to raise their voices with actions against the trend.
Also speaking on the theme: "The Future is Female" which was drawn from the global theme "Women In Leadership : Achieving An Equal Future In A COVID-19 World", a former Director General of Nigerian Chamber of Shipping (NCS), Mrs. Obiageli Obi, lamented that women have been victims of gross unemployment and hunger as the foremost effects of the COVID-19 pandemic.
She said, "Some women have lost their husbands and become breadwinners, fending for four or more children since the pandemic. The impact of this COVID-19 has varied from one individual to another but the end product has been unemployment and lack of finances."
The former Director General of NCS also urged the federal government to target a percentage of its COVID-19 intervention fund towards women, noting that the palliatives already exist in the Northern part of the country but it should be nationwide.