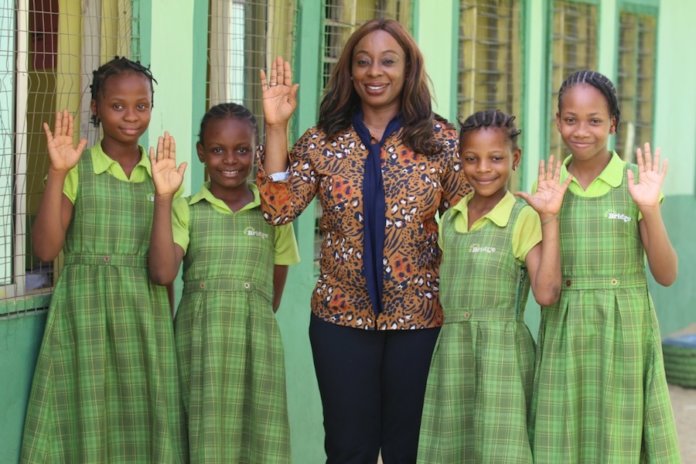 Key women leaders in the education, engineering, energy, and judiciary sectors, recently joined their counterparts the world over, to commemorate the 2021 International Women's Day, themed, 'Choose to Challenge'. They spoke to Funmi Ogundare on what they are doing differently to educate and empower the girl-child to become successful women in future
The challenges confronting the girl-child in Nigeria are multifaceted. They range from insecurity mostly in the northern part of the country, leading to more girls dropping out of school, sexual harrasment, early marriage, gender discrimination, poor sanitation, among others.
Unfortunately, with the effect of Covid-19 pandemic taking its toll on the economy, the Nigerian government has not done enough in addressing the socio-economic and cultural issues confronting the girl-child to attain her full potentials and ambitions needed to transit from girlhood to a successful woman.
Rather than wait for government, women leaders in education, energy, engineering and judiciary, are lending their support to educate and empower girls in line with the, 'Choose to Challenge' theme of the International Women's Day (IWD), a global day celebrating the social, economic, cultural and political achievements of women. The day, usually commemorated every March 8, also marks a call to action for accelerating girls and women's equality.
The Managing Director, Bridge Nigeria, Ms. Foyinsola Akinjayeju told THISDAY how Bridge serves as implementing partners to the Nigerian Stock Exchange (NSE) having donated a nursery and primary school in Maiduguri, Borno State to provide quality education in the IDP camp and create a model for an educational experience for vulnerable children in underserved and crisis-prone communities.
According to her, "It is the fourth year that the school was donated by the NSE and we are their technical partners in terms of enhancing their learning and teaching outcomes. This is a school sited close to an Internally Displaced Persons (IDP) camp. The pupils are those we are reaching out to through a life changing work that we are doing in Bridge, to give the girl-child a meaningful life."
She expressed concern about the disparity among the boys and girls especially in the northern part of the country, but noted that there is equity in the partnership school, as boys and girls are given equal access to the life changing education in the school.
"That is one thing that we are passionate about, we do recognise that there could be instances where the girls may not be able to go back to school. This is something we want to continue to do, spread the word and find more partners who can support us in reaching more pupils especially the girl-child,"Akinjayeju said.
Part of the success, the team had in Bornu State, she noted, was the community buy-in which helped in building confidence in parents with the results they were seeing on their children.
Akinjayeju said this has allowed them to see the girl-child as someone that must be exposed.
The managing director said the IWD theme was apt as the school, has been trying to reinforce on the girl-child that they can become anything they want to be in the future, adding that the narrative of having girls being confined at home is changing, espeacially with developments within and outside Nigeria, where women are placed in key positions.
" A lot of light has been shown on the place of women in business, communities, education and families. For instance, the Director General of World Trade Organisation (WTO), Dr. Ngozi Okonjo-Iweala has put Nigeria on the world map as to what women can do, " Akinjayeju said, adding that Bridge Nigeria, connected to the activities that had been lined up for the IWD commemoration.
"We had our teachers and pupils participated in the theme, 'Choose to Challenge', we took pictures with the hand pose, to show that we support the cause to promote gender equality and speak up against violence against women.
As part of the activities, we also spoke on specific topics on the achivements of women and building confidence in girls so that they can rise up to any challenge to take up any endeavour across all fields and discipline including Science, Technology, Engineering and Mathematics (STEM).
"Our pupils got actual lessons that engaged them through competitions, debate, poem presentations on who the empowered girl-child is. They experienced a wholesome experience for the day and our teachers were also involved in the theme."
Akinjayeju said there is need to honour the potential of girls everywhere, adding that by educating the girl-child and ensuring women are educated, can have transformative effects at a local, national and global level.
"Just as the potential WD theme calls everyone to#ChoosetoChallenge gender inequality, every girl has the power to do anything and become anyone. We must make sure that every child,everywhere has an equal chance at thriving."
The immediate past President, Association of Professional Women in Engineering (APWEN), Dr. Felicia Agubata, said the theme of this year's 2021 IWD is apt, as the girl child has not been treated fairly.
She emphaised on the cultural , religious, political , socio- economic barriers that the girl-child would overcome first, to achieve her ambitions of being who and what she wants to be, adding that this starts from the cradle because the girl-child is groomed differently compared with the male counterparts.
"The boy-child is groomed to be brave and to take risks both in his career pursuits or professions to enlist in. On the contrary, the girl-child is not expected to push hard or to aspire to actualise her potentials. The society seemingly, defines what she should be and where she should end up."
The emerging scenario is that women are becoming freer to pursue their dreams, as Agubata said today, much more than ever, there are highly competent and technically skilled women , who by power of personal examples, are blazing the trail and showing that skill , intelligence and competence are evenly distributed among the sexes .
Under her watch as the President of APWEN, she said the association executed various programmes such as 'Invent it, Build it' initiative in partnership with NNPC, to empower the girl- child, as well as increased advocacy for their education.
"Scholarships were awarded to female pupils to carter for their education from primary school level to university. A total of 81 female pupils benefited from across the six geopolitical zones and there was also an increased advocacy for girl -child education that took us round the six geopolitical zones in the country."
The former president of the association also launched the 'Invent it, Innovate Challenge', for university undergraduates to enable female students explore and direct their talents toward innovation and entrepreneurship.
According to her, "we established an advocacy / diversity and inclusion committees to draw up a gender and diversity policy for the Professional Engineering Institutions (PEI) in Nigeria under the sponsorship of Royal Academy of Engineers. The girls, were exposed to role models from local communities that they can relate with. These are people whose stories, names , schools attended and back grounds resonate with them."
This move, Agubata noted, sparked excitement and imbibed belief in the pupils and consequently improved girl-child enrollment across the six geopolitical zones in Nigeria.
The Executive Secretary, Renewable Energy Association of Nigeria (REAN), Mrs. Lande Abudu explained to THISDAY how it had collaborated with other associations such as Women in Energy Network (WIEN) on programmes to support the girl-child.
" At REAN, "our primary focus centres on our vision to promote strategies that will improve the contribution of renewable energy up to 40 per cent of the national energy mix by 2030. That said, I am a female executive secretary who was once a girl-child so there is a link. We need to ensure that the girl-child, can avail herself of all the opportunities available to succeed.
" Specifically, we collaborate with our many partners on initiatives that support this. An example is our partnership with the Women in Energy Network (WIEN) on the Supernova girl initiative, aimed at encouraging girls into STEM fields and to support them in their choice."
Asked what empowering the girl-child potends for the society, Abudu said, "It can only be beneficial when half of the global population can optimally contribute to society. We must all work deliberately towards creating an environment where the girl-child is free from discrimination; she has equal access to education and is protected from abuse. In an energy context, she has access to clean reliable energy and is not forced to inhale unhealthy smoke for cooking. Given an opportunity, the girl-child will grow to be that women that will contribute her quota to society."
The President of WIEN, Mrs. Funmi Ogbue said there is need to encourage the girl-child to aspire to come into the energy sector, adding that it is a male dominated industry which does not come naturally to women.
" That is why we are pushing the Supernova girl, so they can see the industry as interesting and attractive as banking, law, fashion or music industries."
She said since 60 per cent of the country's population are girls, they should be properly enlightened and equipped to contribute to the development of the energy industry, so that society can benefit immensely.
As part of activities to commemorate the IWD, Cycology Riding Club launched the 'Cycology Amazon Ride', an all female cycling group aimed at promoting healthy lifestyle among women, as well as changing the narratives against gender bias and inequality in a male dominated sport.
A lawyer and Secretary of the Club , Mrs. Temitope George, told THISDAY that since 2011, through its social impact initiative, it has been providing bicycles for girls in rural areas, as a means of transportation to get to school, rather than they working long distances.
"One of our objectives is promoting healthy living through cycling and creating social impact, so CSR is what we do as a club. One of our CSR initiative is 'Ride to School', where we actually provide bicycles for girls who had to work long distances to get to school in rural areas, " she said, adding that as a group, the club is out to showcase the women who are already changing the narratives in a man's world.
"A lot of women who came out today, are successful women, industry leaders and senior civil servants changing the narrative, but I feel that a lot more can be done and part of what we are doing today, is to let people who are seeing us, say that if these women can do it, they can do it too."
George said by empowering the girl-child you are empowering the nation as they have the capability to replicate things to achieve what they want.
The first female captain of the club, Mrs. Bimpe Olufemi stressed the need for girls to get involve in sports at a younger age because mobility is very important.
"You must live a healthy lifestyle in terms of the food that you eat or what you are doing. You need to keep fit. We all know that the mortality age for men and women is very low because they lived a sedentary lifestyle for many years. So the sooner we start getting our girls in some sort of sports, the better."
She expressed concern about the patriarchal society we live in saying that with the right type of education, the girl-child should be given equal opportunities like their male counterparts, so that the society can be better for it.
"We live in a very patriarchal society. When we were growing up, the boy will be asked to go and do something, while the girl will be asked to go into the kitchen. It is natural that in a society like this, which is our reality, girls are going to be treated differently from the boys, but with the right education about what is going on in other parts of the world, it then makes it easier to guide our own children aright. There are roles that men should play and there are also roles that women should play. There are also roles that men and women should play, women should not be left out of those spaces," Olufemi stressed.