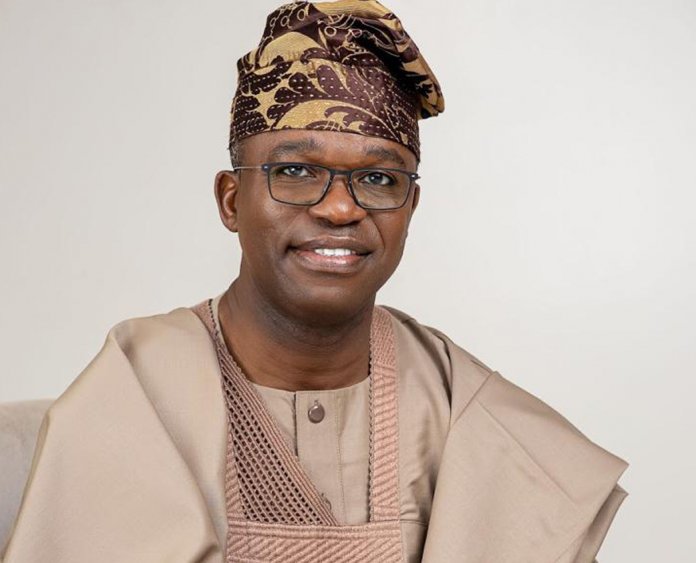 GLITZ Focus
Perhaps because of his squeaky clean image and sterling achievements as a top corporate player, there were concerns and misgivings about the foray of Senator Tokunbo Abiru into politics. He was until last September the Group Managing Director/CEO of Polaris Bank reputed for stabilising and restoring the bank to the path of profitability. His resignation from banking to vie for a senatorial seat in Lagos State sent shock waves around the industry. Would he perform as a Senator? How would he transition from the corporate world to politics or survive Nigerian politics' murkiness without losing his marbles? These were some of the genuine agitations of many. Two months into his senatorial odyssey, Abiru has been visible and voluble, initiating bills and lending his voice to debates on the floor of the Red Chamber and proving sceptics wrong by quickly settling into his new role as a Senator of the Federal Republic, writes Lanre Alfred.
As a young adult, Tokunbo Abiru aspired to greatness and self-actualisation driven by the belief that a man's reach should always exceed his grasp. He reached for the moon, knowing that if his grasp missed its cusp, his hands might land on the stars. And, truly, his hands landed on the stars. Last December, Abiru was sworn in as a Senator of the Federal Republic to represent the Lagos East Senatorial District. He continues a legacy left by his illustrious father, two-time Senator Mudashiru Akanbi Abiru, a stalwart of the defunct Unity Party of Nigeria (UPN).
Abiru has always held that the surest path to improving Nigerians' living conditions is by achieving economic freedom. So, his life's struggles were centred on enthroning a sound banking system. But he also believed that to create life-changing opportunities for fellow citizens, and he needed political power. Therefore, after a lifetime of banking during which he rose to his profession's acme as the immediate past Group Managing Director/Chief Executive Officer of Polaris Bank, Abiru joined the senatorial race in Lagos East.
He posits that his decision to contest the vacant senatorial seat after the death of Senator Bayo Osinowo was not for self-aggrandisement but a resolve to aggregate all the competencies and skills he had acquired over the years to give quality representation and actualise the special status agitation for Lagos State among other well-articulated intentions.
Abiru said, "Lagos was the federal capital for Nigeria and being the former capital, a lot of infrastructures, assets have been established in Lagos which have brought about a lot of pull factor, that is, urban migration to Lagos. If you look at Lagos today, it is one of the most populous states and that is taking a serious stretch on the infrastructure that the federal government has left behind.
"Now, the special status is the need to alert the federal government to continue to support the maintenance and enhancement of the infrastructure order to support the growing needs of the state. It is an agenda of the party, even my predecessors, even my current colleagues in the Senate today are still following on that agenda. I will be supporting that clearly."
He is also committed to implementing his five-point agenda: Peace, by ensuring that residents of his senatorial district have a safe environment to live and work; Prosperity, by enabling his people to achieve financial freedom through encouraging entrepreneurship; Empowerment, by equipping the youths with the survival knowledge for the 21st Century while helping to nurture their innate talents; Employment, by using his vast corporate experience to create job opportunities; and Healthcare, by committing to pass a quality insurance bill for people living less than 2kilometres of a health centre.
But, of course, there were concerns and misgivings about his foray into politics because of his squeaky clean image and sterling achievements as a top corporate player. Soft-spoken and unobtrusive, many wondered whether he would perform or survive as a Senator. How would he endure the murkiness of Nigerian politics without losing his marbles? These were some of the genuine agitations on the minds of his associates.
About two months into his senatorial odyssey, Abiru has been visible and voluble, initiating bills and lending his voice to debates on the floor of the Red Chamber.
Recently, when the Central Bank of Nigeria, CBN, banned financial institutions from transacting in cryptocurrencies, Abiru, who should know, said, "In the last five years, we have had people changing cryptocurrencies to over $500 million. It is good to ban because of the challenges it has presented; in reality, banning it doesn't take it away. Even our Securities Exchange Commission (SEC) also recognised cryptocurrency as a financial asset they need to regulate. What we should do is to invite the major stakeholders to a public hearing."
Born on March 25, 1964, Abiru attended the Lagos State University, where he earned a B.Sc in Economics. He started his banking career at Guaranty Trust Bank (GTB). He was there for 10 years before proceeding to First Bank Plc. He worked for 14 years in the bank as the relationship team lead, retail banking and business development manager, and group head, corporate banking. Abiru also served as a one-time non-executive director, Airtel Mobile Networks Limited, FBN Capital Limited (now FBN Merchant Bank Limited), and FBN Bank Sierra Leone Limited.
Former Governor Babatunde Fashola appointed him in 2011 as Lagos State Commissioner of Finance, and Lagos successfully floated an N80 billion bond, earning it the EMEA Finance's Best Local Currency Bond Award for 2012. He further instigated discussions on taxation in Lagos after discovering over 5.5 million tax evaders in 2013. His painstaking efforts also led to increased Land Use Charge revenue generations.
A fellow of the Institute of Chartered Accountants of Nigeria (ICAN) and an Honorary Senior Member of The Chartered Institute of Bankers of Nigeria (CIBN), Abiru resigned as a commissioner in 2013 to take up the role of the Executive Director, Corporate Banking, First Bank Nigeria Ltd and later retired from the role in 2016. He was appointed as the CEO of the defunct Skye Bank in July 2016 by the Central Bank of Nigeria, CBN, to salvage the bank in critical condition then. With Skye Bank's liquidation, Abiru was retained as the CEO of Polaris Bank, the bridge bank created by the CBN.
On assumption of office in 2016, Abiru drew up a holistic and integrated approach to business modernisation, which elevated the bank to deliver a superior customer-centric experience. One of the reforms he initiated was to upgrade all the bank's digital channels like mobile banking, internet banking, USSD, POS, ATMs and agency banking, e.t.c, while investing heavily in its information technology infrastructure.
In line with its digital transformation plan to ensure a future-determining bank aligned with global intelligent automation trends, Polaris unveiled its new Mobile Banking App available to users on both Google Play for Android devices and the Apple App Store for iOS devices. Other initiatives he introduced included branch rationalisation and review of service contracts and cash management operations, which resulted in hundreds of millions of financial savings. Through some of his initiatives, the bank successfully settled many matured trade and bilateral obligations and restructured outstanding balances with the relevant institutions and counterparts.
Today, Polaris Bank can boast of a strong market share due to Abiru's implementation of cost-management and aggressive recovery initiatives, which have enhanced liquidity and efficient service delivery to the bank's customers. These have also helped the bank recover over N200 billion of outstanding bad loans within a short period while concurrently reaching a settlement and restructuring agreements with many chronic bad debtors, resulting in substantially improved payments and prospects of future recoveries.
As with every other sector globally, the COVID-19 pandemic had a disruptive effect on the banking industry. Those who came prepared for the job dug deep into their experience and expertise to mitigate the pandemic's consequences while also-rans fidgeted and fluffed their lines. But as the helmsman of Polaris Bank, Abiru leveraged the bank's investments in cutting-edge information technology to harness emerging opportunities and mitigate the pandemic's disruptive effect on its business.
He enthused then that the bank's investment in technology infrastructure, comprehensive corporate transformation, and a keen focus on customer experience would continue to give Polaris a comparative advantage in the Nigerian financial services sector. In retrospect, this kind of positive outlook amid a global economic gloom that Abiru was appointed to steer Polaris to stable and sustained profitability.
Before the end of his tenure, Abiru was optimistic that with all the fundamentals competing well with its industry peers and above the regulatory minimum, Polaris Bank now stands on firmer ground with better margins and lower cost of operations for good returns to stakeholders. It would, therefore, not be far-fetched to envision that with Abiru in the Senate, Lagos State would be standing on firmer grounds with the achievement of a special status for Nigeria's most important state in due course.