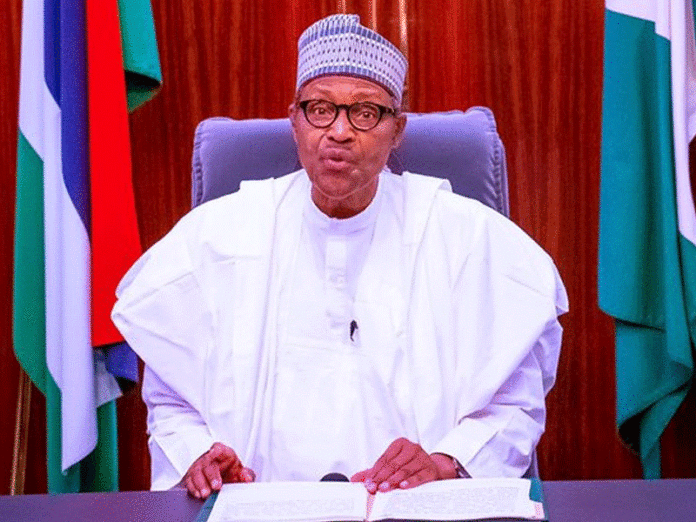 •Vows to overhaul security apparatus
•Says 2020 tested national resilience, ability to survive tough times
•Jonathan, Lawan, govs, Anyaoku, others preach hope, unity
By Omololu Ogunmade, Chuks Okocha, Udora Orizu in Abuja, and Kemi Olaitan in Ibadan
President Muhammadu Buhari has pledged to re-energise and reorganise Nigeria's security apparatus as well as the personnel of both the armed forces and the police in the new year, as part of his administration's commitment to battling the security crisis facing the country.
Buhari, in his New Year broadcast to Nigerians today, said his administration would not abdicate its responsibility to make the country safe for its people.
He added that the re-energising and reorganisation of the security system would be done with the overall intention to enhance their capacity and consequently dismantle the operations of terrorists and other criminal elements terrorising the country.
Other political leaders such as Buhari's predecessor, Dr. Goodluck Jonathan; former Vice President Atiku Abubakar; President of the Senate, Dr. Ahmad Lawan; his predecessor, Dr. Bukola Saraki; House of Representatives Speaker, Hon. Femi Gbajabiamila and former Commonwealth Secretary-General, Chief Emeka Anyaoku, also urged the people to be hopeful of a better future for the country just as they canvassed unity among Nigerians.
The president said the rapid collaboration of security forces, which led to the rescue of the 344 pupils of Government Science Secondary School, Kankara, Katsina State, last month, showed that the country has the internal capacity to effectively battle terrorism.
Buhari expressed the necessity to be more proactive in handling security issues by being pre-emptive and consequently avert repeats of such situations which he said could be traumatic to victims.
He added that the government is aware of its responsibility to protect lives and property and will not shirk it.
He said: "Some of the key priority areas we would direct our attention and strengths to include: re-energising and reorganising the security apparatus and personnel of the armed forces and the police with a view to enhance their capacity to engage, push back and dismantle the operations of both internal and external extremist and criminal groups waging war against our communities in some parts of the country.
"In line with the current security challenges, we are facing as a nation, I would like to reiterate the promise I made recently when over 300 of our boys abducted from Government Science Secondary School, Kankara, were successfully rescued by our security operatives.
"The professionalism shown by our security forces and the collaboration from all stakeholders across both state and federal governments that led to the successful rescue of the boys is proof that Nigeria has the internal capacity to decisively deal with terror attacks on our citizens.
"However, we recognise that we rapidly have to move to a more proactive and preemptive posture to ensure that these sorts of traumatic incidents do not become a norm. Our administration is fully aware of the responsibility we have to protect the lives and property of all Nigerians, and we will not relent in learning and adapting to changing threats to our national security and civic wellbeing."
Buhari, who thanked God for seeing the country through the various challenges of the year caused by COVID-19 pandemic, said what befell Nigeria did not happen in isolation but also affected other countries of the world.
He described the outgone year as a tough one that tested national resilience and the ability to survive tough times.
Buhari recalled that Nigeria marked 60 years of independence last year, a situation he said called for gratitude.
He stated that whereas some countries expected Nigeria to break up within a few years, it has survived for over 60 years.
Buhari also recalled the #EndSARS protests last October, saying the youths meant well and their five demands would be fully met.
He explained that as the country's commander-in-chief, he was aware of different challenges which confronted different parts of the country during the year and would remain committed to addressing them.
"While acknowledging that 2020 was a very tough year, we saw this year put to test our national resilience and ability to survive these tough times and also gave renewed hope that we will again brave any storms that lay ahead in 2021 and beyond.
"As we celebrate the opportunity before us in this New Year 2021, we must also acknowledge the passing away of our brothers and sisters who didn't make it into this New Year. May their souls rest in perfect peace.
"We must remember that we also celebrated the historic occasion of our 60 years as an independent and sovereign country on October 1st, 2020. In the spirit of hope and gratitude, I would like to remind us again that as a country on the difficult journey to nationhood and greatness, we have confounded the many pundits at home and around the world who never gave the newly-born country that emerged unto the world stage on 1st October 1960 a chance of surviving much longer than a few years.
"Yet, here we are, 61 years by the next anniversary in October, and not only are we here, we are standing tall in the comity of nations as one country united under the will of God and also actively growing that indivisible Nigerian spirit that has enabled us, year after year, decade after decade, to weather all stormy waters and emerge stronger and better where others have fallen and disintegrated. This nation, this Nigeria, will survive and thrive.
"In this journey to nationhood, we have experienced the highs and lows. 2020 indeed came with a lot of challenges ranging from security and economic issues across the regions to understandable protests that were mainly led by our youths and served notice to the demand for police reforms and accountability. This government heard, this government listened and this government is committed to fulfilling the five demands of our youths; fully understanding that we all wish well for Nigeria.
"In the midst of all these challenges, I had initially pledged that as your elected president and Commander-in-Chief, I would ensure that these ongoing challenges will be faced head-on with renewed determination and with all the appropriateness and urgency required. Your voices have been heard and we would continue to listen to you, and all the key stakeholders who are committed to the unity of Nigeria to ensure that every region of this nation is safe for us all, while guaranteeing that the future is also secure for the coming generation," he added
He also committed his administration to the affairs of Nigerians, especially the youth, whom he said needed collective encouragement and support of all.
He noted that if the country will be secured, then the future of the youth must be secured.
He described the youth as the country's "most valuable natural resource, at home and abroad," adding that "their ingenuity, creativity, innovation and entrepreneurial spirit is evident to all," and many of them "are excelling in various spheres of life including sports, entertainment, information and communication technology, commerce and are globally recognised as achievers."
The president said in the government's efforts to explore the creative energies of the youth, the government would "partner with the legislature to develop an enabling environment to turn their passions into ideas that can be supported, groomed and scaled across regions."
According to him, in 2021, the federal government will work towards reinforcing the hopes of Nigerians in the pursuit of a united and progressive Nigeria and continue to focus on delivering what he described as key strategic priorities of security, economy and anti-corruption agenda of the federal government.
Buhari also spoke on the economy, saying the federal government will concentrate on revamping the economy through its national economic diversification agenda that will support national food self-sufficiency.
He said the initiative had helped to reduce the escalating food inflation "and have in considerable measure positively impacted our food security status during the long months of the pandemic lockdown."
He also highlighted what he described as his administration's infrastructure building efforts to include construction of roads and rail.
"With the recent opening of our borders, we expect that the pent-up demand of legitimate cross-border and international trade will boost the fortunes of the many small businesses and agricultural enterprises that depend on Nigeria's trade and commerce," he stated.
On anti-corruption war, he said some successes had been recorded and the government would sustain the fight in 2021 by collaborating with other arms of government to get combat graft.
While pledging the government's resolve to work with the National Assembly to review some laws that would aid anti-corruption fight, Buhari said efforts would be made for diligent prosecution of suspects.
He, however, pleaded with the judiciary to ensure speedy prosecution of corruption cases.
He said perpetual violence in various parts of the country by Boko Haram insurgents and other criminal groups had hampered government's effort to embrace social policy and quality investment in citizens.
Buhari, however, was civil this time in addressing critics of his government, in contrast to his approach during his last Independence Day speech when he made scathing remarks about his predecessors for criticising his government.
His comments had drawn attacks from different parts of the country, with his critics describing him as the most divisive leader in Nigeria's history.
However, this time, he merely admonished them, saying he wasn't offended by their views since they also wish the country well.
But he pleaded with them to show understanding, considering the poor resources he met in 2015.
He said: "In parts of the country where chronic poverty, social exclusion and disillusionment among sections of the youth were already a problem, the cycles of violence that have been unleashed by mindless groups like Boko Haram and others have thwarted the efforts of government to undertake the social policy and associated investments that could make a huge difference in the quality of life of our citizens.
"I am aware that for some of our compatriots, the progress we have registered since the inception of this administration is not nearly as fast or as sufficient as they would wish. I do not begrudge them their views in so far as they signify a wish, in which we all share, for only the very best for our country.
"Nevertheless, I call upon all Nigerians to carefully recall the circumstances of our coming to office, the facts on the ground and the resources at our disposal since 2015 with the accomplishments of this administration."
Buhari stated that the country had shown resilience in the face of challenges posed by COVID-19, adding that the country is finalising plans to purchase COVID-19 vaccines and effectively distribute them.
He urged Nigerians to strictly abide by COVID-19 advisories to prevent further spread.
He said as the president, he would play his part well, and implored others to do same, saying both himself and citizens owe the founding fathers of Nigeria and the next generation the responsibility to do so.
"As your elected president, my pledge to you is the same as it has always been; I will play my part fully and without fear or favour. I invite all of us to do the same. It is what we owe to the founding generation of our beloved country and also to the coming generation. It is what we desire for national prosperity for all demands," he said.
Jonathan Urges Commitment to Peace, Progress
Former President Goodluck Jonathan has commended Nigerians for their patriotism and courage, despite the daunting challenges encountered in 2020.
Jonathan, in his New Year message, recognised 2020 as a difficult year and commiserated with families who lost loved ones to COVID- 19, other illnesses and circumstances, during the year.
He also commended the efforts of frontline workers who have been working tirelessly to ensure the safety of citizens and "those who have remained committed to protecting our lives and defending our unity."
He, however, urged Nigerians to continue to strive for greater honour and glory for themselves and the nation.
He said: "This is the beginning of a new journey, a new chapter, a fresh opportunity to start and recover from the losses of 2020. Last year was a challenging year, characterised by tales of misfortunes, deaths and illnesses. It was a tough moment for many homes and families owing to the unfortunate COVID-19.
"The recent happenings in our world, specifically in our country, Nigeria, should teach us new lessons. Lessons on faith, solidarity, justice, hope and peace. We must aggregate these lessons, challenges, gains as well as losses of this period and harness them towards national rebirth and reconciliation. As a nation, we cannot afford to fail this New Year; ignoring the existing gaps and contradictions that have continued to threaten our peace, unity and progress."
Atiku: Let's be Hopeful
Former Vice President Atiku Abubakar has urged Nigerians to embrace the New Year with hope.
Atiku, in his New Year message, said: "As we embrace this New Year with brighter hopes of restoration, let us do so with even a stronger commitment to unity, cooperation and mutual love. Let us work as one people, under one God with one country to call home."
According to him, the outgone year was quite dramatic and it is only by the grace of God that Nigerians survived to witness a new year.
"It is cheering that we are entering the New Year with refreshing news of a handful of certified vaccines against the dreaded COVID-19 virus. And better still is news of commencement of vaccination in some parts of the world. I am expectant that the vaccine(s) would soon be available for vaccination in Nigeria. It is also hoped that very soon life would return to normal.
"As a country, we have taken our share of the blow that COVID-19 dealt to the globe. And worst still, we suffered a multi-facet downcast on account of lazy and uninspiring leadership from the government at the centre – most especially.
"But just as I often do, I pray that God should heal the hearts of families who have lost loved ones to the disease, as well as those who died on account of insecurity and ringing poverty occasioned by a poor management of our national economy."
Saraki: Let's Make 2021 Year for Finding Solutions
A former Senate President, Dr. Bukola Saraki, has urged Nigerians to devote 2021 to sourcing for and administering solutions to the multifarious problems confronting the country.
In his New Year message released in Abuja, Saraki congratulated Nigerians, at home and abroad, who survived the various difficulties experienced in the just-ended year and are witnessing the beginning of a new year.
He also prayed to God to give fortitude and strength to those who lost their loved ones due to the COVID-19 pandemic, terrorism, kidnapping and other criminals as well as to families of security agents who died in active service.
Saraki, in a statement from the Abubakar Saraki Media Office, in Abuja, and signed by Alhaji Yusuph Olaniyonu, urged both leaders and the citizens to focus on how to generate ideas towards solving the problems of insecurity, economic recession, dearth of infrastructure, collapse of national values, threat to national unity, lack of social welfare and youth restiveness.
He added that the period of lamenting about the problems or trading blame between leaders and followers, between people of different faiths, ethnicity and age groups had gone with 2020.
"We should all focus on finding solutions. We should build conversations on what needs to be done to ensure that our security agencies can work together and have the necessary facilities to eliminate insurgency, kidnapping, robbery and harassment of innocent citizens and foreigners engaged in genuine businesses.
"Both leaders and followers should focus on how we can get the economy working, produce youths who can take advantage of new technology and become key players in the communication technology world, attract foreign direct investments, diversify the economy and make the country more relevant and important in the comity of nations," he stated.
He alo called on political leaders to suppress the talk about 2023 politics, post-Buhari politics and the ambition to occupy political offices while concentrating efforts on making 2021 the year to genuinely attend to the problems of the country.
Gbajabiamila Urges Nigerians to be Hopeful
The Speaker of the House of Representatives, Hon. Femi Gbajabiamila, has congratulated Nigerians for witnessing the New Year despite the challenges of the previous one.
Gbajabiamila, in a New Year message by his Special Adviser on Media and Publicity, Lanre Lasisi, Nigerians should use the experiences of 2020, which he described as very challenging, to work towards a better 2021.
He expressed optimism that 2021 holds a lot of positives for Nigeria and Nigerians.
Gbajabiamila also called for continuous unity and peaceful coexistence among Nigerians, saying that the citizens have no other country than Nigeria.
He said, "It is my hope and prayer that the year 2021 will be better than all the preceding years of our nation's history. In this New Year, let's remain resolute and determined in our nationhood. Yes, we may be going through challenges as a nation, but with our collective determination, we shall overcome. I wish Nigerians a year full of prosperity."
Nigerians Have Cause to Thank God, Says Lawan
Senate President, Ahmad Lawan yesterday felicitated with Nigerians on the New Year and described 2020 as a challenging one.
He, however, said despite the challenges, Nigerians have a reason to thank God.
Lawan, in his New Year message he personally signed, said: "The year 2020 was full of challenges on the economic, security, health and other fronts for most nations of the world. Thankfully, however, the challenges could not dampen our hope for a better future for us as individuals and as a nation.
"Despite this situation, we can thank God that the impact of the global health emergency and economic recession on Nigeria is not as catastrophic as was predicted by experts. I believe that this was not out of luck but because we did not delay in appropriately fine-tuning and adjusting our plans in the light of the developments."
He thanked Nigerians for their understanding and support for the ninth National Assembly, saying, "We promise in the new year to continue to put in our best for good governance and for the betterment of the lives of our people."
Sanwo-Olu Preaches Hope
Lagos State Governor, Mr. Babajide Sanwo-Olu, has urged Nigerians, especially Lagosians, to enter the New Year with hope that things will get better in 2021.
Sanwo-Olu, in his New Year message, advised people not to enter 2021 with any grievance, pain or regrets, saying that all negative things should be left with 2020.
He said: "I wish every Lagosian a happy New Year. We pray that 2021 will be a year of rekindled hope for all of us in our homes, offices, schools, health facilities and every facet of life that we find ourselves.
"We want to say to all our people that indeed as difficult as 2020 might have appeared to each one of us, we should not be lost in the learning and lessons of 2020. We should not enter 2021 with any grievance, pain and regrets because that should just be left with 2020.
"In 2021, we must have that belief and rekindled hope that things would get better. We should not forget the learning and the lessons because it is only when you have learnt from what has happened that you can become a better person going forward. And there should not be any form of bitterness and anger.
"Let us enter the New Year afresh, refreshed and with a renewed hope in ourselves and in our nation because indeed, this is the only place we have and we all can build it together. And this government is committed to ensure that it is always the greatest good for the greatest number and we will ensure that in all facets we would impact the lives of our citizens positively.
Okowa Urges Deltans to be Optimistic
Delta State Governor, Dr IfeanyiOkowa, has urged the people of the state to approach 2021 with optimism for a better future.
The governor, in his New Year message, described 2020 as a challenging period for the state, its people, the nation and even the international community.
In the message released by his Chief Press Secretary, Mr OlisaIfeajika in Asaba, Okowa reaffirmed his administration's commitment to providing quality and enhanced service delivery to Deltans.
He expressed confidence that God will perfect everything concerning Delta and Nigeria in the New Year.
He urged the people to remain prayerful and trusting that God would do new things for them and the state.
Makinde: Let's Maintain Positive Outlook
Oyo State Governor, Mr. Seyi Makinde, has called on residents of the state and Nigerians to be thankful to God for surviving 2020.
He said though many would describe the year as a tough one, God's grace saw them through the challenges that characterised it.
Makinde, while urging residents of the state to maintain a positive outlook for the New Year, said the state is open for business and that his government remains committed to its promise to uplift the state.
Makinde, in his 2021 New Year address made available to THISDAY yesterday in Ibadan, the state capital, said though 2020 was characterised by drop in oil prices, which led to a huge drop in revenue from federal allocations and the attendant economic meltdown, the COVID-19 pandemic and the aftermath of the #EndSARSprotests, among other challenges, residents of the state could still count their blessings.
The governor stated that the efforts of his administration in fixing the health, education and security sectors have yielded positive results, while the administration is also able to grow the Internally Generated Revenue (IGR).
"As 2020 closes, I am reminded of the words of the very popular 1897 hymn by Johnson Oatman Jr, "Count your Blessings." This song encourages us to take stock of the good things that happened in our lives. "When we do this, we often find that we have overlooked many positives."
"Many would describe 2020 as a tough year. At the beginning of the year, the drop in oil prices led to a huge drop in revenue from federal allocations and attendant economic meltdown. In March 2020, many states in Nigeria had cases of the coronavirus disease. "This necessitated an interstate lockdown by the federal government. Although we did not effect a total lockdown in Oyo State, we were not spared the economic and social effects of the COVID-19 pandemic. A few months later, we faced mass protests by the youths and others who were angry about police brutality. Events after the protests also set us back economically.
"However, our 2020 is not defined by these events. As the first stanza of that song says: "When you are discouraged, thinking all is lost, count your many blessings, name them one by one, and it will surprise you what the Lord hath done," he said.
We'll Diversify Bayelsa Economy, Create Jobs, Says Diri
Bayelsa State Governor, Senator Douye Diri, has said his administration will this year diversify the state's economy to reduce the total dependence on revenue from oil-related monthly allocation as well as create more jobs to engage its youths.
The governor, in his New Year Day broadcast tagged: "Message of Hope and Prosperity," also promised to raise the internally generated revenue profile of the state in 2021.
The Chief Press Secretary, Mr. Daniel Alabrah, in a statement, quoted the governor as urging Bayelsans to partner his government to create the conducive environment to attract investors and tourists to the state.
"In this New Year, as a consequence of the well-conceived policies and estimates contained in the already passed 2021 "Budget of Growth," we expect to witness accelerated development and progress across all strata of our lives, all things being equal.
"We will diversify our economy, create sustainable jobs to engage our youths and explore alternative sources of improving our internally generated revenue. If we look inwards, the buds of change that have opened since we took over government will begin to yield fruit.
"In 2021, we are going to consolidate on existing programmes and expand our activities to bring relief to a greater number of our citizens," he said.
Oyetola Felicitates with Osun Citizens, Nigerians
Osun State Governor, Adegboyega Oyetola, has appreciated the people of the state for the cooperation and support given to his administration throughout 2020, which he described as the most challenging year in human history.
He said the administration's development agenda is on course and he will continue to work to set Osun on the pathway of sustainable economic revolution.
Oyetola, in his New Year message yesterday, noted that in spite of the challenges encountered in the outgone year, his government was "able to provide equitable and adequate services for our people across sectors and prove that even in the face of gross adversity and crass challenges, we have the capacity to secure our people and deliver services."
Oyetola appealed to the people to always observe COVID-19 protocols so as to curb the spread of the virus in the state.
Anyaoku Calls for National Unity
A former Secretary-General of Commonwealth, Chief Emeka Anyaoku, has urged Nigerian leaders to work towards a united country.
Anyaoku, in his 2021 message, released on Wednesday, described as worrisome, the current state of the nation.
He attributed concerns about the state of the nation to insecurity of life and property, the divisiveness among the component parts of the country and the growing poverty of the people.
"The coming 2021 should be a year of deep reflection by the Nigerian government and leaders to acknowledge the reality of the situation and pursue the widely recommended solutions for addressing these manifest obstacles to the cohesion, political stability, and socio-economic development of our country," he stated.