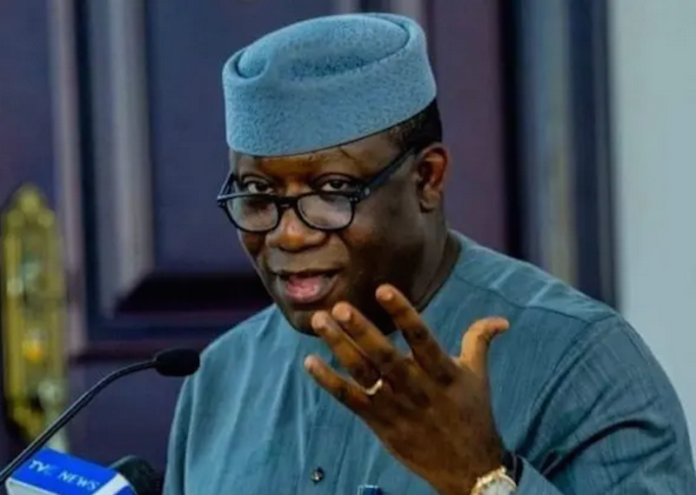 •Urges them to employ stealth rather than brigandage in pushing for social change
Charles Ajunwa
Ekiti State Governor, Kayode Fayemi, yesterday said Nigerian youths have a right to demand good governance and an end to police brutality in the country.
However, he said they should employ stealth rather than brigandage in pushing for social change.
The governor, who spoke at a virtual symposium titled, "The Africa Policy Dialogue Series: Harnessing Africa's Demographic Dividend for Peace, Security and Productivity through Investments in Youth", organised by the Harvard Kennedy School Alumni Association of Nigeria, said during his time as an activist, he knew when to pause and negotiate with the government, hence his successes.
Fayemi said: "We do owe them (youths) a duty to begin to respond to those reasonable demands that they make for a good education which is a right not a privilege, for accountable governance, for human rights protection and I think this is something that the government must respond to.
"They are the larger part of the population but they need to really rid themselves of a sense of entitlement because nobody gives you these things freely, you have to fight for it and I am glad that they are beginning to fight for it.
"Ultimately, when they start knocking on that door, and they break the door open, they will be allowed in. But in breaking it open, they can do it by stealth rather than by brigandage. Some of us have spent our time at the barricade. In the better time of my younger days, I was also a #EndSARS protester of sorts as you know. But I knew when to stop and when to start negotiating with those in power and authority and ultimately, we made some progress."
Fayemi, who is also the Chairman of the Nigeria Governors Forum, said the Nigerian school curriculum was too centralised and, therefore, inimical to development.
He said each state should be able to fashion out its educational curriculum and policy to suit its agenda and ultimately propel growth.
The governor stated that education should not just be about acquiring degrees but for wealth creation and job satisfaction and that was what informed the creation of a knowledge zone and insisting on vocational and technical education as a key to tackling unemployment in Ekiti State.
The seminar also had as panelists musician, Jude Abaga famously known as M.I; media entrepreneur and Co-founder of BellaNaija, Uche Pedro and motivational speaker, Maryam Hassan. The Chairman, Proshare, Olufemi Awoyemi was the moderator.
In his remarks, the President of the Harvard Kennedy School Alumni Association of Nigeria, Frank Nweke, said there was a need for Nigerians who attended prestigious universities abroad to use their degrees to promote social development.
Nweke, who is a former Minister of Information and Communication, said Africa's large youth population ought to be an advantage but the poor investments in education and health had made it otherwise.
He said: "This seeming demographic advantage in Africa is, however, meaningless given the rather sub-optimal investments in education, skills development and healthcare by Africa's governments which has culminated in illiteracy, unemployment, poverty, drug abuse, poor health status and low skills amongst African youth."