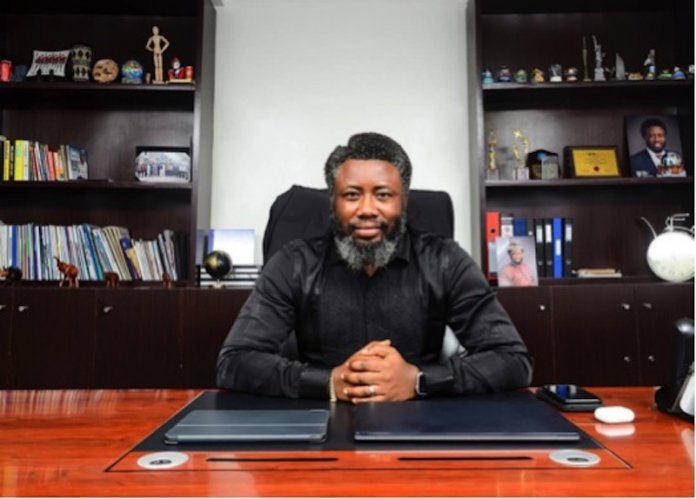 He is one of the few talented creative geniuses in Africa. His craft, creativity and ingenuity are exceptionally remarkable. Akin Olatunji-Daniels, co-founder of Eventecture, an interior décor, retail/marketing and TV productions company based in Lagos has lightened many worlds through his craftsmanship. The Lagos indigene has always been an adventurous soul who thrives on a constant rush of adrenaline. Over the years, together with his partner, Oluwatoyin Olatunji-Daniels, they have evolved and expanded to bring that extraordinary touch of their arts to their big clientele. Funke Olaode explores the world of Nigeria's master of lightning and his wow effect that often leaves people gasping in awe.
His life has always been on a roller coaster as he has what it takes to succeed as a young man. With a father who is an accountant and business mogul and a mother who is a judge, his early life no doubt was set on accelerated journey. Comfortable beginning aside, self-discovery in the art has guided his path to success in his chosen career.
Today, he is one of the few talented creative geniuses in Africa. His craft, creativity and ingenuity are exceptionally remarkable. Meet Akin Olatunji-Daniels, the co-founder of Eventecture. Eventecture is the meeting point between timeless architectural principles and creative craftsmanship. Recently going on to create Atlantis, a subsidiary dedicated to providing special lighting and effects to create the desired ambience in events, clientele include UBA, GTB, Oando, Star, Hennessy, Nestle, Google, Nescafe, Moet and Chandon, Access Bank, Guinness amongst a host of others.
Founded in 2010 with his partner, Oluwatoyin Olatunji-Daniels, Eventecture has redefined event management in Nigeria.
He hails from Irede, a little known island in the Amuwo Odofin local government area of Lagos, Nigeria. He attended Corona Primary School Ikoyi.
"My secondary education was a roller coaster of sorts as I attended four different schools! Two private, high-end schools and two government schools. That's a whole other story for another day, but in hind-sight, it turned out to be very beneficial in crafting my personality and my broad perception of life. It shaped the way I see situations, problems and even engage with people. I went on to study architecture at the University of Lagos. That decision seemed like a no-brainer to me as I had come to really love technical drawing as a subject in secondary school."
Olatunji Daniels traced his love for the arts to self –discovery which manifested early as a child.
"As children, we loved art and were always occupied with making collages, greeting cards, artsy jotters, drawings and paintings we would frame. At a point, we started to sell some of these stuff in church and to neighbors. I would also say the seeds of entrepreneurship were sown in me at a young age by observing my parents. Even though my mom was a lawyer in the civil service, she spent her spare time baking and catering commercially. I learnt how to bake and cook at a young age and had a stint baking and selling cakes in my teen years!
"Of course, my dad was running several companies at any point I remember while growing up, but still had some side hustles like importing and selling cars. I guess these sort of laid some entrepreneurial foundation in my sub-conscious."
Speaking further about his love for the art that later led him to his chosen career, he said, "In secondary school, I was inseparable from technical drawing and went to great lengths to ensure I got a complete tutelage in the subject even when inconvenient. This led to my eventual decision to study architecture. Imagine my shock on getting to architectural school to discover that the course leaned more towards art and design, rather than technical drawing.
"It took a while to adjust but I guess my prior love for art came back to the fore. However, I realized early enough that my flair for design transcended conventional architecture. Incidentally, at about the same time, through some fortuitous circumstances, I came across a senior colleague, whom I then spent my industrial training period with. That's where I came across event, set and production design."
Olatunji-Daniels though a trained architect, his name resonates in the event industry which he dabbled into 10 years ago? Why the switch?
He explained, "The foundation of this transition happened while I was still in architectural school. I realized that while I enjoyed designing buildings and spaces, it bored me easily. I was drawn to designs that were regarded as "building castles in the sky". When I eventually came across designing for the events and entertainment, the pieces of the puzzle fit together perfectly and the rest as they say, is history.
"It was a natural fit for me and I fell immediately in love. Shortly after that, while still in school, in partnership with a couple of friends, we set up an events management company. We started totally from scratch and encountered a lot of resistance, especially because people didn't initially believe we could deliver because of our relatively young ages.
"We pulled through and had some good measure of success notwithstanding. In that period, we learnt a lot of lessons in entrepreneurship. Fast forward a few years later, I met Toyin and we had started dating. In about the same period, the desire to return to my design core was drowning out my satisfaction with my status quo at the time.
"In 2010, we made the very difficult decision to quit the partnership in the events planning company and start again from scratch to set up Eventecture. It was birthed out of the need to solve problems in the event space in Nigeria through design, thus we merged Event and Architecture to come up with Eventecture. We started out as an event and set design company then because we understood that the event scene, though expanding, was absent of innovation and that wow effect that would leave people gasping and in awe.
"So we started to fill this gap one event at a time. Many years after, we've evolved and expanded to bring that extraordinary touch to other related sectors. As with most successful bootstrapping stories, the road has been fraught with many problems and pit falls but with grit, tenacity and the desire to make a difference, we have been able to build something we're very proud of today."
Olatunji-Daniels started out as a young man of vision who is on a mission. Getting people to believe in him was a herculean task. But with dedication and commitment he surmounted the hurdle to become a darling of many organizations.
"The company wasn't always a large concern. Like most other startups, we started from ground zero. Zero financial capital, zero social capital. It was just a dream and the strong desire to add value and provide solutions. I would say the greatest challenge was getting someone to believe enough to give us that first brief. There were a lot of sleepless nights designing proposals for cold calls. Many of those cold calls fell to the floor but once we got that first project in, doors started to open."
How would he rate his success over the last 10 years? With excitement, he said it is a lucrative field?
"When professionally done, it's the magic that brings the entire production together. It's what evokes the emotional, and dare I say, spiritual senses of the audience. It can totally transform a bland experience to an immersive one, if done professionally.
"Over the years, we have gradually evolved from importing production crews to grooming local talent, which is a very welcome development. We still have a long way to go, but there's definitely progress."
And his staying power? "Overall, I'll say we have stayed true to our vision and to ourselves. At the heart of our business, we are not motivated by profit, but by the ever-present pang to provide solutions, innovate and produce world-class solutions. We focus on creation of value and continuous addition to value. We're passionate about challenging the status quo and upping the ante.
"The word 'impossible' is not in our lexicon. Our immediate enemy is always our last achievement, and everything we do is guided by imagination, precision and distinction. Integrity is very important to us, internally and externally. This is what guarantees our longevity. We ensure that every brief is a promise kept. We leave no stone unturned to ensure that we're building the dreams of all our stakeholders, team members, and clients to perfection."
Continuing, he acknowledged: " it's amazing what creative in Nigeria churn out day after day. We are faced with some of the most challenging conditions possible, but still, people are thriving and creating magic. One just needs to look at the amount of innovation and creativity being rolled out in the music, movie, comedy and art sectors. Of course, there's still some way to go but the industry as a collective is doing outstandingly well."
How has it been working with his spouse, Oluwatoyin?
"We both have a true passion for what we do so it's hard work, but most enjoyable. Being best friends really helps as well so it never gets tedious. It's also easier to balance each other's schedules because we both understand fully what our work entails. Our work compliments each other so everything works out amazing. Of course we still have our disagreements like every other couple, but our dynamic and understanding has improved greatly since we started working together. We always manage to come to a compromise by patiently examining each person's position and then going with the superior argument or taking the best from both sides."
The recent pandemic and subsequent lockdown affected his industry in no small measure, how is going to rebound and adjust?
"It was a real baptism of fire. Totally unprecedented, everything came to a complete halt. Coming out of it standing is as a result of capacity, prudence and a fantastic team. In that period, we took the time out to re-strategize and re-align our goals. The team really dug in and as a result, we have come out rearing to go."
Giving tips to youths on how to succeed, he said, "I would say, don't be afraid to dream big. In fact, if your dreams are not scary, you need to dream bigger and better. However, it's not enough to dream. You must have a plan. Your dreams will not become real all by themselves. You must have laser focus on your purpose. You have to be very intentional about how you will achieve those dreams. De-focus on the negatives and the problems you foresee along the way and focus on your 'why.'
"Finally, chase value and not money. Everybody wants to succeed, make bank and retire early. That's not a bad thing in itself, but it cannot be your 'why.' You can't chase money and catch it. What you can chase is value. People pay for value. People pay for solutions. Be a problem solver and a provider of value and see all your dreams come true."
As Eventecture celebrated one decade of lightening people's worlds, Olatunji-Daniels believe the best of the company is yet to come.
"It's quite surreal that 10 years have gone by that quickly. We look forward to the next decade in anticipation of many more exciting frontiers to conquer. We look forward to growth in geometric progression. We look forward to showcasing the best of Africa to the world. We look forward to many more decades of building dreams and creating happiness.
"While grateful for the past 10 years we're looking forward to the future in excitement and anticipation. We believe we're just getting ready to go and through staying on course we will be a shining light from Africa to the world," he stated.