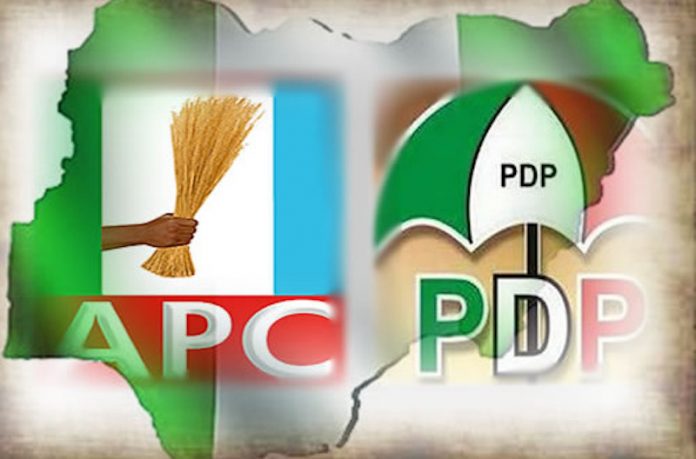 Victor Ogunje in Ado Ekiti
The Peoples Democratic Party (PDP) and the All Progressives Congress (APC) engaged in recriminations at the weekend over the violence that erupted in the state in the wake of the #EndSARS protests.
While the PDP accused the ruling party of sponsoring terrorism against the main opposition party through beating, arrest and looting of their property hiding under the ongoing unrest, the APC accused the PDP of hijacking the protests and causing mayhem in the state.
The PDP also alleged that the state Governor, Dr. Kayode Fayemi, will be held responsible should there be a further breakdown of law and order in the state.
But debunking the allegation, the APC Publicity Secretary, Hon. Ade Ajayi, said it was the PDP members that hijacked the peaceful #EndSARS protest and unleashed terror on the populace.
Ajayi alleged that one of the PDP's hoodlums was recently arrested after leading the assault on the governor's convoy, mounting barricade, raping and looting of property in Ado Ekiti.
But the state Publicity Secretary of the PDP, Mr. Raphael Adeyanju, in a statement yesterday, said a guest house owned by a musician and former state House of Assembly member, Hon. Dayo Akinleye, was invaded last night by armed thugs allegedly sponsored by the APC, who were arrested and detained at the police headquarters in Ado Ekiti.
The PDP alleged that the thugs were the ones that killed one person in Ado Ekiti on Tuesday.
"The thugs, who were alleged to have moved around Ado Ekiti on Tuesday, in a branded bus owned by a former APC governorship aspirant, fired the shot that killed Sunday Ogunleye, a native of Odo Ayedun Ekiti, in Ikole Local Government Area.
"The armed thugs invaded the guest house at Jimoh Aliu Street, Adebayo in Ado Ekiti, owned by a man known to belong to what they called 'Team Ekiti.'
"They are known boys of a drivers' union leader, who is an appointee of government. The police must therefore bring these people to face the law, otherwise, those being attacked might be forced to begin to defend themselves," it added.
But the APC, in a statement yesterday, said: "We also recall that Ekiti was the only state in the South-west that enjoyed some level of peace when other states went up in flames.
"This was due to the proactive security measures taken by the security agents in conjunction with the state government to ensure peace. The PDP is not happy that their plans to unleash mayhem on the state under the guise of #ENDSARS protest failed.
"PDP leaders started inciting the people on social media that they should look for government's warehouses for COVID-19 palliatives and loot as it happened in other states. This was responsible for the looting of the Silo along Polytechnic Road, SEMA warehouse at Adehun, which was also burnt as well as the ADP warehouse and private stalls at the old textile complex before the intervention of security agents who put a stop to these nefarious activities and arrested some of the hoodlums."