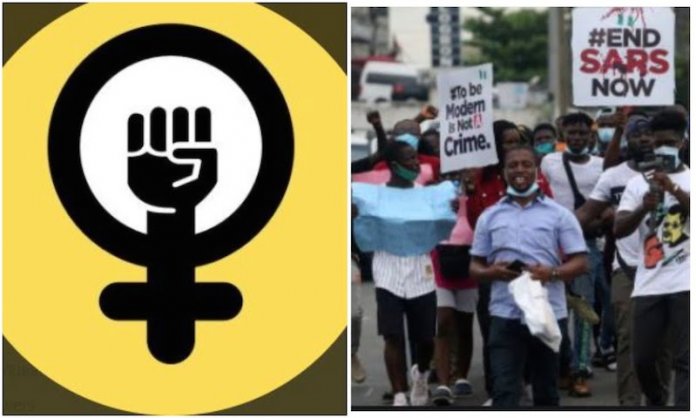 The Feminist Coalition has announced its decision to stop all donation inflows for the #EndSARS protest and urged young Nigerians to stay home and observe the curfew in their states.
The decision was sequel to the national address by President Muhammadu Buhari following the violence ignited in several cities by the shooting of unarmed peaceful young protesters by soldiers at the Lekki Toll Gate in Lagos Tuesday night.
"We wish to emphasize that we will no longer be accepting donations for #EndSARS going forward," the group said in a statement.
The group said the rest of the donations will go towards funding medical emergencies, legal aid for wrongfully detained citizens, and relief for victims of police brutality and families of the deceased.
Giving a summary of the total funds it had received and disbursed over the past 14 days, the group said it received a total of N14,855,788.28. It said a total of N60,403,235.00 had been disbursed, leaving a total of N87,452,553.28.
The Feminist Coalition also gave a breakdown of how the remaining funds would be disbursed. It said the remaining funds would be channeled through #EndSARSresponse (Medical) N20,114,087.25; Legal Aid Network N15,741,459.59; Relief for victims of police brutality and families of the deceased N40,228,174.51; Memorial for the fallen N5,247,153.197; and #EndSARSMentalHealthSupport N6,121,678.73.
The group also said its condemns every form of violence and believed that no Nigerian life was worth losing to senseless violence.
"We are young Nigerians with hopes, dreams and aspirations for our country. This means we need to stay alive to pursue our dreams to build the future,' the group said.
Noting that the past two weeks have been tough for many Nigerians, it said many lives had been lost and properties destroyed at the height of what started as peaceful marches for the end to police brutality.
It consoled with the those that has lost loved ones in the violence.
It said, "We are merchants of hope. Our priority is always the welfare and safety of the Nigerian youth. Following the President's address, we hereby encourage all young Nigerians to stay safe, stay home, and observe the mandated curfew in your state."
The group's statement was jointly signed by Damilola Odufuwa, Odunayo Eweniyi, Layo Ogunbanwo, Ozzy Etomi, Ire Aderinokun, Fakhrriyyah Hashim, Oluwaseun Ayodeji Osowobi, Jola Ayeye, Laila Johnson-Salami, Karo Omu, Obiageli Ofili Alintah, Tito Ovia, Kiki Mordi and FK Abudu.