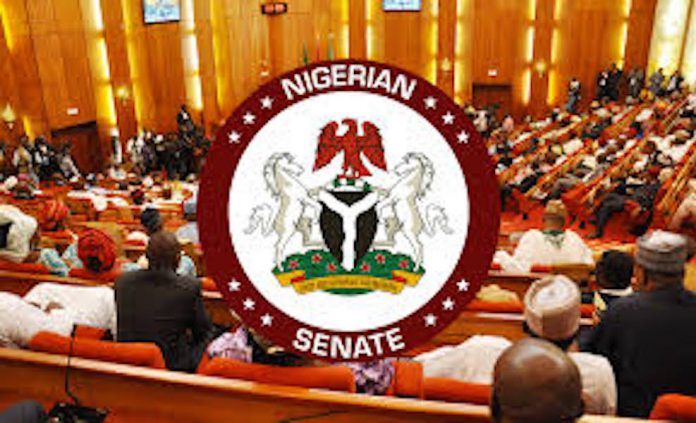 By Deji Elumoye
Some Senators have commenced moves to pressurise the President of the Senate, Dr. Ahmad Lawan, to reconvene the upper chamber to discuss issues of urgent national interest.
The Senate had last Tuesday suspended plenary till November 24 to enable relevant committees scrutinise the 2021 budget proposal of the federal government.
But hardly had the Senate gone on break than some senators across party lines expressed concern about the #EndSARS protests across the country, which climaxed last Tuesday evening with the killings of some protesters at Lekki Tollgate in Lagos by yet-to-be identified soldiers.
Flowing from this, some senators of like minds convened a meeting in one of the committee rooms yesterday and canvassed for the need for the Red Chamber to reconvene and take a definite position on the protests by the restive youths, which is spreading to different parts of the country.
A ranking senator from the North Central geo-political zone confirmed to THISDAY yesterday evening that the meeting actually took place, and a delegation had been asked to meet with the Senate president to call senators back as soon as possible.
The vocal senator, who spoke on the condition of anonymity, said most senators were really concerned about what is happening in the country, especially the #EndSARS protest by the youths.
He said the protest was already taking another dimension with the killings and destruction of properties in the commercial city of Lagos "and thus made senators to be worried with urge that the Senate must take a position on the matter."
The senator said: "We discuss for about two and half hours, and those of us present from both APC and PDP came to the conclusion that the upper chamber must not sit on the fence over issues of national interest like the youths protest.
"So, we have mandated three of us to meet with the Senate leadership immediately to stress the need for the upper chamber to act fast before the situation deteriorated. Mind you, this will not be the first time the National Assembly will have to reconvene in a time of national crisis. Don't forget that early in 2012, when President Goodluck Jonathan increased the pump price of fuel, the House of Representatives under the leadership of Hon Aminu Tambuwal sat on a Sunday and took a decision that the fuel price increase must be reversed."
The senator added that most of the lawmakers had been approached about the move to reconvene the upper chamber "and from the favourable response we are getting, the Senate president may accede to our request and reconvene the Senate shortly."