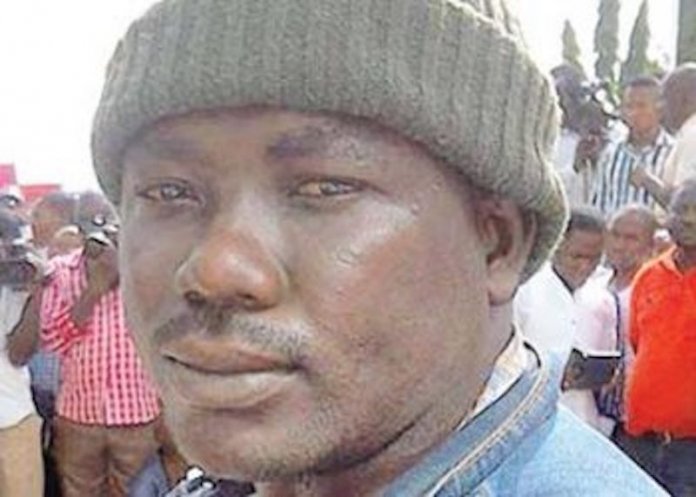 George Okoh in Makurdi
The Commander of the Four Special Forces Command of the Nigerian Army in Doma Local Government Area of Nasarawa State, Brigadier General Maude Ali Gadzama, last night confirmed the killing of wanted Benue militia leader, Terwase Akwaza, alias Gana.
Channels Television quoted Gadzama as saying that Gana was killed in a firefight with military personnel.
However, the Benue State Governor, Mr. Samuel Ortom, said soldiers snatched Gana from a government convoy escorting repentant militants in Gboko.
Earlier yesterday, Gana, along with 142 militia boys, had reportedly surrendered amid traditional rulers, priests, and local government officials in Katsina-Ala Local Government Area of the state.
They were on their way to Makurdi when they were intercepted by military officials, Ortom said.
In 2017, the police declared Gana wanted after he was alleged to have killed "several innocent persons."
The Benue State Government, at the time, placed a N10 million bounty on him.
In an exclusive interview with Channels Television in 2016, Gana had denied any involvement in the killing of Mr. Denen Igbana, a security aide to Governor Samuel Ortom.
According to a local source, Gana emerged from his hideout yesterday at the Akume Atongo Stadium, Katsina Ala besieged by a large crowed who came to catch a glimpse of him.
The source said he willingly surrendered along with over 100 of his group members before they were arrested on their way to Makurdi by the military .
The source said Agwarza and his group members were set to embrace another amnesty programme proposed by the state government in Makurdi when the convoy intercepted and he was whisked away to an unknown destination.
However, confirming the report, Ortom said a total number of 142 militias including Gana had embraced the amnesty programme initiated by the stakeholders in the three LGAs and with the support of the state government and security agencies.
He added that the military team intercepted the convoy of the militias, including the Local Government Chairman around Gboko on their way to Makurdi and took them to unknown decision.
Ortom said he waited for the repentant bandits until 4pm but did not see them.
"I later succeeded in getting in touch with the Commander of Operation Whirl Stroke, Major General Adeyemi Yekini, and he confirmed to me that they (the military) were in an operation and that he will brief me later. I believe that the military will protest them because the military knew what we were doing. Even in the military, when someone surrenders during the war, he is protected," Ortom explained.
He, however, granted amnesty to 42 who made their way to Makurdi.
The governor warned the repentant militias not to go back to their past evil ways even as he said he is yet to be briefed by the team of Operation Whirl Stroke (OPWS) of the military who claimed responsibility for the arrest of Gana and his team.