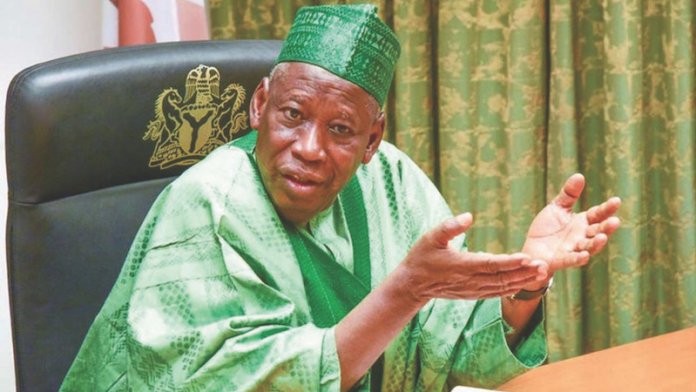 By Ibrahim Shuaibu and Jameelah Sanda
Kano State Governor, Dr. Abdullahi Umar Ganduje, has advocated for the collaboration of the state governments with the Federal Ministry of Mines and Steel Development to boost the Gold economy in the country.
Recall that recently, the federal government had launched one of its initiatives on Gold popularly known as Presidential Gold Mining Initiative which is the first step taken to revolutionise the Nigerian economy.
Speaking during the formal launch of 'Kano Gold Durbar' held at Ado Bayero Mall in the state capital, the Deputy Governor, Nasiru Gawuna, explained that by collaborating with the federal government, state governments would find it much easier to utilise the Gold available in their respective areas for economic development.
"It is on this note, I find it worthy to appreciate and commend the federal government on its recent initiative of Presidential Gold Mining. What is more interesting is the aspect of jobs creation whereby about 250,000 jobs are going to be provided under this initiative, " he said.
Ganduje represented by Gawuna disclosed that Kano State on its own part, had established the office of the Special Adviser on Solid Minerals doing everything possible to encourage mining and other minerals businesses in the state.
The deputy governor expressed optimism that Kano was the right place to hold such an important programme and assured the participants of the state partnership so as to boost Gold trading activities not only in Nigeria but worldwide.
Also speaking, the Minister of Mines and Steel Development, Architect Olamilekan Adegbite, explained that the programme was designed as a private sector initiative to celebrate Kano being the city of Gold and to see how Nigerian economy could be developed out of the Gold businesses.
"With one of the largest economies and population in Africa, Nigeria is a top contender as the largest emerging market for luxury goods in Africa, especially for Gold.
"In Kano, the Sabon Gari Market was the first place where mostly women who serve as brokers, working from home with more than 2,000 distinctive visitors daily from across Africa, conducted conventional business in precious stones."
Speaking also, the leader of the stakeholders initiative in Kano, Magajin Garin Kano, Alhaji Nasiru Inuwa Wada called on the federal and state governments to create a synergy between the actual Gold Miners, the title holders and all the people involved to give room for a systematic Gold trading activities.
"Nigeria as a country should be able to certify its own Gold and sell it anywhere in the world as Nigerian certified Gold.
It is high time that we should be able-bodied to utilise the Gold that we have to create a Gold economy in Nigeria," he advised.