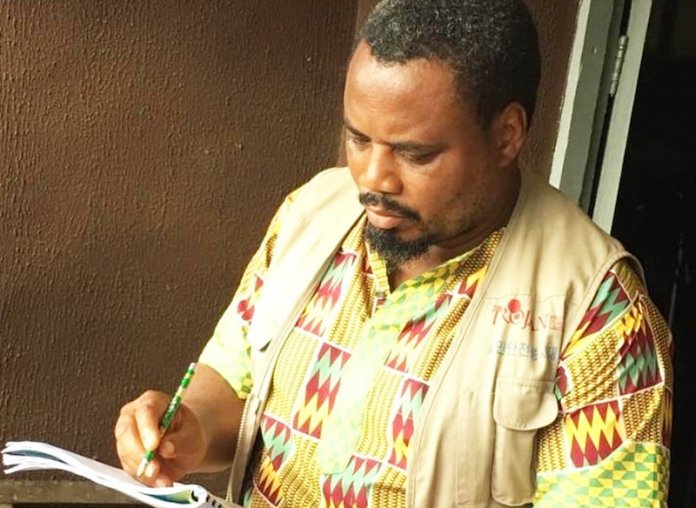 Cerebral, versatile and reserved are a few words to describe his personality. The name Abiodun Jimoh definitely rings a bell, but many may not put a face to the name right now, as he rarely performs in front of the camera. The founder of Prodigy & Pens is the brain behind the blockbuster "Somewhere in the Dark" which won multiple awards both at home and abroad. Jimoh has a number of classic movies to his credit and, in most cases, combines roles as a writer, producer and director, a rare trait that gives his works coherence. Omolabake Fasogbon writes about his ability to smoothly combine roles, the "weird behaviours" in Nollywood and the move to produce the first ever Nigerian flick in French
He takes a steady look at the flying birds, he marvels at the growing plant, he watches with curiosity the bond of mating lizards, he feels the coolness of the breeze, he listens to the noise in the market with rapt attention, he retreats to his jotting note and visualises his adventure with the zoom lens. These aptly capture the world of the multi-lingual artiste and model who wears several other caps.
Abiodun is a born creator who gets to refine his skills in the field. Again, as a little boy, he always mimicked reality with his imaginative pencil, an omen that he would end up in a creative industry someday. He said, "As a child, we knew nothing, all we wanted to be was a pilot, doctor, accountant and every other job that was pleasing to the ears. Yet, I've always been an artist but didn't see a career in it since no one was available to put me through. I love drawing, colouring, painting and writing stories. I drew a lot of Marvel and DC Comic characters. I even had my own characters and had a lot of fans and readers in my primary and secondary schools. But, as I grew up the zeal to draw reduced, while the muse to write stories increased, so I wrote more. My first book 'False Targets' was published in 1999 by GU Books, now Booksurge, USA. I later wrote 'Girls Hostels' which sold out over 10 thousand copies within a year."
Beyond writing, he was doing well as a French tutor but his zeal to impact larger audience did not let him stop there. "I quit teaching to face acting majorly in 2006, so as to reach out to a bigger audience with my gift," he said. And ever since, as he desired, has impacted souls with his divine assignment, but not without some ambiguities.
He spoke about the ambiguities thus: "The movie-making chain is tough but script writing is the toughest. In my years of experience as a script writer, producer, director and actor, I must say that writing is the most tasking which at the same time is the foundation of a good movie. But the good thing is that I am most passionate about writing. A good story is the foundation of a good film. There is no good film without a good script, regardless of the budget. Yes, I love directing because as a writer, I direct with pictorial perspective of what has been written. However, there is no better film director than the one who started from the background of storytelling, that is, script writing."
He further talked about his role behind the scene, even though the actors are the most noticed at the end of the day. "I am a film director and I am proud of it. It gives me joy to produce young and new talents year in year out. Note that every department has its importance in film making but the director is the highest in film hierarchy."
Though well lettered, he said formal education was not a must criterion to become a good director. Learn it! Be trained," he stressed.
Speaking on the job, one could but feel his passion, which happens to be his driving force. Asked if he would quit showbiz for a better offer, he retorted, Never! I will die there."
He diverted a bit to discuss some quirky acts in Nollywood: "The industry has enabled me meet the weirdest people on earth. I've been exposed to so many weird behaviours too, some of them unprintable but as an adventurous person and as a writer, I see everyone like a character in my story, and everything as a plot in my story."
Can you please go specific on these weirdest behaviours? This reporter pleaded, and he obliged, but his revelations were disquieting. "People are just getting to know about transgender, she-males etc., through social media exposure. The modelling and movie industry had exposed me to this as far back as 2002. Behind the curtains, while we changed, you discovered that everybody is not really what they seemed, you're scared at first, then shocked and later get used to it. The garments of men cover many things," he stated.
What about temptations being a male producer and director? "This is not scarce," he said. "Hmmmmm! Only God can save. You see, a lot of ladies are in the industry to seduce directors, producers and production managers. The temptation is high in this case but professionalism keeps everyone in check. More often than not, ladies or guys who come to the industry with their bodies are the ones without talents. They never last. The few professional ones always make better impacts."
Part of his weird experience in the industry and which he has had to live with is sexual harassment from female counterparts. He confesses: "As a matter of fact, men have suffered sexual harassment more than female and this cut across all sectors, not just in showbiz. I have witnessed female's touching, yet the man is supposed to be strong, unfeeling and quiet, but if a man tried half of that, she has been sexually harassed. Men get harassed more, day in day out. The only difference is the stereotype: Men don't cry, men shouldn't complain and men are strong. Therefore, no need to rant…After all, it is also believed that men always enjoy sexuality, but women have the right to choose or decide when they enjoy it or not. As a matter of fact, they may enjoy a sexual play while in good terms with a particular man and when perhaps they break up, she may decide that she was sexually harassed while their relationship lasted. The issue is there and it is sickening but it is more sickening when people chase clout with it."
For the University of Ibadan graduate, his multiple award winning and much talked about work, "Somewhere in the Dark" tells all about his savvy. Coincidentally, the movie launched him to limelight and is still an epic reference point in the industry till date.
He spoke about the flick thus: "The movie almost hit the rock at a time during production as a result of some conjuring scenes that scared almost all the crew members but we were able to manage it. Somewhere in the Dark is a work I cherish till tomorrow. It won the AMVCA Best Indigenous Language Movie. Moreso, Gabriel Afolayan won Best Actor with the movie (AfroNolly Awards, USA), Jumoke Odetola won Best Actress at Best of Nollywood Awards, as well as Best Actress in the City People Awards with the movie. It was the first indigenous language movie to be acquired and aired on EbonyLife TV. I can go on and on, counting the feats of the movie."
On taking multiple roles in the high demanding work, he explains: "Writing, directing and producing have become my life. The experience for me is simply living, without them, no life for me."
As a French scholar, he hinted of his plans to transfer his knowledge into a film work: "We are working on producing the first ever Nollywood movie which language will be wholly French. Already, there is a script for it, we're looking for sponsors."
For Kilanta, as he is fondly called, his dream is to make Nigerian movies world's favourite. "Late Legend Fela Anikulapo Kuti had a dream that he called 'Buy Africa'. America sold their world to us via their films, now we prefer most of their things to ours, it is all propaganda. We can change the narratives by selling the African brand to the world too; the film is a very strong medium."
Though an entertainer, he looks on other sources to entertain himself. "I play games with my protégés. The Prodigy studio has a spacious lobby that whenever we want to have a break from work, we play different games like football, volleyball, video games, word games etc. When I'm alone, I read, I play PS and I daydream," he said.