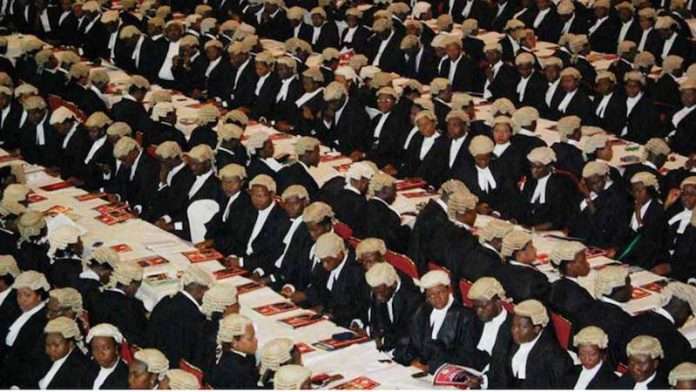 My Agenda is to create an IT-driven, Innovative and Professionalised Secretariat
Okey Ohagba
The office of the General Secretary of the Nigerian Bar Association is the busiest office in the Association, and it is generally referred to as engine room of the NBA. What competitive advantage would you say you have over your fellow contestants, in terms of skills and understanding of the job and what it entails? In a nutshell, what is your manifesto? Why should Nigerian Lawyers entrust you with their Secretariat?
Practically speaking, NBA General Secretary is like the Chief Operating Officer (COO) of an organisation. Therefore, a candidate for that office must possess excellent leadership and administrative skills; must be a multitasker, with an eye for detail. Such candidate must be innovative, tech savvy, hardworking and committed to assignments.
Manning the Secretariat of a multi-membered organisation like the NBA in this post Covid-19 era, demands even more. It demands a strategic thinker who will be ready and eager to embrace prevailing new perspectives, and adapt quickly to new and better ways of doing things. I epitomise the foregoing attributes. Those who know me very well, I'm sure, will say that I'm the right peg for that hole. My aspiration for the office, is borne out of my passion for positive and innovative change. I have the character, I have the capacity, I have the competence and experience. I am burning with ideas to innovate the Secretariat. I understand the workings of the Secretariat better than the rest, being the immediate past 1st Assistant Secretary of the Association.
As NBA 1st Assistant Secretary, 2016 to 2018, upon cordial and robust collaboration with the General Secretary, I delivered 'error proof Minutes' at nearly all NBA National Executive Committee Meetings, and for the first time in NBA history, we pioneered the introduction of electronic mailing of Minutes and NEC Bundles prior to NEC Meetings, thereby affording NEC Members ample opportunity to read, digest the minutes and participate more robustly at NEC Meetings. Again as NBA Rep. on CAC board, I championed the Commission's migration from a semi-analog platform to digital platform, enabling Lawyers to transact business with CAC today from the comfort of their homes, using palm held devices.
I leave innovative imprints, in any position I serve. My passion for excellence drives me crazy, and puts me undoubtedly ahead. It may also interest you to note that, I was raised from the nursery of Young Lawyers Forum, where I served as National Secretary 2012 to 2014; therefore, I understand also the yearnings of younger members of the Bar, whom we all refer to as the future Bar.
In a nutshell, my agenda is to enthrone an effective and functional E-governance structure; the IBA model Secretariat. An IT-driven, innovative and professionalised Secretariat, that accords with all modern and international best practices. A Secretariat that will be accessible to all members from all parts of the world, a responsive Secretariat, with a motivated Staff that will efficiently respond to the needs of our members, and a Secretariat that will support and enhance our practice as Lawyers in our respective jurisdictions. I will be remembered as always, by the innovative imprints I will be sure to leave at the end.
At a time when the world has become a global village and the legal professional is fast becoming digital, it would be expected that the General Secretary of Nigeria's largest professional body should be IT savvy and fully computer literate. To what extent do you possess these valuable skills, which are absolutely necessary to function effectively in that office?
I am an implacable crusader for e-governance. My Bar service profile speaks for itself on this aspect of me; from National Secretary of Young Lawyers Forum where I built the most comprehensive database of young Lawyers in Nigeria at the time and maintained a functional website for the YLF link to the NBA portal, to NBA Rep. on the Board of CAC where I championed the migration of the Commission from a semi-analog to complete digital platform, enabling online based interaction with the Commission, and again to NBA 1st Assistant Secretary where I facilitated electronic mailing of minutes and NEC bundle, for the first time in NBA history.
I am very proficient in the use of ICT, and an advocate for less paperwork and more paperless administration, for a better and speedy service delivery.
One major complaint from Lawyers and NBA Branches about the office of General Secretary, is the lack of and/or ineffective and inadequate flow of information from that office to Branches and Lawyers in general, on crucial issues like minutes of NEC meetings and notices to Lawyers, SANs, Benchers and other major stakeholders in the profession. How do you intend to ameliorate this problem, if and when you are voted into office? Lawyers for instance, complain they don't get their stamp and seal early enough. Some have to wait for upwards of four or five months. How do you intend to handle this problem, if you are voted into office?
The National body cannot function, without the Branches and their members. I think there should be an IT-driven connection and interaction between the Secretariat and members of the Bar. We don't have that at present, and the fact that a member in a remote Branch cannot have access to the Secretariat via the click of a phone, not only creates a loss of connection but also hampers in varying ways, that member's professional career, and the ripple effect in some cases, will be a denial of access to justice. This is very true because today, the Secretariat plays a critical role in regulating the practice of Lawyers with the issuance of NBA STAMPS . If you don't have the stamp, you cannot practice effectively. For this reason alone, the National Secretariat must be both friendly and accessible to all members. There are a lot of ways to enhance this process via IT mechanism.
My ultimate goal, is e-governance. If you're used to the workings of the IBA, you will agree with me that from any part of the world, queries are raised and resolved via the IBA Portal www.ibanet.org and/or through IBA Call Centres. Once the e-governance culture is put in place, challenges of disconnect and poor communication would have been dealt with, frontally. Minutes and other vital information would be easily accessible to members via the portal, email services, NBA App. (Which we hope to implement) etc.
While I must take quick steps to fast-track Stamp application, production and issuance process, we must look the way of e-stamping, since e-filing has become the new normal in our jurisprudence. All I've been saying, is doable. It's not rocket science, it's about commitment, zeal and passion for excellence. A multi membered organisation like the NBA, must leverage on ICT for a robust interaction with members. I have the roadmap to bridging this rising disconnect and disenchantment between the National, individual members and Branches, through the operation of an IT driven, friendly Secretariat. When I was in office as the 1st Assistant General Secretary of the Association, I took it upon myself to always be on the Association's webmaster, urging him to always update the portal at every point in time, to ensure we keep our members up to speed with the activities of the National Secretariat.
I must commend the current administration for their efforts at improving on the IT image of the Association by refocusing and redirecting members attention to the portal for certain services, but I think a lot of things still need to be done to bridge this gap. An all-inclusive style of governance, must be engaged to cushion this gap.
How effectively have you been able to drive your campaign with the Covid-19 pandemic and the conditions placed on how campaigns should be run by the ECNBA? Do you believe that given the constraints, your campaign has had the desired effect on Lawyers across the country, and that going forward, this is probably the best way NBA campaigns should be run?
Ours is a professional Association built on rules, so let me correct you first that, ban on campaigns hasn't been lifted yet. I've expressed intent and have graciously cleared to contest by the electoral umpire, the ECNBA. Our Constitution and the ECNBA guidelines stipulate applicable mode of campaign, and I await the ECNBA directive in that regard. For now, I'm reaching out to colleagues and sensitising them of my aspiration and vision. Amidst the lockdown and ECNBA restrictions, I've been working the phones, and the responses has been wonderful. The restrictions are meant to instil some sanity into our electoral system, and I commend the ECNBA for their initiative.