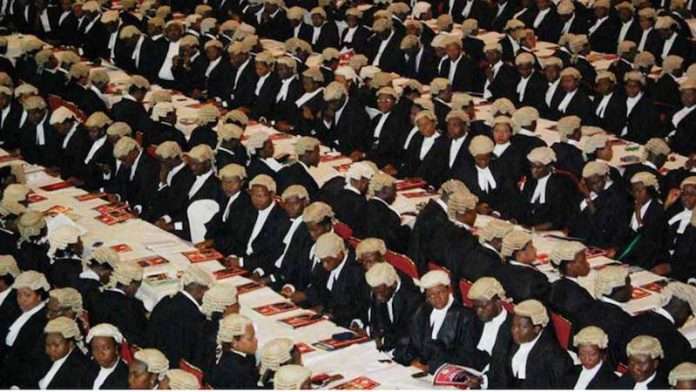 On July 29, 2020, the Nigerian Bar Association (NBA) will go to the polls to elect national officers, who will run the affairs of the body for the next two years. For the office of General Secretary, the four candidates who have been cleared to participate in the election are, Joyce Oduah, Alex Muoka, Okey Ohagba and Chris Yakemewerigha. THISDAY LAWYER sought out the contestants to speak about their aspirations, and how they will man the affairs at the National Secretariat of the Association, if and when they are elected into office
I Will Professionalise the NBA Secretariat and Make it More
Responsive to Lawyers' Needs
Joyce Oduah, FICMC
The office of the General Secretary of the Nigerian Bar Association is the busiest office in the Association, and it is generally referred to as engine room of the NBA. What competitive advantage would you say you have over your fellow contestants, in terms of skills and understanding of the job and what it entails? In a nutshell, what is your manifesto? Why should Nigerian Lawyers entrust you with their Secretariat?
The Office of the NBA General Secretary is saddled with the enormous responsibility of, amongst others, managing the NBA National Secretariat by virtue of Section 8 Subsection 5 (e) of the 2015 NBA Constitution as amended and adopted by the Annual General Meeting held in Lagos on 29 August, 2020 ("the NBA Constitution").
I believe I have the required competence and competitive advantage over other contestants. My experience, qualities, proven track record and expertise, whether in the NBA or private legal practice, place me above the other candidates. In point of fact, I am the only candidate for the Office of the NBA General Secretary, who has enduring legacies both at the NBA Branch and National levels. For more than a decade, I have served the NBA, both at the Branch and National levels relentlessly, gallantly and altruistically, in various capacities.
I served the Lagos Branch of the NBA as 1st Assistant Secretary from 2000 to 2002, and so I know what the job of Secretary entails and how to go about it extremely efficiently and productively; as Publicity Secretary from 2007 to 2009; and as Social Secretary from 2009 to 2011. At the National level, I have served as the National Treasurer between 2012 and 2014. In addition to the elective offices as enumerated above, I have been a member of the National Executive Committee (NEC) of the NBA for many years, and have been appointed into many other Committees both at the Branch and National levels.
Auspiciously, during my tenure, I discharged my responsibilities in a dignified manner, and offered laudable services and contributions toward the advancement of our dear Association. For instance, as the National Treasurer in 2012, I introduced the Bar code and customised teller payment system, which curtailed the hardship and burden occasioned on our members as a result of the old unorganised payment system. This has increased the revenue for the Branches. For example, Lagos with barcode 058 used to receive about four N400,000 as at 2012, received the sum of N6,056,500.00 in 2013 after the introduction of the Barcode by Joyce Oduah. Recently, in 2019, Lagos Branch received the sum of 13,500,000.00.
In a nutshell, my agenda for the NBA is to revamp the NBA National Secretariat and make it more effective, responsive, vibrant, robust and forward-looking, in line with international and modern best practices. Essentially, I intend to achieve this, through a considerable number of excellent and well-thought-out ideas like professionalising the National Secretariat; effective record keeping/introduction of electronic filing system; effective planning and organising of meetings; effective communication and management of correspondence; updating of the NBA National Secretariat library/establishment of national law library; infrastructural development/completion of the NBA National Secretariat; introduction of an ICT based innovative NBA Secretariat; entrenching transparency and financial prudence in the NBA National Secretariat; Human capital development/ Continuing Legal Education etc.
I believe Nigerian Lawyers should entrust me with their National Secretariat, because I am passionate about serving and I have the requisite competence to manage the NBA National Secretariat effectively and efficiently. My agenda will benefit all Lawyers, and it goes beyond recording of minutes. My vision is to advance the welfare of Nigerian Lawyers, through effective management of the NBA National Secretariat.
At a time when the world has become a global village and the legal professional is fast becoming digital, it would be expected that the General Secretary of Nigeria's largest professional body should be IT savvy and fully computer literate. To what extent do you possess these valuable skills, which are absolutely necessary to function effectively in that office?
The world is ruled by technology, and the NBA cannot afford to be lacking in the area of information and communication technology. Modern offices, operate mostly through ICT. This is the major reason why I intend to introduce an ICT based innovative NBA Secretariat, like most modern and international secretariats.
As it relates to my personal skills in this area, I can confirm that I am computer savvy and I have taken professional courses on computer science over the years, particularly during my University and NYSC days. I am proficient in Microsoft Office, and well informed about modern technology. I can deal with a Personal Computer, smart phone and numerous modern softwares and tools. My law firm, Joyce Oduah & Co. is an IT based law firm. It is currently run through ICT, with an IT expert who is in full-time employment with us.
One major complaint from Lawyers and NBA Branches about the office of General Secretary, is the lack of and/or ineffective and inadequate flow of information from that office to Branches and Lawyers in general, on crucial issues like minutes of NEC meetings and notices to Lawyers, SANs, Benchers and other major stakeholders in the profession. How do you intend to ameliorate this problem, if and when you are voted into office? Lawyers for instance, complain they don't get their stamp and seal early enough. Some have to wait for upwards of four or five months. How do you intend to handle this problem, if you are voted into office?
Truthfully, I am not oblivious of these complaints, particularly because I am well informed of the happenings in the NBA, and I understand completely the plight of Lawyers and the reforms required to address these plights. As we know, communication is a basis for every endeavour of man; it prompts people to act and think in certain ways, and touches every sphere of human activity. I believe that the way an organisation communicates through its correspondence, has a fundamental impact on the organisation, whether on the image, production or quality of the organisation.
This is why when voted in as the NBA General Secretary, I will ensure that there is synergy between the National Secretariat and that of the Branches, Sections and Fora. I will bridge the existing gap between the National Secretariat and other Secretariats. I believe such synergy will boost the confidence of the Branches, on the National. We will constantly relate and interface with law firms, NBA Branches, other Bar Associations, as well as the Lawyers and other key stakeholders in the legal profession, in new ways that are beneficial to the NBA. To achieve this, I will establish a forum of Secretaries, where frequent interactions with all Branch Secretaries will be encouraged. I believe this forum will foster a more accessible and effective working relationship between the Secretariats. We will also leverage and utilise social media, national tv/radio stations and dailies, to ensure adequate distribution of information to our members. In order to bring the NBA national leadership and Secretariat closer to Lawyers outside the FCT, I will advocate for and work with the NBA President, as well as the NBA NEC to establish NBA Liaison Offices in the three geopolitical zones recognised by our Constitution, vis: the Northern, Eastern and Western Zones.
On NBA stamp and seal, I must add that the introduction of the NBA stamp and seal remains a commendable initiative, as same has to a great extent, helped to checkmate fake Lawyers in the legal profession. Today, legal practice is a bit more demanding than it used to be some decades back, because Lawyers are now mandatorily required to affix their stamps to all legal documents prepared by them. However, I am also aware that one of the challenges associated with the stamp and seal, is the delay in production and delivery. Therefore, when I am elected as the General Secretary, I will ensure swift production and delivery of the NBA stamp and seal to Lawyers. I will also advocate for the cost of procuring NBA stamp to be reduced. I believe there should be an incentive for payment of Bar Practicing Fees. To further alleviate the challenges and delay in delivery of the NBA stamp, I will advocate for, and ensure the introduction of electronic stamp, particularly in the face of this current global pandemic. We will work only with a company that has the capacity to produce stamp and seal for Lawyers, within the required time.
How effectively have you been able to drive your campaign with the Covid-19 pandemic and the conditions placed on how campaigns should be run by the ECNBA? Do you believe that given the constraints, your campaign has had the desired effect on Lawyers across the country, and that going forward, this is probably the best way NBA campaigns should be run?
Realistically, the current global pandemic has not just affected global economy adversely, but has also affected our campaign, because we are constrained not to travel around to consult Lawyers in person. However, it has also saved costs for us. Be that as it may, I believe my campaign has had the desired effect on Lawyers, because we have been able to favourably explore and utilise other means through which we have been engaging and consulting Lawyers productively. For instance, we have been having constant consultation meetings with our supporters on Zoom, and we have also been leveraging extensively on digital campaign. I and my team have been working relentlessly, and have not allowed the global pandemic to deter us. Well, I do not believe this is the best way NBA campaign should be run, because it does not afford Lawyers the opportunity to interact effectively with their candidates. One cannot compare physical meetings, with virtual meetings.