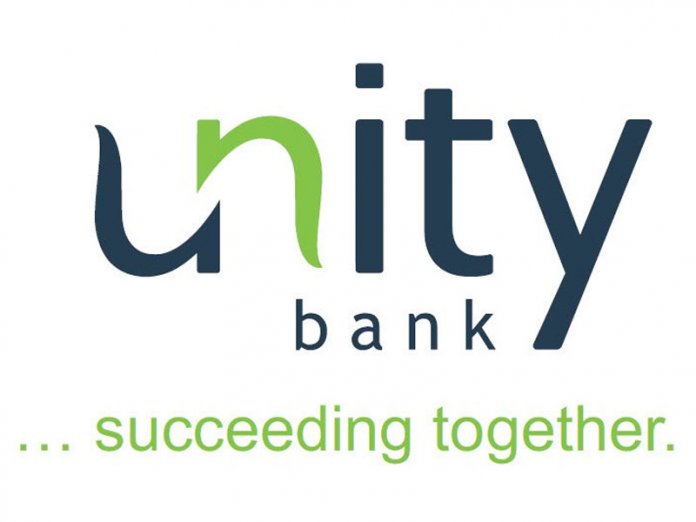 Obinna Chima
Unity Bank Plc thursday said its capital raising journey is still on course, adding that steps are being taken regularly to enhance the value of the institution.
The bank's Executive Director/Chief Financial Officer, Mr. Ebenezer Kolawole, said this during an online media briefing to discuss the bank's recently released full year 2019 audited results.
"We are making efforts to make sure that we maintain a sustainable performance that would delight our suitors for recapitalisation. Our capital raising journey is on course and we are making sure that all the necessary things are put in place.
"We are working with all our people in this regard. Even though Covid-19 has posed a lot of challenge in this regard, we are focused and we are on constant discussion almost daily and so by the time the coast is clear, we would move to the next level.
"We hope to conclude very soon. We would continue to propel growth and create value for all our stakeholders," Kolawole explained.
Unity Bank posted gross earnings of N44.59 billion for its 2019 financial year, up from the N34.65 billion it recorded in 2018. The audited 2019 full year results showed that the bank recorded a profit before tax (PBT) of N3.64 billion, from a loss position of N7.5 billion in 2018, while profit after tax (PAT) closed at N3.38 billion in the year under review, from a loss position of N7.695 billion.
According to Kolawole, the financial institution's liquidity position is strong presently. In addition, he said the board and management of the bank has adopted cost-saving measures by eliminating any item that does not add value to the financial institution.
He assured farmers across the country that the bank would continue to support their activities.
"2019 was a year when we had so many regulatory headwinds and challenges in the market. But despite that, we were able to rev up our momentum, just to make sure that we deliver value.
"We have to really keep the bank up because we are in a capital raising mood. We make sure that daily, we continue to do things that would add value to the bank."
Kolawole added: "We have over 1.5 million farmers in primary production that are banking with us. We have been very supportive to the agricultural sector even though returns from that sector is low.
"Unity Bank understands that food sustainability is very key, so we make sure we pay more attention to primary production such as rice, maize, sorghum, cotton, among. We deliver exceptional service to the agricultural sector and that has made us to win so many awards in the agriculture sector."
In his contribution, the Head of Strategy of the bank, Mr. Ibukun Coker, pointed out that the financial institution has been on a transformation journey for four years.
He said the bank has continued to work towards becoming a dominant player in the retail segment of the bank.
"As a result of that, we have continued to promote products that encourage financial inclusion. We have done more in terms of agency network.
"On the retail space, last year we opened up credit products for our customers – salary advance banking and other soft loans to MSMEs.
"So, a combination of that has helped us to increase fee-based income as a bank. We have created a niche on agric business and we have continued to expand our collaboration with the rice farmers association, cotton farmers association, ginger farmers association, and others.
"We have strengthened our e-Banking channels. We are also partnering with the government and the CBN on intervention funds for key sectors of the economy and anybody that wants any of the CBN intervention funds can access them seamlessly," Coker added.