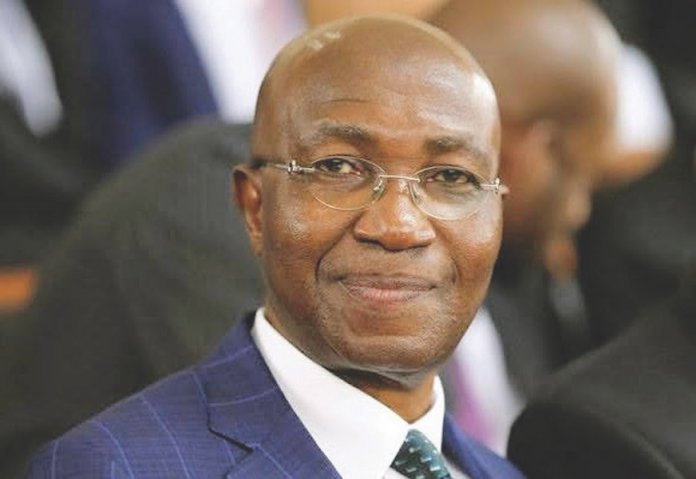 Within and outside Nigeria, the name Wole Olanipekun is massive, especially when the issue at hand is law and constitutional development. Of course, it doesn't take anybody who encounters this Senior Advocate of Nigeria a long time to know that law and his family are dear to his heart. But as Raheem Akingbolu found out in Ekiti recently, there is unbridled bond between this law icon and his Ikere community
St. Peter's Anglican Church, Ikere Ekiti, is an ancient place of worship but today it has suddenly become 'the bride' of the community, thanks to an illustrious son of the town, Chief Wole Olanipekun (SAN), who recently built an ultramodern Church Auditorium, with world class facilities that can accommodate at least 1,500 worshipers, to complement the existing structure in the church.
As this reporter found out after joining the congregation in a service this particular Sunday – weeks after it was inaugurated by Vice President Yemi Osinbajo, members of the church and leaders, including traditional chiefs are still serenading what the church and Ikere town have become after Olanipekun's recent benevolent gesture.
Chief Michael Ajayi Owoeye, the Oisa of Okekere, and six other traditional chiefs, including; Ezekiel Olowobola, Eminiwa; Chief John Abiodun, the Ejemua; Samuel Osolo and Baale of Ilupeju were excited to discuss how they felt about the church as they offered our correspondent a seat opposite a row of specially made and well-furnished chairs, reserved for chiefs.
"Though this is not the first time Olanipekun would graciously donate to Ikere community but this particular one is special because it has never happened in any community in Ekiti State for an individual to single handedly build a church and hand it over to his community," Oisa stated.
While Chief Olowobola, the Eminiwa emphasised the need for other well-meaning Christians to emulate Olanipekun, the Baale of Ilupeju and the Ejemua were keen about maintenance of the edifice, which they said would involve commitment of all members of the church. To these traditional leaders, the eminent lawyer has contributed his quota and must be encouraged by members of the church for the auditorium to sustain its standard.
Perhaps the man who captured the mood better, was the vicar of the church, Michael Olusola who linked what Olanipekun did to the efforts of a few men of God in the bible, who were willing and had the grace of building for God.
"It takes a man who understands how God works to do what Olanipekun has done.
There are many people in this part of the world who have the means but they don't have the grace. As far as my memory can take me, this is the first time an individual would embark on a project like this single handedly, completed it and handed it over to the church. Yes, few years ago, the late Bishop Abiodun Adetiloye inaugurated a church in Odo Owa but his approach was quite different from this. Adetiloye in his own case mobilised people and resources but in this case, Olanipekun and members of his immediate family solely did this and handed it over. It is indeed marvelous in our hearts. That our people are in the state of ecstasy as you rightly observed is understandable because the legal practitioner has shown to them how to appreciate God.
"I congratulate Chief Olanipekun and his wife, neither because of the beauty nor the magnificence of this edifice, but because God counted them worthy and acceptable to build a place of worship for Him. David, the prominent King of Israel, was denied this great privilege, even though he pleaded passionately for the opportunity to build a house for God, God said no; rather, he was allowed to make provisions for the project. We can now all see that Olanipekun is blessed.
Some started and died along the way, while some became physically incapacitated; others, for financial reasons, abandoned the project, but none of these became Chief's lot," the vicar said.
Despite his commitment to the Church, especially Ikere Anglican family, where he built and donated a vicarage, which was named after his late father, Pa Isaac Olanipekun, a few years ago, Olanipekun has in the last 12 years, intervened and contributed to Ikere Ekiti development, through various legacy projects. They include New Cruse 92.7 FM, which recently began transmission and an ICT Centre within the premises of Amoye Grammar School, Olanipekun's alma
mater to mark the school's 50th anniversary in 2009. There is also a modern Amenity Ward donated to State Specialist Hospital, Ikere and named after Madam Lydia Bosede Olanipekun, the lawyer's mother. Apart from building a brand new ward equipped with modern facilities, Olanipekun also purchased a brand new ambulance to attend to emergencies and complement the new facility he had put in place.
While doing all these, Olanipekun never forgot his love for law and its growth in his place of birth. To demonstrate this, the Asiwaju of Ikere Ekiti has literally assumed the position of a father-figure for the Ikere Ekiti Branch of the Nigerian Bar Association (NBA). Few years ago, the former NBA National President had donated a Bar Centre to the branch along College of Education, Ikere road.
Speaking on the relationship between the senior lawyer and the local chapter of the professional body, the branch Chair, Oludayo Olorunfemi, said it would be difficult for even the generation of lawyers yet unborn to write the history of the centre without a special chapter dedicated to Olanipekun.
"Yes, Chief is known all over the world as a legal colossus but like the Yoruba would say, "Ile laati nko eso rode". In many ways and through different efforts, he has demonstrated his love for Ikere Ekiti Branch of the NBA. Personally, I look at his contribution beyond the physical projects he donated. He is simply a go-to-patron anytime for moral and financial support. It will interest Nigerians to know that just last year, Olanipekun donated an 18-seater bus to NBA, Ikere Branch, to aid mobility of members to official and ceremonial functions within and outside the state. Two years ago, at the sideline of national conference of the NBA held in Lagos, Olanipekun set aside time to host lawyers from Ekiti and Ondo. Indeed, in him, we have found a super mentor."
After given so much to Church, law, education and health care, Olanipekun's set tongues wagging recently when his radio station in the town, New Cruse 92.7 FM, Ikere Ekiti, commenced full transmission to listeners within and outside the state.
According to Clement Akinwumi, a staff of Ekiti State Ministry of Agric and an indigene of Ikere Ekiti, with the F.M Station, Olanipekun has simply changed the entertainment landscape in Ekiti, Ondo, Kwara, Kogi and Osun axis.
"Chief Olanipekun is our hero and we see this new station as another way to raise the bar for the community. Beyond Ikere, this will boost the entertainment landscape of the South West and part of the North Central," Akinwumi said.
While taking this reporter on a tour of the station, the trio of Johnson Makoji, Jesuloluwa Olanipekun and Omotayo Fakolade, all staffers of the broadcasting station, emphasised that the station boasts of modern digital equipment in line with the broadcasting trends of the 21st Century. They also stated that the management has carefully assembled tested and experienced hands, including the station's General Manager, Jide Ogunluyi, to drive the operation of the station. Ogunluyi has over 27 years' experience in broadcasting and station management.
The radio station, which is located along Kajola, Ado Road, Ikere was recently dedicated by the Catholic Bishop of Ekiti Diocese, the Most Rev. Felix Ajakaye. The bishop described establishment of the new station as a positive development. Ajakaye urged the station to uphold the ethics of the media profession and be fair in its reportage of activities.
A former lawmaker who represented Ikere 1 at the State House of Assembly, Wale Ayeni, described the Olanipekun as the architect of modern Ikere. "To me, Asiwaju Olanipekun has changed the face of Ikere and raised the stake of the community, I can only call on aspiring youths of our land to emulate his good ways," he said.
Olanipekun said the New Cruse 92.7 FM was established to break new grounds in broadcasting and journalism. He disclosed that the signals of the radio station were being received in states like Lagos, Ogun, Oyo, Osun, Kwara, Ondo, Kogi, Edo and Delta.
The legal icon said the station was not established to project the ideology of any political party but to inform, entertain and educate its listeners.
Earlier in an interview with THISDAY on what informed his decision to build a church for his community, Olanipekun stated that it was primarily to fulfill God's purpose in his life. As an accomplished lawyer and philanthropist, he pointed out that there had always been God's grace in whatever he lays hands upon and he must appreciate Him.
"I was introduced to Christianity within the precincts of this very church; brought here by my paternal grandmother, Evangelist/Prophetess Deborah Ajigbeda, who gave me the name Oluwole, prophesying greatness to my life. I thank God that the prophecy of my paternal grandmother has come to pass.
"The Great commission given to us by the Lord Jesus Christ as encapsulated in Matthew 28:19 is "Go therefore, and teach all nations, baptizing them in the name of the Father, and of the Son, and of the Holy ghost: Teaching them to observe all things whatsoever I have commanded you: and, lo, I am with you always, even unto the end of the world".
"To me, this is a mandate to every Christian, irrespective of his position in the church, whether as a Bishop, Pastor, Priest, Vicar, Evangelist, Lawyer, Doctor, Engineer, Deacon, Deaconess and others. Within the church of God, it's my conviction that everyone has got a ministry to serve, and through grace, this church structure is part of the ministry God has put in my care to discharge," he said.