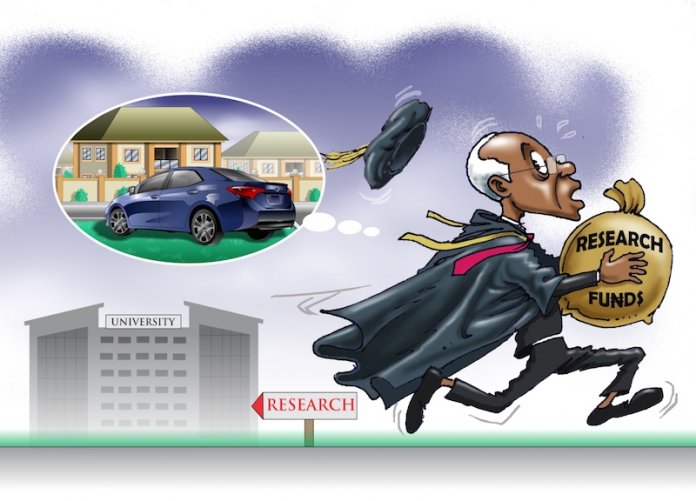 Paucity of research in the universities is a symptom of a deeper malaise
The paucity of research efforts for both vaccine and cure of COVID-19 by Nigerian universities is a serious indictment on the quality of education in the country. While we recognise that the sector has not been adequately funded, money is not the only problem. More critical is the intellectual quality of academic staff. Several breakthroughs in knowledge have come from hard times and severely limited funding in many countries. Besides, there are resources that serious researchers can call upon, even within our environment.
In recent years, some funding agencies committed to uplifting standards have been frustrated by the inability of university lecturers to answer appeals for research projects. There are reports of Nigerian academic staff presenting incoherent proposals that are riddled with basic grammatical errors. The national president of the Academic Staff Union of Universities (ASUU), Biodun Ogunyemi last December publicly lamented that "some lecturers have no business in the classrooms, but they found their way in due to political interference." It is therefore no surprise that Nigerians do not see a mountain of new books emerging as evidence of fresh research and scholarship arising from the many months of lecturer inactivity occasioned by incessant ASUU strikes.
The Tertiary Education Trust Fund (TETFund) has vigorously pumped billions of Naira to aid university lecturers who elect to study for postgraduate degrees in the best universities in the world and for research. In February this year, Salihu Bakari, TETFUND Director of Research and Development washed the dirty linen of our lecturers in Dubai, the United Arab Emirates (UAE). "It is sad to note that public funds made available to lecturers to conduct ground-breaking and demand-driven researches towards solving Nigeria's socio-economic, and even political challenges, are misappropriated by those who are expected to be above board. I mean the beneficiaries of our grants," said Bakari who added, "through our recovery efforts, we had traced monies to houses built by lecturers with the public fund; there are cases of cars purchased with the money, without any research work done. And these are the people who would be accusing politicians of being corrupt."
While the diversion of research funds to other uses by university scholars is a spill over of the general atmosphere of corruption in the larger society, TETFUND and other funding agencies need to accompany grants with an accountability template to ensure that research projects are monitored and funded according to performance timelines. It is noteworthy that ASUU officials that are ever quick to join issues with government officials have not disputed Bakari's claim nor have they responded to his subsequent assertion: "Today, we (TETFUND) have decided to shift our focus and we have opened more doors of opportunities for both the lecturers and their institutions to attract funds to showcase their expertise. But what do we see? No one is coming for the funds."
It is important to critically review the actions of government towards research. But Nigerian universities must also examine their own failures. For instance, universities in the USA benefit from close reviews by state legislatures to ensure that research is on critical issues ranging from crops and livestock/fisheries to aircraft for carrying perishable products to markets within and outside the country. Departments of political science, economics also have to justify funds for their staff. Psychology department must aid commercial and political campaign advertisement. Oxford University once ensured academic productivity by reviewing employment every five years. Until tenure in Nigerian universities is justified by productivity, the rot will continue on the campuses.
The Central Bank of Nigeria (CBN) announced recently that in order to encourage greater research and development of drugs and vaccines that would help prevent the spread of COVID-19, it is "developing a framework under which grants and long term facilities will be provided to researchers, science institutions and biotechnology firms to develop the Nigerian vaccine" with challenges thrown to "scientists at home and in the diaspora to go back to their laboratories and develop a Nigerian vaccine."
Unfortunately, Nigerians are yet to hear the response of ASUU to this opportunity for its members.
Quote
Oxford University once ensured academic productivity by reviewing employment every five years. Until tenure in Nigerian universities is justified by productivity, the rot will continue on the campuses