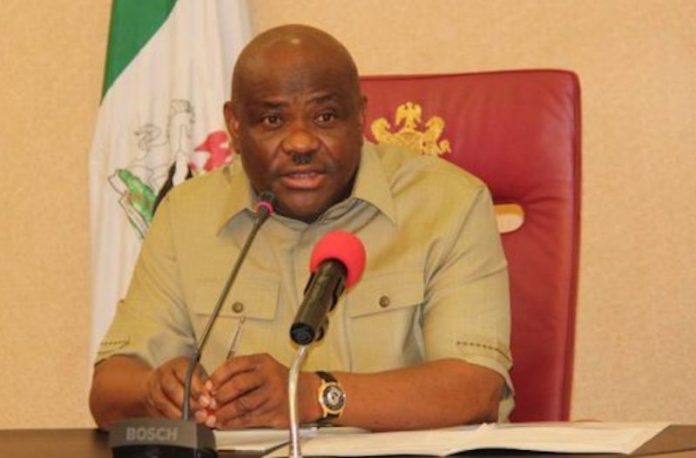 By Ernest Chinwo
Rivers State Governor, Nyesom Wike, has called on Rivers people no matter their political affiliation to join hands with his administration to build a stable and vibrant economy.
He said while the first anniversary of his second tenure in office called for celebrations, the many deaths occasioned by the Coronavirus pandemic in the state had made it imperative for a solemn period.
In a state-wide broadcast to mark the first year of his second term in office yesterday, Wike stated that the state could overcome the present global economic situation if citizens come together in unity of thought and purpose.
"This is a time for governance, not politics, and we welcome everyone on board to create an environment that promotes balanced economic growth, thriving private investments, boundless opportunity and a State we can truly call our pride and heritage.
"For us, nothing matters more than Rivers State, our people, our interests, our treasures, our enormous resources and assets, our accomplishments and our greatness," he stated.
The governor pointed out that within the last one year, his administration had embarked on urban renewal programme in the state capital and the construction of multi-billion naira three flyover projects at Rebisi, Okoro-nu-Odo and Rumuogba.
He listed several road projects embarked by his administration in various local government areas of the state and said they were at various stages of completion.
On healthcare delivery, the governor said the Mother and Child Hospital had been furnished, equipped and only undergoing necessary testing and preparations for inauguration.
The Braithwaite Memorial Hospital, he said, has been fully equipped and converted to the Rivers State University Teaching Hospital (RSUTH) leading to the accreditation of the programmes of that facility for the training of medical students by the Medical and Dental Council of Nigeria.
He said in line with the promise to refocus on agricultural development, the Datco Cassava Processing Plant with a guaranteed off-market opportunities for 3000 local cassava farmers would soon be completed to stimulate cassava revolution in the state.
The governor, however, regretted that despite the advisories and regulations on social distancing and compulsory wearing of face masks, most residents are flouting the directives to the collective peril of all.
"Government may be forced to reinstate lockdown if members of the public continue to flout and disregard the established regulations on social distancing and the compulsory wearing of face masks," he said.
He stated: "Today marks the first year anniversary of our second term in office. Normally, we should be celebrating this important milestone with the commissioning of completed projects and correlated social activities.
"But these are abnormal times and moments like this call for subdued feelings and thankful prayers to God for his abundant grace and mercy upon our state and on our lives.
"As at today, we've painfully lost 12 persons, and probably more, to the death pangs of the coronavirus. For us, every life matters; and every life lost is a monumental tragedy, not only to the immediate families, but also, to all of humanity."
He commiserated with the families of those that lost their loved ones to the pandemic and prayed for the peaceful repose of their innocent souls.