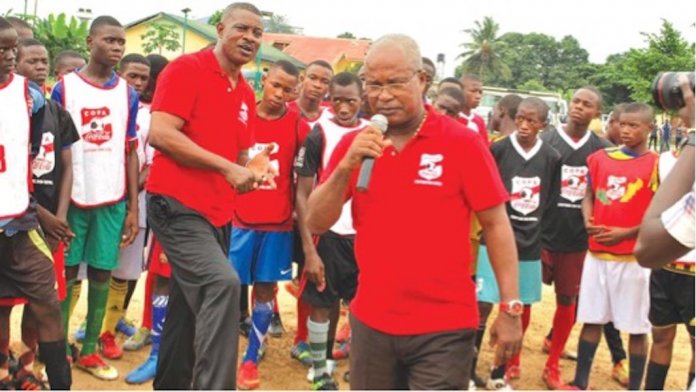 Winning the 1980 Africa Cup of Nations was Nigeria's first major breakthrough in sports and 40 years down the line, one of the gladiators of that historic feat, Henry Nwosu, still recalls the moment with ecstasy, he spoke with Kunle Adewale
It was something that was unthinkable at that time that a secondary school boy would be invited to play for the senior national team. Undaunted, Nwosu broke this odd to play for the Green Eagles (as the Nigeria senior national team was then known) in 1980 and went on to win the Africa Cup of Nations for the first time for Nigeria.
Though now with grey hair and some little wrinkles on his face, Henry Nwosu still have that trait of the young innocent boy that starred for the Super Eagles 40 years ago. Even on the field of play the touches are still very conspicuous, except that there is not much stamina to match it.
"Football runs in the family, my eldest brother played football and he was very good. He was good that people said I didn't measure to half his competence, though he did not get to the height of his career as a result of reoccurring injuries. My immediate senior brother also played football substantially, so the game runs naturally within the family. I started football at a very tender age at Obele Odan boys and girls club in Surulere, when we use to play inter streets football games," he said.
Asked how he felt when he was invited to the senior national team as a teenager in 1980 in preparations towards the Africa Cup of Nations. "I felt so delighted, great and honoured to be invited to play alongside the likes of Christian Chukwu, Segun Odegbami, Adokie Amesieamaka, late Muda Lawal and the rest them. A young boy just coming out of school and making it to the senior national was great feat then and I thank my senior colleagues in the team for accepting me as one of them. I respected them and they reciprocated, which really helped me a lot in settling down and matured into the team proper."
On if he was ever scared of being dropped during the screening sessions considering the caliber of players in camp then.
The former captain of the defunct ACB of Lagos said: "I never thought of that. In fact it never crossed my mind because my mission and objective was to play for the national team and I concentrated and tried to improve on my game and played to the delight and expectations of the coaches. As a matter of fact, the number 10 jersey was bestowed on me immediately after my first training with the national team. So, the thought of being decamped was not just there, rather, how to establish myself as a first team player was the priority."
The former New Nigeria Bank midfielder would not want to attribute his invitation to the Green Eagles to the then Brazilian technical adviser, late professor Otto Gloria as he also played under some local coaches after the reign of the Brazilian as the national team coach.
"I played under some Nigerian coaches after Gloria and most of them liked my game and personality, so I wouldn't have known if I would have been given a call up to the national if an indigenous coach were to be at the helms of affairs of the national team then or not. But then I wouldn't want to attribute my invitation to a foreign coach as the national team coach."
The Member of the Niger (MON), who despite his exploits internationally with the national team never took his game to Europe, something which he attributed to the strength of the Naira and the cold weather in Europe, which he claimed was not favourable to his body system.
"As at that time playing in Europe was not very popular, because the Naira was very strong when compared to the dollar. Then it was about 43 kobo to a dollar, so why would I want to play in Europe to earn dollars when the Naira is stronger. Comparatively, the difference was not much so the attractiveness was not there."
"But the main reason why I didn't really play in Europe was because I could not stand cold weather in Europe, so I felt playing in Europe would not be good for my health. On so many occasions I was invited by some agents to play in England and Spain but I turned down the offers because my health could not stand the cold of Europe and under such a situation I would not be able to play at my best," he said.
Nwosu indeed stated that he dumped one of the invitation letters he received from a Spanish club into the trash bin because he couldn't read it as it was written in Spanish and another letter of invitation from a team in England did not get to him as it was confiscated by the then Nigeria Football Association Chairman, Colonel Mike Okochime (retd).
Nwosu however hailed coaches like Mike Malagu, who he said helped him to develop his game as a secondary school boy and Kashimawo Laloko, whom he claimed helped in developing his psyche as some of the coaches that influenced his game, but said it was Otto Gloria that shaped his game the most.
"Then, Laloko never saw anything good in my game, he would always criticise me, but behind me he praised me. I didn't know he was working on my psyche but it made me to strive harder. Malagu helped brush my game from the secondary school and I really thanked them a lot. But in terms of the technicality of the game kudos must go to Otto Gloria. Even, it was through his influence that I am into coaching today," he said.
Brazilian legend, Edson Arates des Nascimento, aka Pele would however remain the mentor of the Union Bank FC of Lagos coach. "My role model will forever be King Pele," he said with a smile.
Recounting the Nations Cup victory of 1980 on home soil, the former international described the moment thus: "I was like a new born baby whom everybody wanted to carry. I was a young boy, who just came out of secondary school and was already making waves and being supported and liked by everybody. Decorated with a national honour, a car, a house and several other gifts so everybody wanted to associate with me. I felt great and on top of the world."
Asked which team is greater between the victorious Eagles on home soil and the one that won the trophy 14 years later. "If you compare the two teams individually and players' commitment, the 1980 team was greater than that of 1994. The only thing that was in favour of the latter was their exposure because most of them played in Europe," he opined.
Ironically, Nwosu denied his first son of choosing football for a career, rather he made education a priority for him, and today MON, as he is fondly called by friends and admirers is happy that his first son is a Masters Degree holder. "If the younger ones want to play football they could go ahead, but as for my first son I charged him to concentrate on his education. The other younger ones I taught them the rudiments of the game without them losing focus on their education," he said.
Continuing, Nwosu opined that one of the greatest challenges facing our football today is that players no longer go through the rudiments of the game and therefore lacked good ball control. They do not know when to pass the ball and when to dribble and they also lacked positioning.
Nwosu, who is involved in grassroots development, would however want to be remembered as someone that discovered a lot of young talents for Nigeria for the future of the game.