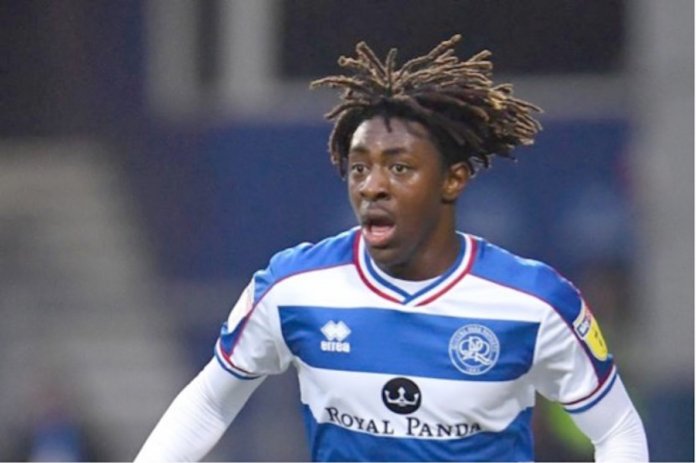 His name has been linked with several clubs since the beginning of the season as a result of his stellar performance with Queen Park Rangers, his latest suitor being Tottenham. However, what is paramount in Ebere Eze's mind is his international allegiance. Having starred for England at the junior cadre he can still play for the Three Lions, while his Nigerian roots afford an opportunity to star for the Super Eagles. His experience training with the three time African champions three years ago is still fondly cherished by the midfielder. He is therefore at crossroads as to where his international future lies
If there is one player that has been linked with several clubs than any other, that player is Queen Park Rangers attacking-midfielder Ebere Eze and the next transfer window might be the last time Loftus Road faithful will be seeing him in action for them.
With Tottenham being the latest suitor and Jose Mourinho said to be a big admirer of the midfielder, a move to North London might be on the horizon.
For Eze, however, the club he would be starring for next season is just secondary as he admits dilemma over choice between England and Nigeria.
Eze is one of the most highly-rated talents in the Championship, and has scored 12 goals in 37 league appearances this season for the Rs.
So impressive has his form been this term that he has been tipped with a move across London to Spurs.
However, it doesn't look like which club he plays for is Eze's main concern right now, as he faces a dilemma about which nation to represent The £9m-rated prospect has played for England in youth football, but qualifies to represent Nigeria due to his African ancestry.
Back in 2017, Eze trained with the Super Eagles while they were in London, an experience he says he enjoyed.
But he insists he doesn't want to rush into a decision as he weighs up more playing time with Nigeria or potential European success with England.
"I'm very happy to be part of England's youth setup right now, but I enjoyed training with Nigeria," Eze told FourFourTwo.
There was a lot of debate around his international future earlier in the season with the president of the Nigerian Football Federation, Amaju Pinnick, making his admiration of Eze public, before the QPR midfielder, went on to make his Young Lions debut in November.
Pinnick has expressed his desire to see Eze form an integral part of his country's World Cup campaign in Qatar in 2022.
Indeed, Super Eagles Manager, Gernot Rohr, had made approaches to the Anglo-Nigerian born midfielder, who is seen as the long-sought successor to Austine Jay Jay Okocha if he eventually chooses to star for Nigeria.
"We have approached him, but not directly. Tunde Adelakun, my assistant, spoke to his mum. What we understand is that there is a lot of pressure on him and Ebere Eze doesn't want to give an answer now. Obviously, we would love to have him in the Super Eagles, of course! We continue to work on getting him. It may take some time," Rohr said in an interview.
Eze is one of a host of fine young English talents, and one of many to play in that No.10 role, so he representing Nigeria isn't off the cards just yet.
Eze went on to discuss the areas of improvement he was to see in his game in the future.
Despite usually playing in attacking-midfield or on the wing, the 21-year-old says he wants to help out his backline more by improving his positioning when it comes to tracking back.
"Defensively, I could be better," Eze added. "It's the last thing I want to do, as an attacking player, but my positioning when we lose the ball would help with that.
"Top players today need to be well-rounded – attackers don't get away with being passengers. I've realised that more than ever this season."
Meanwhile, Queens Park Rangers director of football Les Ferdinand has backed Eze for an England call-up following his outstanding form this season.
Eze has scored 12 goals and provided eight assists in the league this season, attracting attention from Premier League clubs such as Tottenham Hotspurs, Sheffield United and Crystal Palace in the process.
The 21-year-old has been capped by England at U-20 and U-21 level, but would also be eligible to play for Nigeria and has trained with their national team.
Speaking on Sky Sports, Ferdinand said: "A lot of the time you need to be in the Premier League to be recognised but he has shown the kind of form and, if he continues to develop in the way he is developing and keeps showing the type of football he has been playing, he is certainly going to put himself in the frame.
"People are going to start talking about him playing for England.
"We have got a few young players coming through the system now who we are really excited about.
"They are helping us in our campaign this season to finish as high up the league as we possibly can."
Ferdinand has previously stated that the R's could be forced to sell Eze this summer as they still, look to recover from the £17m fine they were hit with in 2018.
Ironically, youth football was far from plain sailing for Eze, and a number of clubs are now counting the cost of letting the player slip through their grasp. He struggled upon being released by Arsenal as a 13-year-old and endured unhappy spells at Fulham and Millwall as he began to seriously consider quitting the game to go to work in a supermarket. But Eze impressed then QPR boss Chris Ramsey during a trial in 2016 and the rest is history.
Eze is convinced he struggled in his junior career because too many coaches took his easy-going style for inherent laziness. Ramsey took a different approach and that belief has been replicated by Rangers boss Mark Warburton, who has given him the freedom to express himself fully in his number 10 role, despite his relative lack of experience. Warburton's confidence has paid off handsomely, with 11 goals this season and a host of high-profile assists.
Eze made his international debut for England U-20s in October 2018, and for the U-21s the following year.
There is every indication that Eze's days at Loftus Road may be numbered. Tottenham are the club most frequently linked with the player but Chelsea have also been keeping close tabs, and Sheffield United too have been linked. With QPR showing few signs of shaping up into play-off contenders if and when the season resumes, Eze could be on his way sooner rather than later. After all, QPR's own director of football Ferdinand described the player as someone who is destined for a "top six" club.