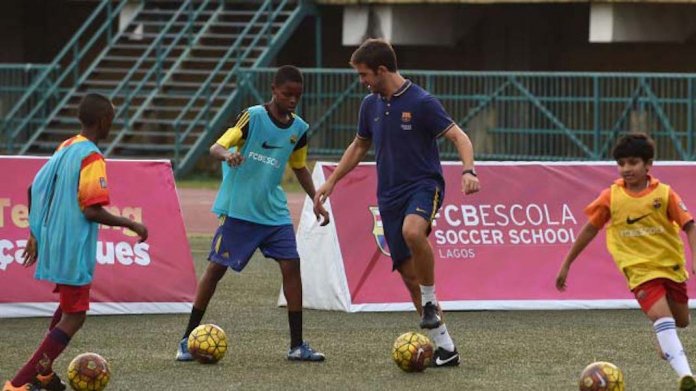 The recent global trend that is affecting every sector of humanity has called for a great concern, and it is very responsible for every good spirited individual and corporate organisations to support the efforts of the government.
In the light of this, the Chairman of Blaugrana Sports Group International, Leslie Oghomienor, during the week, met with the technical crew of the FC Bulmaro and other key officers of the organisation to chat the way in aligning with the sports associations and government directives.
Oghomienor stated that the happenings around the world today that is affecting all global and local sports activities is a very strong voice in the call to action and a clear indication that humanity is one.
He said his commendation goes to the proactive Lagos State Governor, Mr. Babajide Sanwo-Olu and his team and the federal government for the smart response to the stormy waves of the times. In deep appreciation, he prayed for strength and will for those who are at the very forefront of the situation.
Surprised by the love his colleagues have shown him, as they marked his birthday, he used the opportunity to pray for more strength and flourishing for all individuals and corporate organisations who have, and are making immense contributions to ensure that the world endures better and healthier for the good of us all.
In thanking his colleagues and loving children of the Barca Academy Group Nigeria, for honouring him he said, "This indeed is a very great surprise to me and indirectly an inspiration and motivation to work more smartly. And in every human responsibility, to win for the good of all, you must be genuinely humane, strategic and tactical.
"Honestly, Blaugrana as a team, together we are bound to do more in our own little ways to help build a better Nigeria and a friendlier world."
In his response, Gonzalo Dibiasi, FC Bulmaro, head coach, who spoke on behalf of the team revealed that Oghomienor is more than a Chairman to all, he is a father and a confidant to us all from Nigeria, India, Spain and Argentina no race, no colour.
"I have worked in many parts of world as a coach; I've not seen a good and very committed man like him. He is devoted to his vision of helping others live their purpose. He is a very good father to all of us without discrimination. He deserves our encouragement, loyalty and full support," Gonzalo stated.
In another development Oghomienor revealed that, though the physical office was on recess other channels of the organisation are fully operational to keep the brand at par with the developments. He appealed to the youths to stay safe and make the best positive engagement of the times, for the betterment of their future.