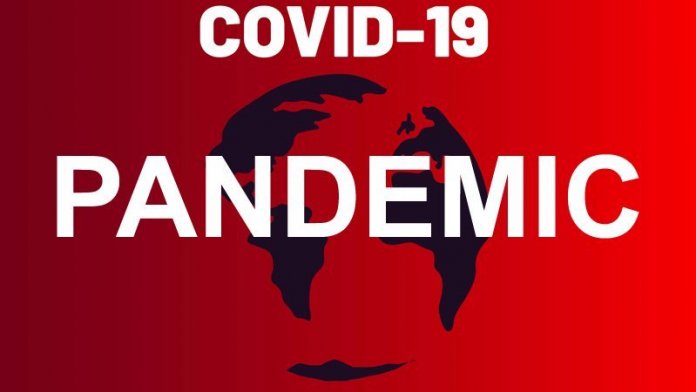 Nnamdi Nwokocha-Ahaaiwe
Citizens are locked up in their homes. Businesses and all means of income are closed down. People are being flogged on the streets for disobeying "social distance rules". Everyone is being monitored. Anyone who dares to question whether the lockdown and quarantine is ideal for the Nigeria situation and condition is framed as a saboteur. Contrary opinion is frowned upon without any attempt to query or interrogate its merits. All that is promoted is panic, fear, anxiety, fright, pandemonium. Its been a season of dejavu.
In all these, what has now finally dawned on Nigerians with the arrival of COVID-19 is that the concept of leadership is fiction in these climes.
There has been no announcement of the number of ventilators and ICUs in their various states. No announcement of the number of persons so far tested and the results; Governors have only boasted of setting up isolation centers which are no better than piggeries as if the concept of isolation centers is a place for quarantining those infected with the virus to be left to die in isolation.
Before I delve into the meat of this article, let us agree on the known: the numbers, the statistics, and the data. What is clear is that countries around the world tailored their individual response according to what works for them. China where the virus started for instance, adopted an approach based on the communist centralised system which is impossible to replicate anywhere else in the world and it worked for them.
The USA has voted $2 trillion stimulus package for reviving their economy after their lockdown. That is about Eight Hundred Trillion Naira. The UK has voted billions of pounds sterling for similar purpose. Here in Nigeria, even before the advent of the COVID-19, our entire oil-dependent Federal Budget was to be funded by borrowing.
How fatal is COVID-19? Available, verifiable statistics show that over 85 per cent of those who contract the virus will either show no symptoms at all or will show mild to moderate symptoms and recover on their own without need for hospitalisation. Of the 15 per cent or less who require hospitalisation, only about 20 percent of that number will become critically ill and require ICU and ventilators; many of those will still recover.
According to the WHO, COVID-19, Situation Report No. 68 published on 28 March 2020, out of about 7.8 Billion people on Earth, there are just 571,678 confirmed cases and 26,494 deaths globally while the figure for Africa is 2,831 confirmed cases with 48 deaths. What percentages are we looking at? These figures include China, Nigeria, USA, UK, Italy, Spain and every country on earth. Then consider: According to the CDC, between October 1, 2019 through February 1, 2020, a period of four months, 12,000 people died of influenza (flu) in the USA. On the other hand, between late December 2019 when the first cases of COVID-19 was identified in the USA and March 28, 2020, a period of about three months only about 1,100 persons have died of the virus.
Of these fatalities, 95 percent are aged sixty-five and above while most of the others are those with underlying health conditions. Less than 40 persons under 40 years have died of the virus so far globally. The Wife of the Prime Minister of Canada, Mikel Arteta, Coach of Arsenal FC, several footballers and thousands of others who have been infected did not need hospitalisation but recovered in their houses. Prime Minister Boris Johnson, Prince Charles of Wales, Governor El'Rufai and many thousands of others across the world who are infected have not gone to hospital. They are self-isolating at home so as not to infect others
and will recover.
So is this disease the death sentence being promoted? Can we pause, take a deep breath and think. What exactly is behind this mindless panic and for which draconian measures have been enacted which will destroy millions of households from which we may never recover. Are there forces who will gain from this crises and are deliberately fueling this panic? Are there forces who will gain if the global economy collapses, enters recession and a new world order is enacted? Can we at least think about it? Can we in Nigeria say: "hold on a minute, let's tow a different path and approach"? This is not promoting conspiracy theories; remember we are talking figures which don't lie.
Let's consider other statistics in respect of the elderly who are the most at risk.
According to WHO, over 646,000 person's mostly above 65 years die from falls alone each year. Don't take my word for it; go to the WHO website. By the time you add other causes of death from heart attacks, strokes, etc, well over 1,000,000 elderly people die globally each year from various causes not related to COVID-19. What does this tell us? Many of those elderly people who have died so far from the COVID-19 would have died from other causes anyway.
Still looking at the empirical numbers, the Nigeria Malaria Fact Sheet says there are over 300,000 deaths from malaria per year compared to about 215,000 deaths from HIV/AIDS. Malaria and HIV alone account for 515,000 deaths. By the time you add deaths from typhoid, Lassa fever, measles, tuberculosis, road accidents, Boko Haram and other causes, you are talking about millions of deaths from diseases and other preventable causes each year. Yet in the three months plus COVID-19 have entered our dictionary, only two people have died of it in Nigeria and assuming there is a massive outbreak, the trajectory, figures and data show that probably less than 5,000 people, mostly the elderly and those with underlying conditions will die.
Most of these projected 5,000 are likely to have also died this year from the other above causes highlighted. Indeed, out of the two recorded deaths in Nigeria, one just returned from the UK where he underwent treatment for cancer and we all know, cancer could kill even without COVID-19. On the basis of these easily data and statistics, I believe our leaders should take a second look and break us out of the global pandemonium. Lockdown is simply not a solution for Nigeria and our leaders must be brave and bold to search for other paths. We must not follow the western world sheepishly. In Nigeria, 90 per cent of households do not have running water and must go to public boreholes, streams and wells to fetch water for drinking, cooking, washing, bathing and other needs; they do not have gas piped to their kitchens and must go fetch firewood or get coal to cook. Millions of households live in "face-me-I-face-you" accommodation where over fifty persons share one toilet, one bath room and one kitchen. What does self-isolation mean for the vast majority of Nigerians then? Minimum wage is still N20, 000 a month as most states have not started paying the new one. Many States locked citizens down while owing several months' arrears of salaries and pensions and people have been told to stock up food and provisions for one to four months? With what? And for the few who can actually buy something, it rots after a few days because there is no electricity to power the refrigerator. These effects make these drugs a possible option in the treatment of several tumors in association with radiotherapy and chemotherapy.
Prime Minister of Britain ordered Rolls Royce, Land Rover and other vehicle manufacturing companies to repurpose their production lines to start manufacturing ventilators. President Trump similarly ordered Ford, Chevrolet, GM, Tesla and others to start manufacturing ventilators which are needed for respiratory purposes for critically ill people such as in COVID-19 infection; their governments will pay for all the ventilators so produced. These countries between them already have over 100,000 ventilators before the additional ones to be produced. With a population of about 200 million, Nigeria has less than ten ventilators with about two said to be in Abuja. There is no single ventilator in the entire South East; South-South, North West, North East, Middle Belt. In the face of this, Innoson Motors Corporation about a month ago offered to repurpose some of their production lines to start manufacturing ventilators. A leadership who know what governance means would have since invited the management of the company for discussion, agree on payment terms which may include such incentives as thirty year moratorium on taxes, thirty year zero import duty on their CKDs and other inputs, etc. But our leadership is in slumber; they have not taken up the offer.
They need to wake up and fast. If not, in view of our peculiar circumstances and in a matter of one or two weeks, people will be forced by nature to revolt and decide that they rather die from COVID-19 which is not certain than from hunger which is certain.
The plan to lock this country down until about June which is the period the Western world are anticipating to reduce restrictions, is not an option for Nigeria. We in Nigeria can lead Africa to tow a different path.
…Nwokocha-Ahaaiwe, Esq., is an Abuja based legal practitioner and the Executive Director, HIV/AIDS Eradication, Liberation and Prevention Initiative