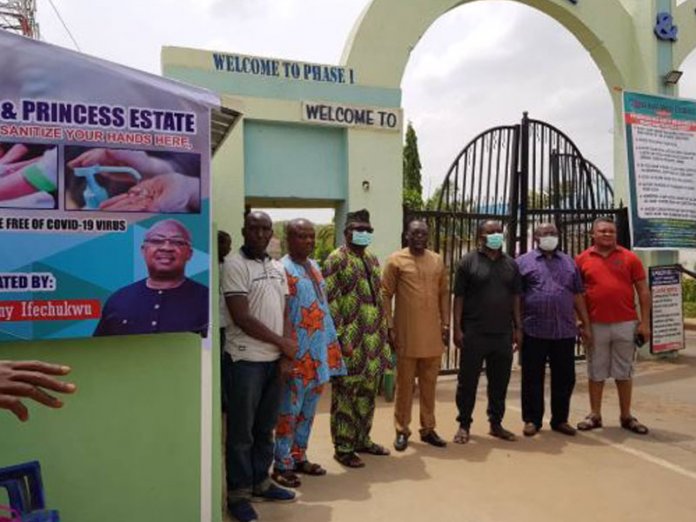 Prince and Princess Estate, Duboyi, Abuja on Tuesday received medical supplies from Arc. Tony Afechukwu, Dr. Eric Nwanze, Dr. Charles Agadu and other kind hearted residents as part of efforts to curb the spread of coronavirus in Nigeria.
The donation is coming on the heels of the plea from President Muhammadu Buhari with Nigerians to show selfless commitment to the fight against coronavirus.
Speaking at the commissioning of the Hand-wash equipment, Sanitizer closets among other items made accessible for the residents at the two main entrance gates, the Chairman of the Estate Residents Association, Engr. Victor Adoga, commended the philanthropic gestures of members of the Estate and the COVID-19 Response team, especially at this crisis time.
Adoga said the medical supplies, donated to the estate by Ifechukwu to prevent the spread of COVID-19, would be located at the two entrance gates of the estate from Tuesday.
While calling on Nigerians in whatever capacity they are to make sacrifice in this period of health challenge, the chairman said the initiative was indeed a laudable one which erases all doubts that, Nigerians can be united as a people in their bid to confront an existential threat as being demonstrated at Prince and Princess Estate.
He said: "Every resident of Prince& Princess Estate should be proud of this day as we take the lead in the fight against the Covid-19 pandemic.
"This is not the first time man is faced with existential threats and pandemic of this nature but we have always triumphed and by God's grace we shall triumph against Covid-19.
"I am particularly grateful to the Estate Covid-19 Response Team led by Dr. Eric Nwaze and Dr. Charles Agadu for their uncommon commitment and dedication.
"I also appreciate in no small measures the philanthropic kind gesture of the donor, Arc. Tony Ifechukwu.
"May God Almighty replenish him in hundred folds. We pray that this provide a model for other estates and communities within the Federal Republic of Nigeria and indeed the world to emulate and build upon.
"We encourage residents to use the facility having commissioned it for public use today 31st March 2020 to the glory of God Almighty and mankind."