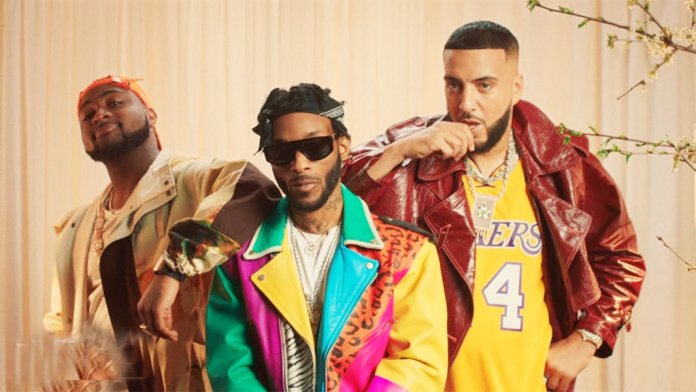 By Ferdinand Ekechukwu
British recording artiste, Angel (Sirach Charles) is back with the official video to the remix of his previous single titled, "Blessings". The remix features American-Moroccan rapper, French Montana and Nigeria superstar, Davido. Shot and directed by Daps, the video arrives about eight months after the original track and visual premiered. While the first video was a salute to the R&B singer's hometown, the remix version is way flashier and much more created.
The new music video for the Blessings remix follows Angel, Davido and French Montana to hit up a bowling alley filled with dancing women and neon lights then a house party. The remix's afrofusion sound pairs well with the video's dancehall-inspired elements and bold colours. The song, which was just a freestyle he rendered on Instagram, became a sensation, thus, compelling him to record an official track. Bubbling with a new remix, Angel takes "Blessings" from being an undertone to a vibrant tune. And this remix is a whole new vibe.
Blessings, which is built on addictive beat work and smooth guitar melodies, gets new life as the Nigerian star, Davido, and NY rapper, French Montana, inject it with their own distinct musical flavours.
Davido kicks things off in this new remix with his solid melodies, while French brings it home halfway through the remix. Considering that Covid-19 has kept people homebound across the world, the song definitely lightens up a mood! Produced by Angel, the song was released on March 6, 2020.
Speaking with online OkayAfrica, Angel said: "I feel like French and Davido brought the track to an even wider audience. We all come from different cultures, me from London, French from NY and Davido from Nigeria with the Afrobeat movement. It was just so organic to blend all of these sounds. You see the track in a new light, and now the whole world hears the track with a new perspective.
The original was about appreciating the blessings and now it's about celebrating our blessings."
On Davido, he said: "I first met Davido in NYC when he recorded the vocal which was so sick to be there because there was no back and forth of sending the vocal. It was a vibe to be in the room when he delivered it and it created a great bond between us. With French, I feel like he took it to a whole other level; so it was great to be all together. With all of us on set, it felt really organic, and no one was out of place, like three brothers coming together to send a great message to the world. The race is not for the swiftest, but for those that can endure. Blessings."
The Blessings remix video premiered earlier this month, on all major platforms. Earlier this week, French posted an Instagram video of his lively studio session with Chinese Kitty. The rapper suggested that he was currently working on the fifth installment of his Coke Boys mixtape series. Sirach Charles, known by Angel, is an English singer-songwriter, rapper and record producer from West London, England.
In a report, the Storm Entertainment and a division of Sony Music RCA artiste, Angel last summer announced his signing to Mark Pitts' ByStorm Entertainment/RCA Records and released the original Blessings track and video which was Angel's first U.S. based release.
The newly premiered video had garnered over 8 million video views and streams combined. For French Montana, this isn't the first time on a joint work. Davido's appearance on this record follows his most recent ones with American pop star, Chris Brown on Blow My Mind and Jamaican DJ and singer, Popcan on Risky.