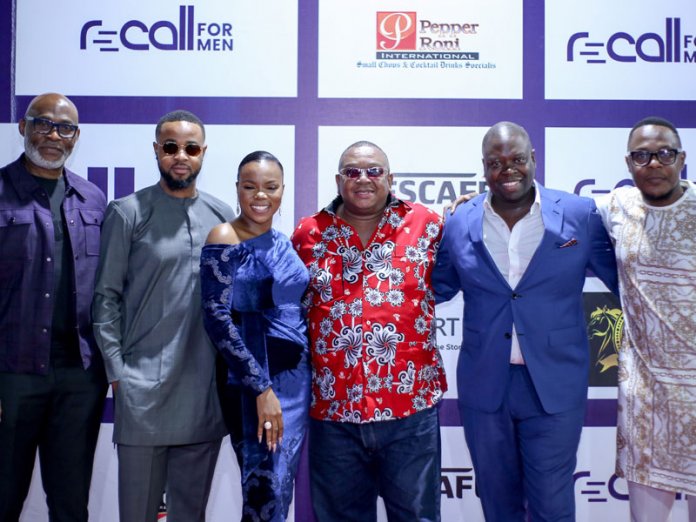 Vanessa Obioha writes that the Recall For Men Conference, which seeks to groom men to be better versions of themselves, recently unveiled a new initiative that will empower 200 young men at the inaugural trading and financing grant
A total of 200 young men are expected to get grants for their businesses in the inaugural trading and financing grant spearheaded by organisers for the Recall For Men Conference. The new initiative was disclosed during the second edition of the conference which seeks to groom men to be better versions of themselves.
According to the convener of the conference, Yetunde Bernard, the grant was initiated to make the courses and mentorship programs offered by the conference more accessible.
"This year we've created a trading and funding online platform. We will still be having our offline classes but we are going online so we can be accessible to more people. This is an African intervention, we want people in the Diaspora to also know that the hustle is real, that our dynamics are completely different. One can access a particular course for a period of time and put up a business plan and apply for the grant. A lot of brands are partnering us on this."
Bernard also revealed that there will be criteria for selection. For instance, a participant will have to take certain courses to access the grant.
"The point is that you have the platform so that you can express yourself. Sometimes men can be vulnerable and don't know how to express themselves. On the online platform, there are mentors who have been through different issues and can guide you. Yes, it will be industry focused but it is comprehensive. It covers all the areas that affect a man. That is, mentally, health-wise, financially. Beyond the master classes, we want to get other things done."
The Recall for Men Conference was inspired by Bernard's desire to see men more responsible in the society. She argued that because the male child has been left alone to survive in a world where he knows little or nothing about, he grapples with his identity.
"We have just been tilting towards doing things for a certain group of people and neglecting others. What has been happening is that our men don't really have anywhere to get practical information on what it means to be a man in today's world because the dynamics are completely different. This Is the digital age.
"Generally, the African man grows up entitled. He is told he is the head of the family, but what usually happens is that as he gets older, he realises he doesn't really know what it is to be the head of family because everyone is asking him to provide. Nobody is really telling him how to do things.
"On the other hand, if you look at girls, they are told from an early age on what to do, so somehow they are used to getting instructions, they are used to understanding, working their way through and learning new roles. A boy is left on his own. What he is really after is how to make money because society has made him believe that if you don't have that purchasing power, you are a nobody, so his identity is reduced to just what he can give. Most times, he stumbles on success. So that's what we are trying to do with this initiative. It is really a movement for men by men. Men don't need much to strive, they just need principles."
While Bernard tackled the theme 'The Hustle is Real' in the maiden edition last year, the second edition which was held recently at Landmark Event Centre, Victoria Island, expanded on 'Maximise Your Hustle'.
Hosted by Femi Jacobs, different speakers from entertainment, agriculture, fintech and e-commerce were featured in the conference. They include veteran broadcaster Olisa Adibua; Nollywood actor Richard Mofe-Damijo; media and entertainment consultant, Bizzle Osikoya; Founder of Payporte, Eyo Bassey; Mozambican Jorge Maciel, who is the CEO of Intel Trucking and Logistics among others.
Each of the speakers shared their personal experience climbing the ladder of success. Some were heart-rending but at the same time inspiring, particularly the story of Maciel who grew up in abject poverty in Mozambique but today is a renowned partner of famous Hollywood star Will Smith. His life-changing story encouraged quite a number of young men at the event.
For aspiring musicians in the audience, they gleaned facts and realities of the music industry from Osikoya, Adibua as well as Ezegozie Eze, the General Manager of Universal Music Group Nigeria. There were also different masterclasses for the participants to expand their knowledge.