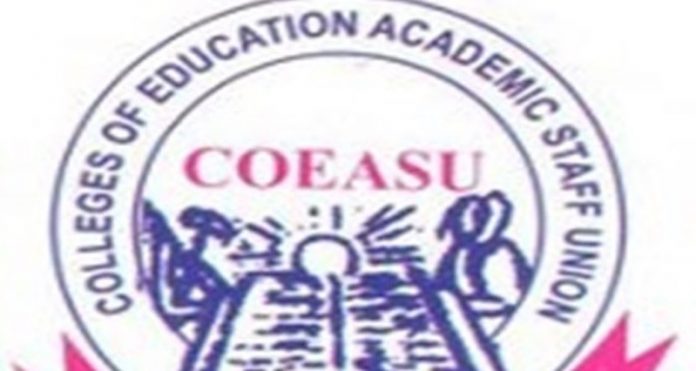 Kuni Tyessi in Abuja
The Colleges of Education Academic Staff Union (COEASU) has threatened to resume strike over the failure of the federal government to keep to its side of the agreement it reached with the union four months ago.
The government had agreed to release N15 billion as palliative intervention to cushion the effects of decay of the colleges' infrastructure.
The union's grouse is that beside FG's failure to provide the palliative intervention funds, other relevant government departments have also failed in their obligations.
Precisely, COEASU faulted the office of the Head of Civil Service of the Federation on non-issuance of an awaited circular on a new cadre purportedly created to cater for HND; the office of the Accountant-General of the Federation for refusing to remit to the union check-off dues; and the Tertiary Education Trust Fund (TETFund) for sustained bias against colleges of education.
In a letter to the Minister of Education, Mallam Adamu Adamu, signed by COEASU President, Nuhu Ogirima, the union stressed that it reserves the right to seek redress on the persistent insensitivity to the plight of colleges of education.
Consequently, COEASU has threatened to resort to another round of labour action to seek a redress over the epileptic state of colleges of education across the country should the government further default in fulfilling its promise.
"The union is compelled by the prevailing atmosphere of non-commitment of the federal government to the fulfilment of the resolutions reached with the union on issues of industrial concern, relative to the colleges of education, to call for urgent redress.
"The union suspended its industrial action on December 5, 2018, having accepted FG's offer to release N15 billion as palliative intervention to cushion the effects of the decay in the infrastructure in public colleges of education. This, along with the other resolutions reached at the meeting of the Rapid Response Team, chaired by the permanent secretary, on the payment of Peculiar Academic Allowance (PAA); dual mode; implementation of CONTISS 15 on lower cadre; stalled renegotiation of 2010 COEASU-FGN agreement; among others, informed the decision of the union at the time."
"It is however, quite disheartening to note that more than four months after the resolutions, the status of the issues remains as they had been," the letter reads in part," the president said.