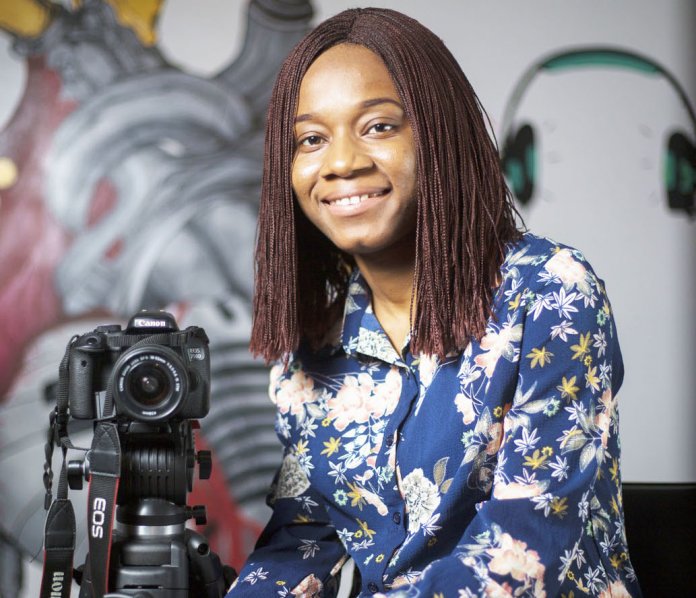 Blessing is a film maker, producer and director. Her works are of excellent quality, good repute, distinguished style and a lot more. This makes her exceptional from the lot. She talks to Tosin Clegg about Nollywood, how she started, the works she has done, upcoming projects and more
I grew up in Abuja mainly, then, moved from Aba
I'm the last born in a family of eight. My parents are business people. I grew up in Abuja mainly. I got admission to study International Relations in Eastern Mediterranean University Cyprus, and graduated with a first class. 
I never thought I would be a film maker
I have long grown past some Childhood dreams and some I still have. I have always loved media, especially film making and always wondered how films are made, but didn't think I will be a film maker. I had interest in politics and I still do, funny enough, but more towards maybe using my film to tell political stories or running for office one day. This is also why I studied international relations. The other dream I had was to be a scientist, because as a child, I loved the idea of Mars, Pluto, the earth etc and how they came about. So, I thought I was going to be a scientist and discover things. 
Production started in school 
First with organising music shows, and I realised I was particular about my visuals from every show I did and then I learnt photography and even took a course in it in school. I later became a part time photographer with a Kenyan photographer Fredrick Leica, who was my friend and also taught me a lot. I was convinced because I knew I wanted to tell stories, I loved great visuals and I wanted to tell stories differently, from Africa to the world. 
Eccentric Media makes films
I registered 'Eccentric Media' fully last year. Just as the name implies, its eccentric, it is different. It's just a company that makes film, we tell stories differently, both in quality, in story telling capacity and in talking about things that affect humanity. The vision of Eccentric Media is to use storytelling or film to change the world. Hence, we highlight the problems via visuals and provide solutions using films too as a tool. So, it's a media company with a difference, telling amazing stories and changing the world one at a time. I faced a bit of challenge with registration, the back and forth was too much and so was the challenge of getting the right team to work with. 
My first film was Island of Happiness 
Island of Happiness, a movie directed by Onyeka Nwelue was the first film I produced. He offered me an opportunity to produce it and I jumped at it. The film speaks on the travails of the Oguta people, the frustration faced by the youths and crime etc. Afterwards, I made a short film on Lagos traffic called Flux, then a documentary on Ozuitem, my hometown, focused on their water challenge and lack of access road. I went on to make another documentary called the Beggars Plight, centered on beggars in Lagos; a very touching documentary. I have also directed music videos such as Starlight by Cobhams Asuquo, and Mo Benjamin's Sink or Swim. The experience was beautiful and I enjoy shooting. 
My series on domestic abuse on men
I have heard so many stories of abuse from people and it seems very rampant now and experienced by many women and men. So, I thought, why not do a story about it, this is something people are going through, so let's talk about it, let's learn from each other. It may be a documentary series or a short film series. 
I'm working on a feature film and it's a musical 
It may be the very first musical in Nigeria. You have never seen anything like that before. We are already working on the music for the film. They are all original songs.  Everything around me inspires me, also my beliefs, and people's stories. Everything I hear is a film to me, I think of how I can adapt it to TV. I'm passionate about meaningful things about life, topics that affect people and sometimes too sensitive topics that people wouldn't regularly talk about. 
My ultimate goal as a producer 
I want to see that I tell a story in my mind and that I told it well. That I directed it well. Nothing makes me happy like when my work comes out the way I visualised it or planned it. I like excellent work, I want to make films that will make people cry, laugh, think etc, all sorts of emotions and I want to change life and the society with my films. 
Deficiency in the production industry 
People are really struggling in this industry. Film makers are doing their best, most films are self-sponsored. There is little or no support and for me Nollywood has grown, we are not there yet but we are on our way. Incredible works are in Nollywood this year. I must say I'm proud of what Nollywood has achieved and little by little, we will get better and better. You all need to be patient and support Nollywood. 
Having the right team to deliver
A great team is so important. Also Finance is a major problem for most film makers here. The struggle is so much for a lot of people. More support is definitely needed. I still struggle with some of these things. Lol, like now I need money to make this musical. 
I have worked with Cobhams Asuquo, Ty Bello and more 
They are really amazing people to work with. They gave me a chance and you don't get such an opportunity every day. I'm grateful to them. I'm also looking forward to attending or winning awards at the Tiff, Oscars, Cannes, Sundace, Amaa, AMVCA etc. When it comes, I will keep doing my best to achieve bigger and better things. We'll keep pushing and growing. 
What makes my works exceptional from others?
It is my work ethics, my quality and interest in details. I consider every aspect of film important, from sound to so many other things. Everything matters.
 I'm able to tell great stories and to use little to achieve much. I'm interested in telling stories on Politics, musical drama, family, love etc. I'm passionate about them, and for some, I have experience with musicals. 
I see us going global, taking Nollywood to the world 
I'm more of a director than a producer. I do both sometimes, so if I'm to answer the questions on what can be done for the industry I would say just support them to make more films, enabling environment, laws to protect their film, build cinemas, access to funds etc., and so much more. And I see my company making lots of great films, me directing really great movies and us changing the narrative in Nigeria, taking African stories to the world.