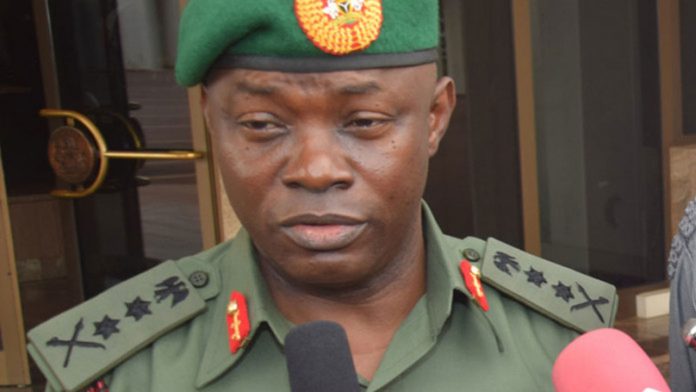 Bassey Inyang in Calabar
The Chief of Defence Staff, General Abayomi Olonisakin, has stated that for Nigeria to effectively tackle the insecurity noticed in some sections of the country, those saddled with the responsibilities of protecting lives and property must be innovative.
Olonisakin stated this yesterday at the inauguration ceremony of Naval Warfare, Course 3 of the Naval War College (NWC) at the headquarters of the Eastern Naval Command in Calabar, Cross River State.
According to him, "We must think outside the box to be able to tackle security threat in Nigeria. The Naval War College is a veritable platform to help in raising the bar of excellence in security studies. The navy has returned sanity to our maritime space and saved Nigeria billions of dollars.
"The rate at which piracy, illegal bunkering, terrorism and other maritime crimes has reduced is due to the outside the box thinking exhibited and brought to bear by the navy, and the Naval War College will provide a veritable platform for research and further learning."
In his remarks, the Commandant of NWC, Thaddeus Udofia, said the college was established to train select officers of Nigerian Navy and officers from allied institutions for effectiveness and professionalism.
"We want to make sure that we have a good structure to defend the country in the most effective and professional manner, and we believe that as we grow, we will get better. This is the third course that we are impacting knowledge. We want to create a centre of excellence in maritime studies as we progress,"Udofia said.
Speaking at the event, the Cross River State Governor, Professor Ben Ayade, appealed to President Muhammadu Buhari to properly fund the war college.
Ayade said availing the college with adequate funding would aid the institution to carry out more practical than theory which is the bane of such establishment world over.
The governor said: "I am appealing to President Buhari to make sure that the college is properly funded in a bid to achieve 80 percent practical during courses by participants. The practical element is very essential and important in their training. I also also urge you in the preparation of the curriculum to extend the course duration to one year instead of the eight mothns that is currently being used by the college.
"Cross River State provides the best ambience for what the college would be teaching, as the Nigeria Navy is the nerve centre of the country's maritime space. We import a lot and we need the Navy to keep our waters safe."