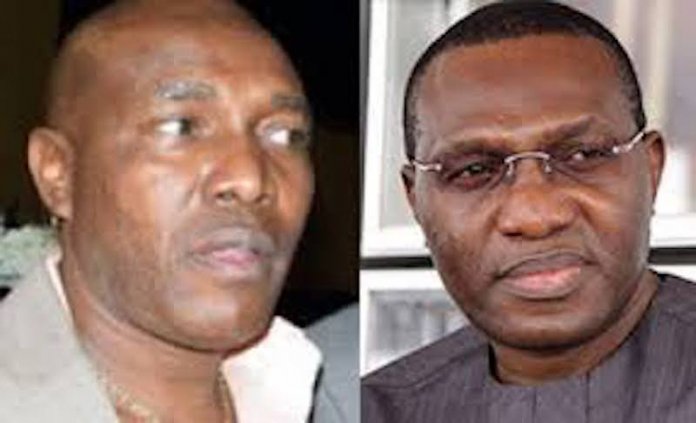 Even when the world sniggered at his audacious political ambition and semi-literacy, Ifeanyi Ubah, the rambunctious millionaire owner of Capital Oil, never wavered. Now, while naysayers are still asking themselves how it happened, Ubah has blustered his way into the National Assembly.
At the presidential and national assembly elections held last Saturday, Ubah was adjudged winner of the Anambra South Senatorial Seat after polling 87,081 votes. He beat heavyweight contenders like the Uba brothers; Chris and Andy who contested on the platforms of the Peoples Democratic Party, PDP, and the All Progressives Congress, APC, respectively; and the All Progressive Grand Alliance, APGA's Chief Nicholas Ukachukwu. Interestingly, the oil mogul won the election on the platform of the virtually unknown Young Progressive Party, YPP. This victory, which would see him as the only YPP senator in the 9thAssembly, is the climax of a long-sought political office.
In 2013, still a newbie in politics, he sought the People's Democratic Party, PDP ticket to contest for the Anambra governorship election but lost out. The Labour Party gleefully offered him its ticket and he came a distant fourth in the election.
He would later resurface as the mastermind of the Transformation Ambassadors of Nigeria, a non-partisan organization designed to 'promote good governance, individuals of impeccable character fostering the continuation of transformation by former President Goodluck Jonathan'. The TAN team was a spectacle wherever they went across the country propagating the re-election of Jonathan. Ubah reportedly wept when Jonathan lost the election. He contested again in 2017; firstly, again, in the PDP, which denied him its ticket; and eventually, the APGA. It was here he wanted to actualise his senatorial ambition but was denied by the party which initially preferred Bianca, widow of its founder, the late warlord, Chief Emeka Ojukwu. Bianca lost to Ukachukwu in the primary.
Indeed, like every great warrior that must learn to endure and overcome the adversities of life, Ubah has fought many battles in his 47years on earth; both in politics and business where he made fame and fortune. He was subsequently charged to court. A Lagos High Court ordered his release but this was overturned by an Abuja High Court. Ubah spent 44 days in detention and was made to cough out N2billion out of the N11bilion owed the NNPC.
The rotund proprietor of Ifeanyi Ubah FC, a Nigerian football club was released June 19th, 2017. But his woes were just beginning. When the Assets Management Corporation of Nigeria, AMCON published the list of delinquent debtors in October 2018, Ubah's Capital Oil topped the list with over N115billion debt overhang. And now that the oil and gas industry is no longer what it used to be, sources close to him say he intends to use politics to revive his finances.